Fayetteville State University Computer Science Professor to Serve on Panel Focusing on Artificial Intelligence
Date: February 19, 2019
Dr. Sambit Bhattacharya, a professor of mathematics and computer science at Fayetteville State University (FSU), has been invited to serve on panel titled "Artificial Intelligence and Data Analytics: Army Questions to Answer, Industry Trends, and How Industry Can Help the Army Leverage Artificial Intelligence (AI)" at the TechNet Symposium.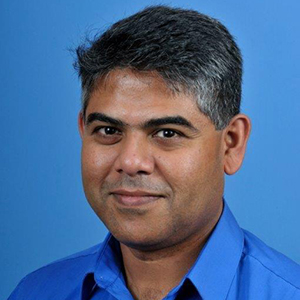 The symposium will be held March 26, 2019, at the Iron Mike Conference Center on Fort Bragg.

As a subject matter expert on Artificial Intelligence, Bhattacharya will help guide the discussion during the symposium on how AI can support the United States Army, industry trends in AI, and how the industry can help the Army leverage AI.

Bhattacharya has taught computer science at FSU since 2005. His research interests are in machine learning, computer vision and their applications in robotics and geospatial data analysis. He teaches in these same areas, including introductory programming and computer systems. His research, and education program development efforts have been supported over the years by grants from the National Science Foundation, US Department of Education and the National Geospatial Intelligence Agency. He collaborates with scientists at the Naval Research Laboratory in Washington, D.C., and he also collaborates with industry on research projects.

Bhattacharya holds master's degrees in physics, computer science, and data processing, earned his doctorate in computer science and engineering from the State University of New York at Buffalo.

About Fayetteville State University
Fayetteville State University is a constituent institution of The University of North Carolina and the second-oldest public institution of higher education in the state, having been founded in 1867. FSU offers degrees at the baccalaureate, master's, and doctoral levels. With more than 6,300 students, Fayetteville State University is among the most diverse institutions in the nation. To learn more about Fayetteville State University, visit https://www.uncfsu.edu. Chancellor James A. Anderson is the 11th chief executive officer.
Tags:
College of Arts and Sciences
News