Retired Physician Donates $500K to Fayetteville State University; College of Health Sciences and Technology to be Named in His Honor
Date: December 14, 2019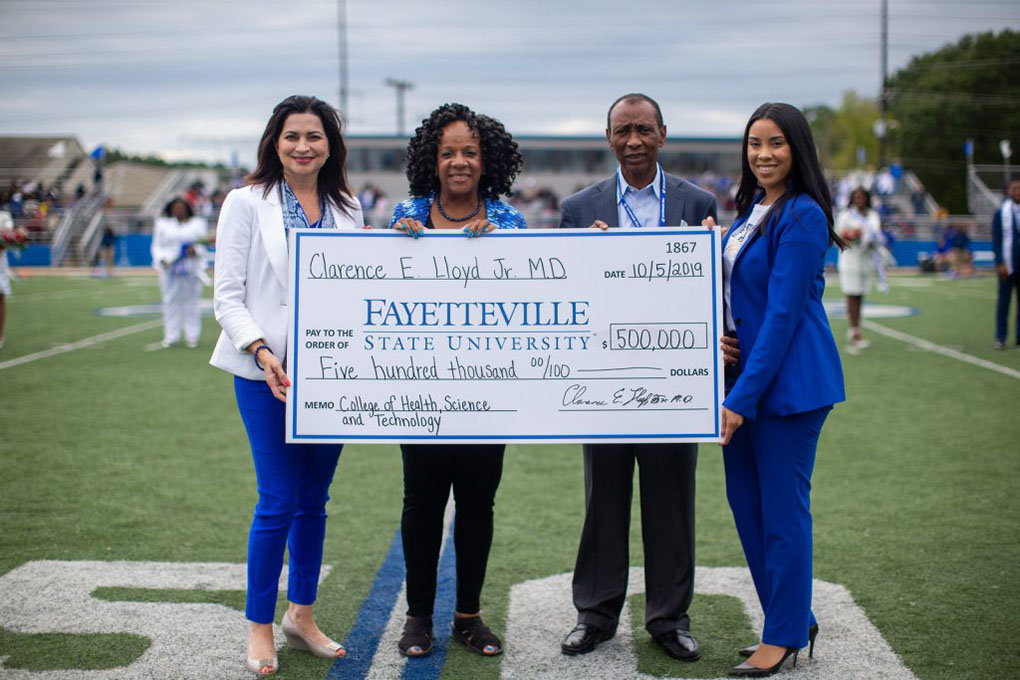 Dr. Clarence Lloyd, second from right, presents Fayetteville State University Interim Chancellor Peggy Valentine, second from left, a check for $500,000. Also pictured from left are Lorna Ricotta, Vice Chancellor for Institutional Advancement, and Jalisha Pone, Associate Director of Development.
Dr. Clarence Lloyd, a retired physician and a member of the Fayetteville State University (FSU) Class of 1965, has donated $500,000 to the institution. For his donation, the FSU Board of Trustees voted at its December meeting to name the College of Health Sciences and Technology in his honor.
"I can't thank Dr. Lloyd enough for his generous support of FSU," said Interim Chancellor Peggy Valentine. "He is one of the university's biggest supporters and has consistently given to advance the mission of his alma mater. Dr. Lloyd cares deeply about preparing the next generation of health professionals, and we are very pleased to name the College in his honor."
This is the second major gift to FSU by Lloyd. In 2015, he donated $100,000 to the university. His most recent gift will be used for the following:
$250,000 Endowment
$25,000 for student scholarships annually
$15,000 for faculty/staff development annually
$10,000 for an annual speaker series
Lloyd retired in March of this year as a radiologist at the Veteran's Affairs Medical Center in Winston-Salem. A native of Williamston, N.C., he earned a bachelor's degree from FSU. He taught high school for a year before going to North Carolina Central University in Durham, where he earned a master's degree in molecular biology in 1968. For two years, Lloyd taught at Livingstone College in Salisbury, and then went on to earn a medical degree from the University of North Carolina at Chapel Hill in 1974. From 1975-78 he specialized in radiology at Bowman-Gray School of Medicine where he was the first minority to finish the program at the school. Lloyd also served in the United States Army Reserves where he participated in Operation Desert Storm and Operation Iraqi Freedom. He retired as a colonel after 20 years.