Ricotta Joins Fayetteville State University as Vice Chancellor for Institutional Advancement
Date: March 06, 2019
Fayetteville State University (FSU) Chancellor James A. Anderson has named Lorna M. Ricotta as the Vice Chancellor for Institutional Advancement. The appointment was made after a nationwide search.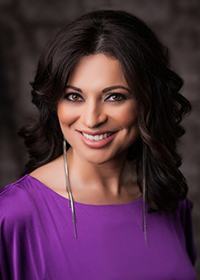 Ricotta, a native of Robeson County who resides in Fayetteville, has nearly 18 years of experience in Institutional Advancement. Prior to her new role at FSU, Ricotta served as Executive Director of the Fayetteville Technical Community College (FTCC) Foundation, a position she has held since 2014. At FTCC, she oversaw the foundation's $4.3 million assets and $290,000 operating budget. During her time at FTCC, she coordinated fundraising initiatives relative to annual giving, major gifts, planned giving, community management of donors, and fundraising campaigns.

Before coming to FTCC, Ricotta was Director of Corporate and Foundation Relations at the University of North Carolina at Pembroke (UNCP) from 2002-2007. At UNCP, she served as one of the front-line fundraisers on the $4 million First and Ten Capital Campaign for Football. She secured the largest corporate gift at that time in the amount of $500,000. From 2002-2004, Ricotta was Director of Alumni Relations at UNCP. Among her duties, she created, planned, and executed robust alumni programming including regional alumni receptions, reunions, Chancellor engagements, and a Legacy Program to recognize second and third generation alumni.

At FSU, Ricotta will lead a staff that includes expanding the endowment, all fundraising, alumni relations, marketing and communications, special events, and advancement services. She will collaborate closely with members of the Chancellor's Cabinet, the FSU Board of Trustees and the Board of Directors of the FSU Foundation.

"I could not be more pleased that Mrs. Ricotta will be joining the Fayetteville State University family," said Chancellor Anderson. "She has a wealth of experience in all aspects of Institutional Advancement and she is established in the Fayetteville area. This will be crucial for us as we seek to raise funds for the university's endowment. I look forward to having her as a part of my administrative team."

Ricotta earned a Bachelor of Arts Degree in Music and a Master of Business Administration, both from UNC Pembroke. She currently serves as a Trustee for the North Carolina Humanities Council, on the board of the North Carolina Center for Nonprofits, and the American Council on Education (ACE) Women's Network. She served eight years on the Board of Trustees at UNC Pembroke. After returning to Fayetteville in 2001, she served the community on numerous local and state boards.

About Fayetteville State University
Fayetteville State University is a constituent institution of The University of North Carolina and the second-oldest public institution of higher education in the state, having been founded in 1867. FSU offers degrees at the baccalaureate, master's, and doctoral levels. With more than 6,300 students, Fayetteville State University is among the most diverse institutions in the nation. To learn more about Fayetteville State University, visit https://www.uncfsu.edu. Chancellor James A. Anderson is the 11th chief executive officer.