Fayetteville State University Research Initiative for Scientific Enhancement Scholars Recognized for Outstanding Presentations
Date: November 27, 2018
Two Fayetteville State University Research Initiative for Scientific Enhancement (FSU-RISE) scholars, Don Eaford and Shamar Wallace, received awards for outstanding poster presentations of their summer research during the Annual Biomedical Research Conference for Minority Students (ABRCMS) in Indianapolis, Indiana, November 14-17, 2018.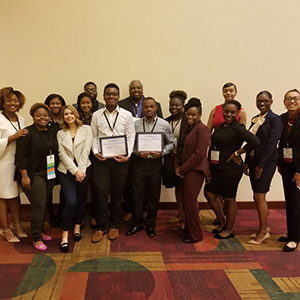 Each scholar received a certificate, $300 cash award, and a free year membership to the society that sponsored the award.

Eaford was recognized as an outstanding poster presentation in the Developmental Biology and Genetics category at ABRCMS. His research presentation was titled "Linking Phosphorylation of the Synapteomal." The purpose of his study was to understand the role of SYP-4 phosphorylation in regulating the functions of the synaptonemal complex and accurate meiotic chromosome segregation. His lab tested the hypothesis that the syp-4 phosphodead mutation would decrease brood size, increase embryonic lethality, increase apoptotic levels, and change the meiotic progression in Caenorhabditis elegans. Eaford concluded from his study that when syp-4 is not phosphorylation, there will be a mild reduction in brood size, an increase of embryonic lethality, elevated level of apoptosis, and no changes in the meiotic progression.

Eaford completed his research experience this summer with the 2018 Summer Honors Undergraduate Research Program at Harvard Medical School in the laboratory of Dr. Monica Colaiácovo. Eaford is a junior chemistry major, who plans to pursue a Ph.D. degree in biochemistry upon graduation.

Wallace received his award for outstanding poster presentation in the Biochemistry and Molecular Biology category. His presentation was titled "Glutathione and Oxaloacetate May Play Role in Copper Transport to The Mitochondria." The purpose of his study was to determine the missing factors that are involved in copper transport from the cytoplasm to the mitochondria. He tested the hypothesis that the metabolites glutathione and oxaloacetate are potential copper ligands for copper transport to the mitochondria in yeast. He concluded from his study that the two metabolites may play a role in copper transport.

Wallace completed his research experience during the summer of 2018 at the NSF Biochemistry REU at Texas A&M University in the laboratory of Dr. Vishal Gohil. Wallace is a senior chemistry major who plans to pursue a doctorate in biochemistry upon graduation.

Eaford and Wallace were among 11 FSU-RISE scholars who presented their research work out of a total of 15 scholars who attended the conference. Additionally, more than 4,700 students, faculty, administrators and 350 exhibit booths attended ABRCMS this year with more than 2,500 research presentations in 20 areas of biomedical and behavioral research. Eaford and Wallace are currently conducting intramural research mentored by Dr. Subir Nagdas, Professor of Chemistry.

The FSU-RISE program seeks to train serious, inspiring students in biology, chemistry, math and computer science for competitive entry into Ph.D. programs in the biomedical sciences. The FSU-RISE program is federally-funded by the National Institute of Health (NIH) in Bethesda, Maryland.

For more information on the program, visit www.uncfsu.edu/fsurise or contact Ms. Nakia Walcott, Program Coordinator at nswalcott@uncfsu.edu or Dr. James Raynor, Director at Jraynor@uncfsu.edu.

About Fayetteville State UniversityFayetteville State University is a constituent institution of The University of North Carolina and the second-oldest public institution of higher education in the state, having been founded in 1867. FSU offers degrees at the baccalaureate, master's, and doctoral levels. With more than 6,300 students, Fayetteville State University is among the most diverse institutions in the nation. Chancellor James A. Anderson is the 11th chief executive officer. To learn more about Fayetteville State University, visit https://www.uncfsu.edu.