RISE Scholar Wins Presentation Award at 2019 Annual Biomedical Research Conference
Date: November 20, 2019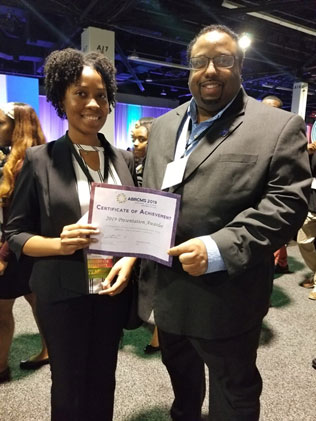 Sasha Richardson, a junior math and computer science major at Fayetteville State University (FSU), was selected as a winner for her poster presentation at the 2019 Annual Biomedical Research Conference for Minority Students (ABRCMS). The event was held November 13-17, in Anaheim, California.
Richardson's presentation from her summer research training at the College of Pharmacy and Biomedical Informatics at the University of Arkansas for Medical Sciences, Little Rock, Arkansas was entitled, "Identifying Metabolite Biomarkers in Non-Human Primate Screening Study of Acute Radiation Syndrome Following Partial Body Exposure." She received a $300 cash award and a year membership to the Computational and Systems Biology Society. Richardson is a second-year FSU Research Initiative for Scientific Enhancement (FSU-RISE) Scholar. She was among 14 FSU students who presented their research work at ABRCMS.
A total of 20 FSU students attended the conference along with four faculty, Drs. Danielle Graham, Justin Graham, Subir Nagdas, James Raynor; and Ms. Mallonee Clay, staff from the FSU Honors program. More than 5,100 students, faculty, administrators and 350 exhibit booths attended ABRCMS this year with more than 2,735 research presentations in 20 areas of biomedical and behavioral research.
The FSU-RISE program is federally funded by the National Institute of Health (NIH) in Bethesda, Maryland. The overall goal of the program is to increase the number of well-prepared underrepresented (UR) biology, chemistry, math and computer science majors entering and completing Ph.D. degrees in the biomedical sciences. Applications are currently being accepted for spring participation. For more information on the program, visit https://www.uncfsu.edu/academics/colleges-schools-and-departments/college-of-health-science-and-technology/department-of-biological-and-forensic-sciences/fsu-rise contact Dr. James Raynor, Director at Jraynor@uncfsu.edu.
About Fayetteville State University
Fayetteville State University is a constituent institution of The University of North Carolina System and the second-oldest public institution of higher education in the state, having been founded in 1867. FSU is a historically black university offering degrees at the baccalaureate, master's, and doctoral levels. With more than 6,500 students, Fayetteville State University is among the most diverse institutions in the nation. To learn more about Fayetteville State University, visit www.uncfsu.edu.