SAP Day Offers Career Opportunities for Fayetteville State University Students
Date: April 16, 2019
SAP and the Broadwell College of Business and Economics at Fayetteville State University are pleased to announce SAP DAY on Tuesday, April 23, 2019. It will be held from 11 a.m. until 5:00 p.m. in the Rudolph Jones Student Center.
Students will have an opportunity to learn about this world class company and employment opportunities. They can visit the Career Fair and schedule one-on-one same-day interviews. The agenda is as follows:

SAP Information Session 11:00 a.m. - Noon RJSC 242
SAP Career Fair & Demos Noon - 3:00 p.m. RJSC Corridor, 2nd level
Individual Interviews 3:00 p.m. - 5:00 p.m. RJSC, by invitation
FSU has the sole North Carolina SAP Next-Gen Laboratory and it is one of only 10 SAP Next-Gen Labs in the United States. SAP Next-Gen connects companies, students, academic thought leaders and researchers, startups, accelerators, tech community partners, purpose driven partners, venture firms, futurists, social activists, government leaders, impact investors, and SAP experts. Thus, SAP is pleased to partner for recruitment across campus and degrees.

FSU students from all disciplines are encouraged to register for interview consideration on Handshake (uncfsu.joinhandshake.com) and register here for the event. Individual interviews will be scheduled for the same day. Register by April 19, 2019 for consideration.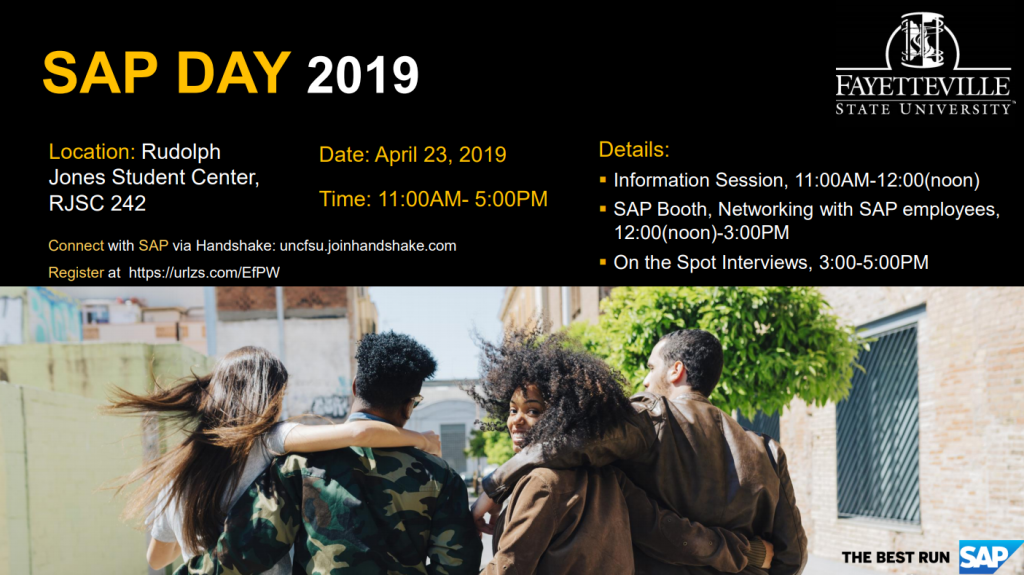 About SAP and the SAP University Alliance
SAP is the market leader in enterprise application software, helping companies of all sizes and in all industries run at their best: 77% of the world's transaction revenue touches an SAP system. SAP's machine learning, Internet of Things (IoT), and advanced analytics technologies help turn customers' businesses into intelligent enterprises. Its end-to-end suite of applications and services enables customers to operate profitably, adapt continuously, and make a difference. With a global network of customers, partners, employees, and thought leaders, SAP helps the world run better and improves people's lives.

SAP ERP is enterprise resource planning software developed by the German company SAP SE and is part of the curriculum at FSU. SAP ERP incorporates the key business functions of an organization. SAP University Alliances is a global program enabling more than 3,500 educational institutions in over 113 countries to integrate the latest SAP technologies into teaching.

Fayetteville State University and the SAP Next-Gen Lab

Fayetteville State University is a constituent institution of The University of North Carolina and the second-oldest public institution of higher education in the state, having been founded in 1867. FSU offers degrees at the baccalaureate, master's, and doctoral levels. With more than 6,300 students, Fayetteville State University is among the most diverse institutions in the nation. To learn more about Fayetteville State University, visit https://www.uncfsu.edu. The Broadwell College of Business and Economics is an AACSB accredited program offering a range of undergraduate and graduate programs online and on campus.

The mission of the SAP Next-Gen Lab at Fayetteville State University is to serve as a regional leader in the field of ERP and advanced analytics. With the support of experienced faculty, the SAP Next-Gen Lab will provide research, training, networking, and certification opportunities that are relevant to industry, government and nonprofits. SAP Next-Gen Lab users will also perform advanced data analytics to support the decision-making needs of local and regional organizations.

Contact Murat Adivar, PhD at madivar@uncfsu.edu for additional information.