FSU Alumna Recognized by L'Oreal Paris as 2019 Women of Worth Honoree
Support Shanté Elliott and Her Worthy Cause by Visiting WomenofWorth.com and Voting Now through November 15th
Date: October 23, 2019
Support Shanté Elliott and Her Worthy Cause by Visiting WomenofWorth.com and Voting Now through November 15th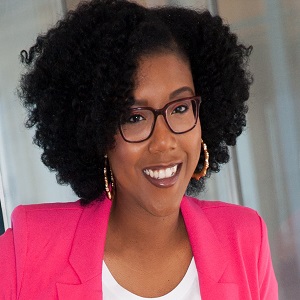 FAYETTEVILLE, N.C. (October 17, 2019) - Fayetteville State University (FSU) alumna Shanté Elliott has been selected as one of the 2019 Women of Worth Honorees by L'Oréal Paris for her outstanding work with TasselTurn. The non-profit improves the lives of youth in foster care through personalized support and college and career technology based educational coaching and social-emotional curriculum. Elliott is one of 10 women in the country to receive the prestigious Women of Worth award this year, for her charitable efforts that bring to life the L'Oréal Paris mission of uplifting and inspiring self-worth in others. Elliott graduated from FSU in 2012 with a double major in English Language and Literature and communications. Beginning today, the public is invited to support the 2019 Women of Worth by voting for one woman to become this year's "National Honoree", and receive an additional $25,000 to support her cause, for a grand total of $35,000. Each Honoree will also automatically receive $10,000, along with support via national paid media, educational and training opportunities, and a large-scale platform to share her story.

To support Elliott and her important cause, vote for her to become the National Honoree by visiting www.WomenofWorth.com, and registering with an email address to vote once a day, now through November 15, 2019. As a young girl, Elliott was thrust into independence due to two absentee biological parents. With no blueprint for success her situation changed at the age of 13, when she received her forever family. Thanks to encouraging teachers and family members, she became the first in her family to graduate college, pursue a doctoral degree and start a company. Shanté quickly realized that she was no anomaly - given the proper resources and education, other youth in foster care could succeed the same way she had. In response, she founded TasselTurn, a technology-based social impact organization to help homeless and foster-involved students through educational attainment.
TurnTassel meets youth where they already are: on the internet. The organization utilizes a unique, hybrid virtual academic coaching model, combined with social-emotional curricula and innovative technology products, to connect students to their own Education Coach. This Education Coach then provides personalized support, beginning in high school and continuing through graduation, to help teenagers transition to college or kickstart meaningful careers. In just two years, TasselTurn has worked with 160 youth to date - and has seen an 80% improvement in school attendance. More than 74% have shown an improvement in one grade level or more, and 100% of youth re-enrolled with the organization for the following year. Though the organization is still new, it is already making a powerful impact in the lives of children in foster care nationwide.
For more information about Women of Worth and the 2019 Honorees, visit www.WomenofWorth.com, and L'Oréal Paris on Facebook and Twitter. Join and follow the conversation by using the hashtag #WomenofWorth.
About Fayetteville State University Fayetteville State University is a constituent institution of The University of North Carolina System and the second-oldest public institution of higher education in the state, having been founded in 1867. FSU is a historically black university offering degrees at the baccalaureate, master's, and doctoral levels. With more than 6,500 students, Fayetteville State University is among the most diverse institutions in the nation. To learn more about Fayetteville State University, visit https://www.uncfsu.edu.