Fayetteville State University's Class of 2023 Moves in August 10; Miss America to Address New Students August 11
Date: July 23, 2019
Fayetteville State University (FSU) will officially welcome the Class of 2023 with Operation Smooth Move on Saturday, August 10, 2019, at 8 a.m.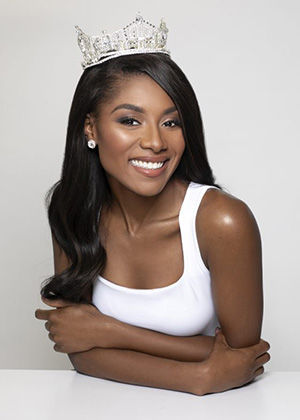 Sponsored by the Division of Student Affairs, Operation Smooth Move is a systematic process to ensure a smooth move-in and to eliminate congestion in the freshmen residence halls. It is also a cooperative campus-wide effort by which students, administrators, faculty, staff and alumni volunteers, and community groups stand ready to assist new students and parents with direction and guidance as they transition onto campus. Classes at FSU start on August 14.

On Sunday, August 11, students will continue a Bronco tradition by participating in the Pinning Ceremony at 11 a.m., in J.W. Seabrook Auditorium. Guest speaker for the occasion will be Miss America 2019, Nia Franklin. This pinning ceremony is a formal induction ceremony to welcome all new freshmen to FSU. Interim Chancellor Peggy Valentine officially welcomes the new class into the Bronco family. All students will receive an FSU lapel pin that can be worn for any formal or ceremonial occasion.

Franklin was born in Winston-Salem, North Carolina and lived in the state through graduate school. She earned an undergraduate degree in music composition from East Carolina University, and a master's in music composition from The University of North Carolina's School of the Arts. Shortly after, Franklin was awarded a Kenan Fellowship at New York's Lincoln Center Education and made the move to New York City.

Franklin was crowned Miss Five Boroughs at the age of 24, and then went on to win Miss New York 2018. And was awarded the job of Miss America 2019 on September 9, 2018. A gifted singer/songwriter, Franklin has been a teacher and music mentor, and has written over 100 songs, including one she began performing at age five. Throughout her year as Miss America, Franklin has been promoting her social impact initiative ADVOCATING FOR THE ARTS through appearances at colleges and universities, performing with orchestras and operas across the country, at arts schools and holding master classes.

With Operation Smooth Move, the Student Government Association, Mr. and Miss FSU and the Royal Court and members of the university's fraternities and sororities, athletes, as well as other student groups, will be on hand to welcome and assist new Broncos moving into their residence halls. Also on hand to answer questions and greet the new students and their families will be FSU Interim Chancellor Peggy Valentine and members of her administrative team.

On this day, students will also have identification cards made, meet with advisors and counselors, register for classes and participate in events that will introduce them to life as a FSU student. Later that evening, a cookout for new students will be held.

Orientation for commuter students also has been scheduled for Aug. 10, at 11 a.m. in the Rudolph Jones Student Center (RJSC). This event is for first-time freshmen commuting students. They will receive information and resources that will aid them in their transition to FSU.

An orientation for military and military affiliated students is scheduled for 8 a.m. on Aug. 10, in the RJSC. This session is designed specifically for transfer students who are U.S. military and/or military affiliated persons who plan on using either military and/or veteran administration benefits to pay for college.

Transfer students will have orientation on the same day. Two sessions have been scheduled. Session I will be for commuter transfer students at 10 a.m., and Session II will be for residential transfer students at noon. Both sessions will be in the RJSC.

All media are invited to cover these events. For more information, please call (910) 672-1474.

About Fayetteville State University
Fayetteville State University is a constituent institution of The University of North Carolina and the second-oldest public institution of higher education in the state, having been founded in 1867. FSU is a historically black university offering degrees at the baccalaureate, master's, and doctoral levels. With more than 6,300 students, Fayetteville State University is among the most diverse institutions in the nation. To learn more about Fayetteville State University, visit https://www.uncfsu.edu.