Fayetteville State University Open House Scheduled For March 23
Date: March 12, 2019
Prospective students, their families, and the residents of southeastern North Carolina will have the opportunity to discover the exciting array of educational opportunities and resources at Fayetteville State University (FSU).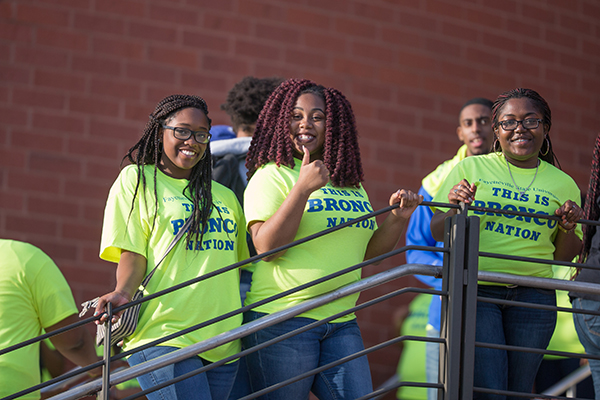 Open House, which is specifically targeted at prospective students and their families, will be conducted on Saturday, March 23, 2019, from 9:00 a.m. to 1:00 p.m. Check-in begins at 8 a.m.

Open House is designed to provide a well-versed campus experience for prospective students and their families that will educate, motivate and showcase the academic excellence, stellar faculty, well rounded student body, experiential offerings and overall pride of Fayetteville State University. Among other things, with the appropriate documentation, students will have the opportunity for on-site admission.

Events will include performances by student groups and ensembles to include the band, cheerleaders, etc. Other events will include visits to the various academic departments and presentations by financial aid and admissions.

For more information about Open House and to register, please contact the Office of Admissions at 910-672-1371 or visit www.uncfsu.edu/springopenhouse.

About Fayetteville State University
Fayetteville State University is a constituent institution of The University of North Carolina and the second-oldest public institution of higher education in the state, having been founded in 1867. FSU offers degrees at the baccalaureate, master's, and doctoral levels. With more than 6,300 students, Fayetteville State University is among the most diverse institutions in the nation. To learn more about Fayetteville State University, visit https://www.uncfsu.edu. Chancellor James A. Anderson is the 11th chief executive officer.