Fayetteville State University student honored for community service
Date: December 06, 2018
Fayetteville State University student Julia Downing has been recognized for outstanding leadership and service by North Carolina Campus Compact, a statewide network of colleges and universities with a shared commitment to civic engagement. Downing is a recipient of the network's Community Impact Award, which honors one student leader at each school.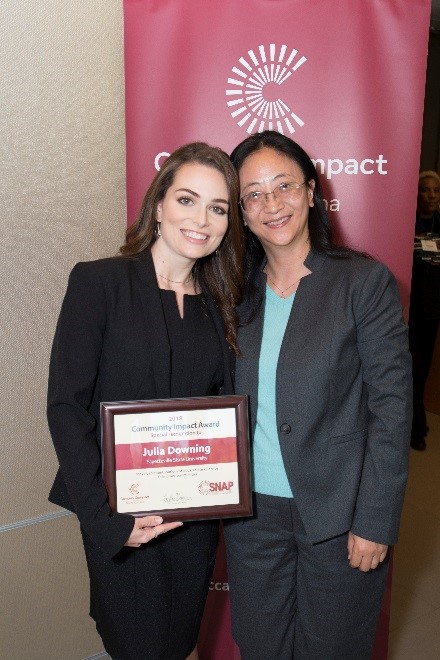 Downing is one of 18 students selected by their campus for the 2018 honor, joining more than 250 college students recognized by the network since the award was first presented in 2006.

Downing has made sustainability the focus of her service. As a member and now vice-president of Fayetteville State's Green Team, she has volunteered at campus clean-up events, shared information with peers about Lime Bike and Zipcar, and supported a partnership with the Philosophy Club for an Earth Day event. Downing was a key participant in a campus waste audit, and she presented the audit results to faculty, staff, and students. An enthusiastic proponent of recycling on campus, she has worked to raise awareness through the university's sustainability coalition, campus events, and with first year students.

A junior from Fayetteville, Downing is majoring in political science and minoring in sustainability.

Downing was honored at the Compact's annual CSNAP student conference, held this year on November 10 at Fayetteville State University. The event convened more than 150 students and staff from 24 campuses in the network. In addition to awards and networking opportunities, the conference included student-led workshops, panel discussions, and plenary sessions on diverse community engagement topics around the theme: "The Power of Youth Civic Courage."

North Carolina Campus Compact is a collaborative network of 37 colleges and universities committed to educating students for civic and social responsibility, partnering with communities for positive change, and strengthening democracy. The NC Campus Compact state office fosters connections between campuses, shares best practice information and resources, recognizes outstanding work, and champions civic and community engagement in higher education. The Founded in 2002 and hosted by Elon University, the North Carolina network is an affiliate of national Campus Compact, which claims 1,000 member schools representing nearly 2 million college students.
Tags:
College of Arts and Sciences
News