Fayetteville State University Students Participate in UNC System Behavioral Conference
Date: February 19, 2019
Fayetteville State University (FSU) seniors Aniya Jerkins and Kieara Chambers represented Student Health Services at the UNC System Behavioral Health Convening Conference on February 6, 2019.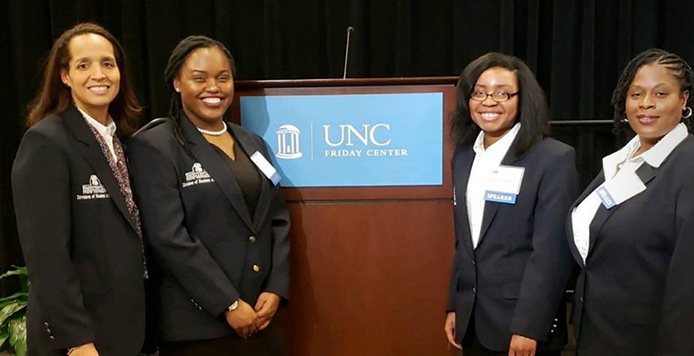 Jerkins and Chambers partnered with Letitia Johnson -Arnold, Medical and Health Program Consultant, and Vinette Gordon, Director of Student Health Services, to deliver a presentation entitled "Championing Healthy Broncos: Innovative Holistic Strategies to Address Student Mental health and Wellness." Each student also represented FSU on a nine-member student-lead panel discussing Peer Education Programs.
Jerkins and Chambers are members of the Wellness Ambassadors, a student organization focused on health, and Certified Peer Educators for FSU. In these roles, they promote a positive example of health and wellness by providing accurate student health information and motivating others to cultivate healthy lifestyles. Utilizing a holistic approach to wellness, the Wellness Ambassadors demonstrate that they are dedicated to creating a culture of wellness on the campus of Fayetteville State University.

The students discussed their experiences with planning and implementing innovative programs focused on behavioral health issues while working as student leaders on the FSU Behavioral Health Initiative funded by the UNC System. Students shared self-reflections to illustrate how being a member of the Wellness Ambassadors has benefited their personal and professional growth.

The students shared highlights from the De-Stress Fest which was held in October 2018, and they considered this event to be one of the most successful programs conducted through the initiative. The event provided students with different strategies that may be used to cope with stress and anxiety in addition to campus and community resources available for behavioral health and wellness services. Services offered during the event included: massage therapy, pet therapy, art therapy, journaling, planting flowers, meditation, yoga, life coaching, and physical activity. The event was so successful that another De-Stress event is scheduled for March 5, 2019, in the Rudolph Jones Student Center.

About Fayetteville State University
Fayetteville State University is a constituent institution of The University of North Carolina and the second-oldest public institution of higher education in the state, having been founded in 1867. FSU offers degrees at the baccalaureate, master's, and doctoral levels. With more than 6,300 students, Fayetteville State University is among the most diverse institutions in the nation. To learn more about Fayetteville State University, visit https://www.uncfsu.edu. Chancellor James A. Anderson is the 11th chief executive officer.