Fayetteville State University Students Receive Preconception Peer Educators Certification
Date: April 16, 2019
Fayetteville State University (FSU) students received certifications as Preconception Peer Educators during a training sponsored by the NC Department of Health and Human Services, Division of Public Health, Women's Health Branch and the NC Office of Minority Health.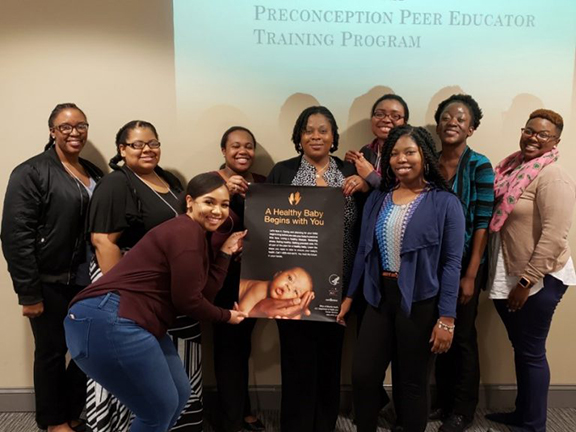 Members from the Wellness Ambassadors and My Sister's Keeper student organizations were among representatives from four North Carolina universities selected to attend the Preconception Peer Educator training held on the campus of Johnson-C. Smith University (JCSU) in Charlotte. Participating institutions included FSU, JCSU, UNC-Charlotte and Appalachian State University.

Preconception health aims to educate individuals on how behaviors, lifestyles, and medical conditions may influence healthy lives and the health of babies. Participants attended sessions throughout two days designed to educate them about important preconception health and wellness issues, build skills to assist in sharing their knowledge, and teach strategies to develop effective programs. Session topics included: healthy relationships, health disparities, social determinates of health, healthy habits, life planning, reproductive health, the impact of tobacco, and STI prevention.

Letitia Johnson-Arnold, Medical and Health Program Consultant at Fayetteville State University, Student Health Services conducted a Peer Education 101 workshop to teach participants about the roles, responsibilities, and best practices of peer educators serving on campus and in the community. During the session, peer educators from each school presented on current wellness programs conducted on their campuses.

Kieara Chambers, Wellness Ambassadors vice-president, and Jasmine Dunham, Bronco Wellness graduate assistant, discussed FSU wellness initiatives. Participants were required to attend all sessions, successfully complete the certification exam, and develop a work plan to receive the certification. Johnson-Arnold will work with the certified Preconception Peer Educators to incorporate the information into wellness programs scheduled for the remaining 2018 - 2019 academic year and the development of new innovative programs for the 2019-2020 academic year.

About Fayetteville State University
Fayetteville State University is a constituent institution of The University of North Carolina and the second-oldest public institution of higher education in the state, having been founded in 1867. FSU offers degrees at the baccalaureate, master's, and doctoral levels. With more than 6,300 students, Fayetteville State University is among the most diverse institutions in the nation. To learn more about Fayetteville State University, visit https://www.uncfsu.edu. Chancellor James A. Anderson is the 11th chief executive officer.