Fayetteville State University's College of Education Recognizes Substitute Teachers During American Education Week
Date: November 29, 2018
Fayetteville State University's (FSU) College of Education (COE) knows how to recognize educators.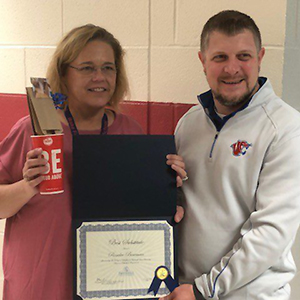 During American Education Week recently, COE candidates and faculty visited clinical experience sites that partner with FSU to provide a gift certificate for a submarine sandwich to one of the substitute teachers identified by the principals at the schools.

According to Dr. Marion Gillis-Olion, Dean of FSU's College of Education, American Education Week is an annual celebration of our schools and provides an opportunity to spotlight the good work that is done by our teachers and other school personnel. She noted that Substitute teachers are a rarely celebrated, but extremely important, group to the school districts and school buildings in which they serve.

"Substitutes make it possible for teachers to take care of their own health and families without disrupting the learning of the students in their classes," Gillis-Olion said.

School systems are always seeking substitute teachers. If you are interested in joining the ranks of these dedicated workers, contact your local school district Human Resources office. Training for substitute teaching is available at Fayetteville Technical Community College.

About Fayetteville State University
Fayetteville State University is a constituent institution of The University of North Carolina and the second-oldest public institution of higher education in the state, having been founded in 1867. FSU offers degrees at the baccalaureate, master's, and doctoral levels. With more than 6,300 students, Fayetteville State University is among the most diverse institutions in the nation. To learn more about Fayetteville State University, visit https://www.uncfsu.edu. Chancellor James A. Anderson is the 11th chief executive officer.
Tags:
College of Education
News