UNC Board of Governors Member Establishes Endowed Scholarship at Fayetteville State University
Date: September 05, 2018
The Honorable William Webb, a member of the University of North Carolina Board of Governors, has joined with Fayetteville State University (FSU) to establish an endowed scholarship in the amount of $50,000. The Ronald B. Lewis Endowed Scholarship Fund will support FSU students who served in the United States armed forces.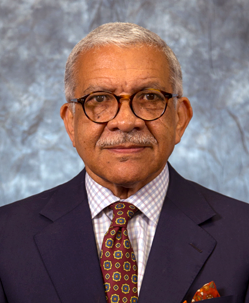 "I am pleased and honored to establish this scholarship in support of the many men and women who served in this country's armed forces," Webb said. "This is my way of thanking them for their unselfish service, and it also allows me to pay homage to a childhood friend, Ronald B. Lewis, who served his country with pride and dignity."

To be eligible for the scholarship, students must have a minimum grade point average of 2.5 and have served in any branch of the armed forces of the United States, without regard to character of their discharge. Students of any classification and geographic location are eligible to apply. Recipients will be selected by a committee who will evaluate each application.

In addition to serving as a member of the UNC Board of Governors, Webb is certified as a federal mediator in all three federal districts in North Carolina and is a certified North Carolina Superior Court mediator. He is also chair of the North Carolina Dispute Resolution Center. He is currently a senior advisor at Shanahan Law Group in Raleigh. He served as a United States magistrate judge for fourteen years in the Eastern District of North Carolina.

​A Vietnam veteran, Webb was honorably discharged from the United States Air Force. He graduated summa cum laude, first in his class from the University of New Haven and was awarded his J.D. from the University of Connecticut School of Law. He began his distinguished law career as an assistant district attorney, prosecuting homicides in Allegheny County, Pittsburgh, Pennsylvania.

​From there, he went on to serve as Senior Staff Counsel on the U.S. House Select Committee on Assassinations, for the U.S. House of Representatives. Webb became an Assistant U.S. Attorney and then Deputy Attorney General, Western Regional Director in Pennsylvania. He was commissioner of the Federal Equal Opportunity Commission in Washington, D.C., where he worked with U.S. Supreme Court Justice Clarence Thomas.

In Raleigh, Webb worked as Assistant Attorney General, Chief OCDETF, and then as Deputy Secretary, General Counsel at the North Carolina Department of Crime Control & Public Safety. He served as Assistant U.S. Attorney as the first chief of the organized crime and drug enforcement task force. He was then appointed to the federal bench.

Webb taught as an adjunct professor at the Norman Adrian Wiggins School of Law, Campbell University, from 2009 until 2013. He has comprehensive expertise in the areas of employment law, federal regulations, appeals and white-collar criminal defense.

Fayetteville State University is a constituent institution of The University of North Carolina and the second-oldest public institution of higher education in the state, having been founded in 1867. FSU offers degrees at the baccalaureate, master's, and doctoral levels. With more than 6,200 students, Fayetteville State University is among the most diverse institutions in the nation. Chancellor James A. Anderson is the 11th chief executive officer. To learn more about Fayetteville State University, visit https://www.uncfsu.edu.