Video Wall of Success Unveiled at FSU Highlighting Students, Employers, Internships
Date: March 10, 2022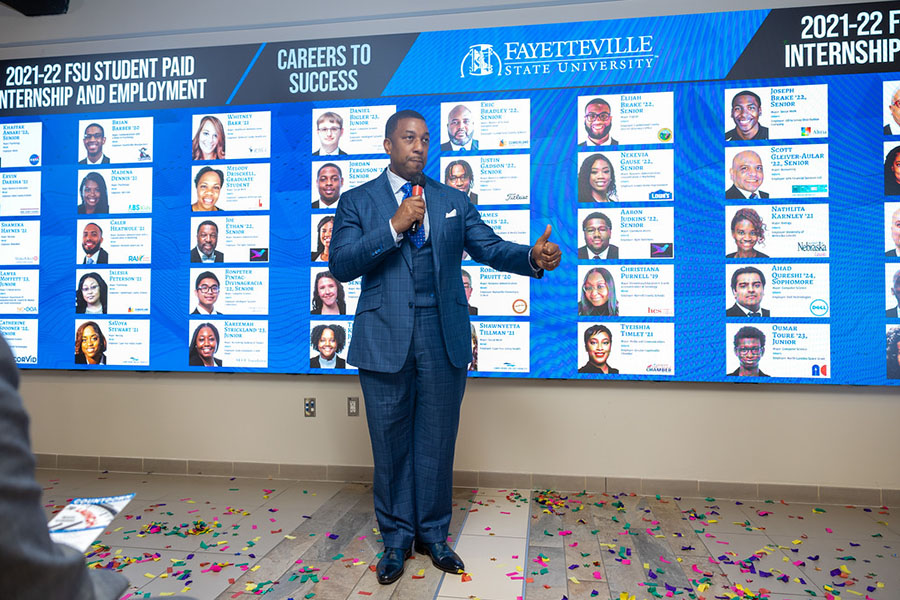 Chancellor Darrell T. Allison sharing his vision for The Wall of Success.
---
In an effort to increase student internship participation and opportunities, encourage greater employer partnerships and recognize special collaborations, Fayetteville State University unveiled the innovative video Wall of Success, Tuesday, March 8. Located in the upper-level concourse of the Rudolph Jones Student Center, the visually stunning, extended mosaic celebrates increased, successful student internships and post graduate employment. The presentation reinforces FSUs commitment to increasing internship access and excellence.
Opening the unveiling, Yasmine Farley, director of Career Services, greeted attendees and provided an overview of the university Career Services program. Following, Chancellor Darrell T. Allison shared his vision for The Wall of Success and reiterated FSU's increased focus and commitment to exceptional student internship options, opportunities, and career preparedness as well as its resulting boosted economic impact.
"The Wall of Success is representative of student success and possibility. We want to see every student showcased here," said Chancellor Allison. "The resources are in place. Employers are increasingly eager to work with our exceptional students. Moreover, our impact is stretching beyond campus, economically benefitting our community and the entire state. I'm looking forward to greater opportunities for our students."
---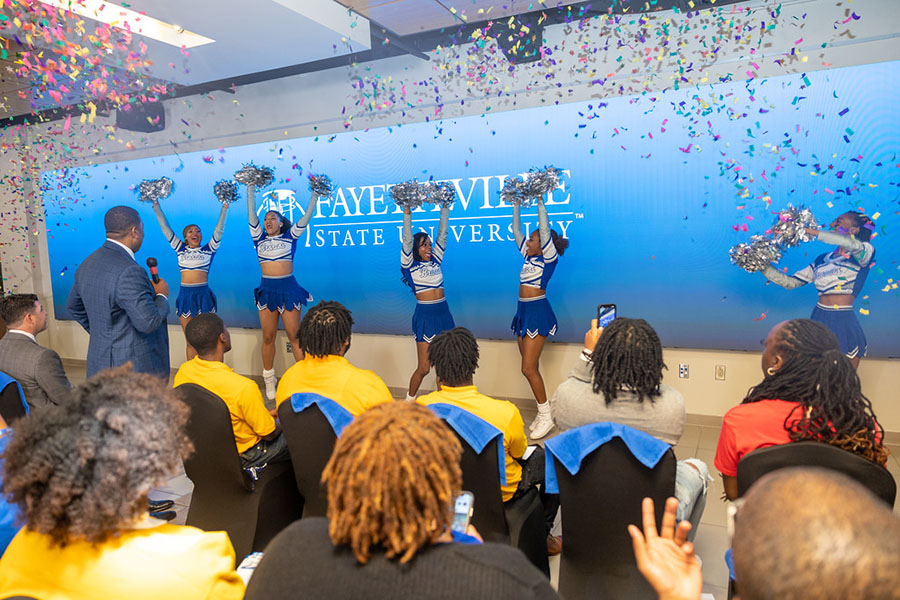 The Wall of Success unveiling.
---
Several student leaders were featured for their successful internship participation, including student government association president, Sydney Harris and FedEx Ambassador, Brianna Alston. Additionally, representatives from internship sponsoring organizations were on hand discussing the importance of collaboration and partnership with the university for the benefit of student achievement.
A high-performance, LED video wall, The Wall of Success measures 36ft x 6.75 ft. and is comprised of 176 modules linked for seamless presentation. The display will showcase student leadership and achievements for those who have participated in paid internships in 2021 and 2022 to-date or who have recently been hired into post-graduation careers. Corporations and agencies employing our students will also be noted. The objective is to reinforce for students and faculty the importance and the accessibility of internships-and the many paid internships being made available.
---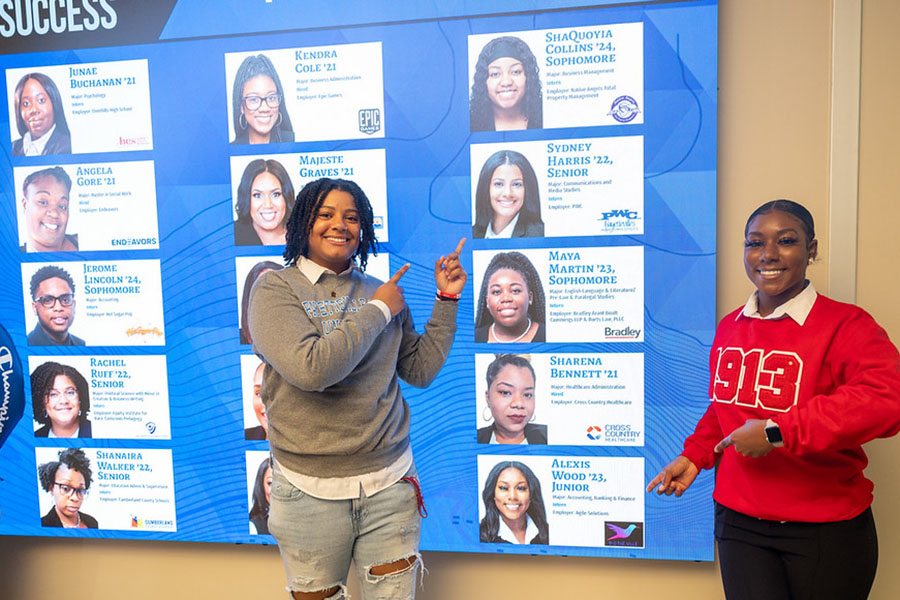 Student Government Association President, Sydney Harris and Alexis Wood.
---
The creative presentation contributes to the university's key priority of embracing students where they are and preparing them for the future. Additionally, it showcases student success stories as encouragement for other students to strive for similar opportunities. Employers are also highlighted, recognizing them as valued partners. The Video Wall will be used in messaging to help encourage even more employers to partner with FSU in connecting our students with paid internship and job opportunities-which will benefit the employers as well as the students. Note that last year Chancellor Allison set a target of 100 paid internships or new careers launched by the end of this academic year and 750 by 2024. So far 105 students have participated in paid internships since Spring 2021, and more than 70 corporations and agencies have partnered with FSU in providing those paid internships.
Also in attendance were FSU Board of Trustees and cabinet members, deans and state and local officials.