Writing Center Spring 2020 Workshop Series
Date: February 04, 2020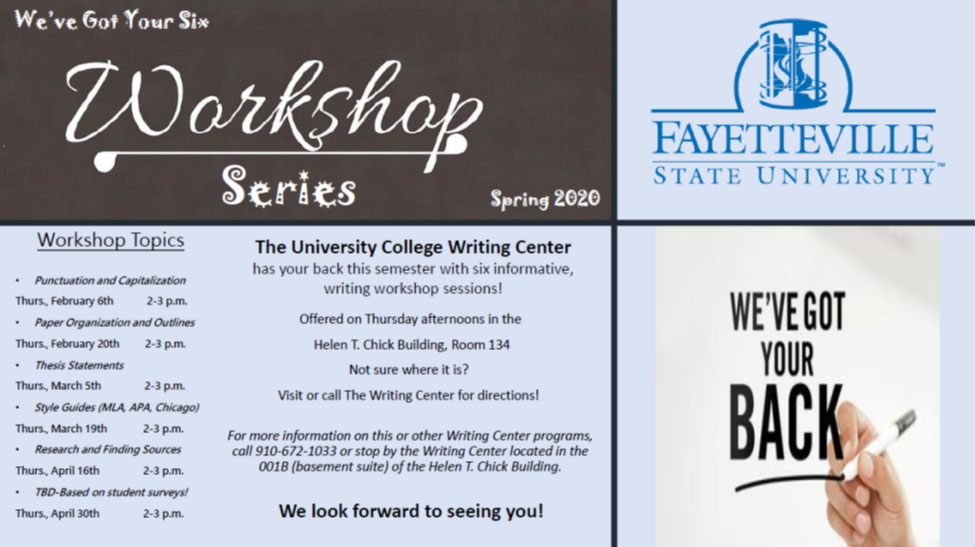 The University College Writing Center has your back this semester with six informative, writing workshop sessions!
Offered on Thursday afternoons in the Helen T. Chick Building, Room 134
Not sure where it is? Visit or call The Writing Center for directions!
For more information on this or other Writing Center programs, call 910-672-1033 or stop by the Writing Center located in the 001B (basement suite) of the Helen T. Chick Building.
We look forward to seeing you!
---
Workshop Topics
·Punctuation and Capitalization
Thurs., February 6th, 2-3 p.m.
·Paper Organization and Outlines
Thurs., February 20th, 2-3 p.m.
·Thesis Statements
Thurs., March 5th, 2-3 p.m.
·Style Guides (MLA, APA, Chicago)
Thurs., March 19th, 2-3 p.m.
·Research and Finding Sources
Thurs., April 16th, 2-3 p.m.
·TBD-Based on student surveys!
Thurs., April 30th 2-3 p.m.