Famed Yolanda Rabun to Perform "No Fear and Blues Long Gone: Nina Simone" for FSU's 2019-2020 Fine Arts Series
Date: October 14, 2019
On November 7 and 8, 2019, Fayetteville State University (FSU) invites students and the community to attend an exciting performance of Yolanda Rabun's "No Fear and Blues Long Gone: Nina Simone" at FSU's Seabrook Auditorium. The event begins at 7:30. Admission is from $20-$125.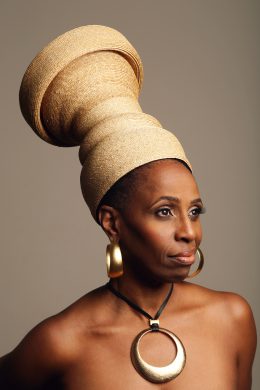 "No Fear and Blues Long Gone: Nina Simone " is a one-woman show that shares a collection of memories, conversations, and music. It is inspired by the Music, loves, and losses of the legendary North Carolina singer, Nina Simone. The play, written by acclaimed poet and playwright, Howard Craft and performed by award-winning jazz vocalist Yolanda Rabun was originally commissioned by the Stone Center at the University of NC, Chapel Hill, and is directed by Kathryn Hunter- Williams. The life of Nina Simone remains extraordinarily relevant today and forever more. This exciting performance is in partnership with two state-wide campaigns, NC Arts Council "Come Hear North Carolina"-celebrating NC music history and current musical landscape, NC Department of Natural and Cultural Resources "She Changed the World-Celebrating Women's History." National Trust for Historic Preservation, NC African American Heritage Commission.

Nina Simone's home is in Tryon N.C. The home received national attention last summer declaring it a national treasure. This declaration kicked off the African American Cultural Heritage Action Fund which is a campaign to save spaces across the country that once belonged to African Americans. The National Trust kicked off a national-wide campaign to raise funds to renovate Nina Simone's home and make it into an activated space.
Yolanda Rabun, a skilled singer with natural storytelling instincts, performs with symphonies, and in national jazz festivals, regional theatres, and music venues, sharing concerts of her music and tributes to her musical icons, Nancy Wilson and Nina Simone. Rabun exploded onto the jazz scene as a bandleader in 2011, with her debut CD project, "So Real," and followed up with "Christmastime," "Hold on To Your Dreams", and the Yolanda projects, the latter of which made first round consideration for the 59th Grammy and had appearances on several jazz charts, including the UK Soul Top 30 chart for 11+ weeks and a Billboard Most Added List for Smooth Jazz. Rabun has opened for and sung with Jennifer Holiday, Stephanie Mills, Will Downing, Howard Hewitt, Ron Isley and the Isley Brothers, R&B singer KEM, world-renowned iconic drummer, Sheila E., the NC Opera, and the Durham Symphony Orchestra.

Rabun is a Georgia and New York licensed practicing and award-winning corporate attorney, a voting member of the National Academy of Recording Arts & Sciences (the Grammys), and a registered BMI songwriter and BMI and ASCAP publisher. She resides in Wake Forest, NC with her husband of 25 years and their two college-age sons. As a wife, mother, corporate lawyer, professional actor, music entrepreneur, motivational speaker, and acclaimed recording-performing artist, Yolanda Rabun is a true Renaissance woman, and in her own words, "not done!"

For more information, please contact:
Michelle Saunders
Phone: 910-672-1407
E-mail: bsaunde1@uncfsu.edu

About Fayetteville State University
Fayetteville State University is a constituent institution of The University of North Carolina System and the second-oldest public institution of higher education in the state, having been founded in 1867. FSU is a historically black university offering degrees at the baccalaureate, master's, and doctoral levels. With more than 6,500 students, Fayetteville State University is among the most diverse institutions in the nation. To learn more about Fayetteville State University, visit https://www.uncfsu.edu.