FSU and the Power of Local Investment
By Chancellor Darrell T. Allison, J.D.

March 15, 2023
Dear FSU Family,
"A rising tide lifts all the boats." This adage, favored by President John F. Kennedy, captured his confidence in the propulsive power of economic investment—and the collective return on that investment. Improving the lives of some, he believed, improved the lives of all.
We rise, together.
It's an apt theme for Fayetteville State University. Today, March 15, marks my second anniversary as chancellor, capping a year of intensive, intentional investment in our city and region. Our focus: think local and act local, working to lift up our community.
Broadly at FSU, we seek to educate and develop leaders who embody our institutional motto, "Deeds not words." Yet, we have recommitted ourselves to do this important work—all of it—within our community context. We aspire to live out a message and vision of community partnership: We are here for you, Fayetteville. After all, Fayetteville State University is only as strong as the first word in our name.
Across the past 12 months, then, as part of this vision, FSU has invested in programs designed to benefit our local area for years to come. I'd like to share seven specific ways.
Boosting educational access and outcomes: Last June, FSU announced a $5.8 million grant from Anonymous Trust that will fund our efforts to increase student retention, graduation, and minority male recruitment. These funds will also support Bronco Boost and Bronco Opportunity Scholarships for students from our region.
Stimulating economic growth: In September, FSU partnered with the City of Fayetteville and Cumberland County to launch the Fayetteville-Cumberland Regional Entrepreneur and Business HUB, located at Bronco MidTown. The "HUB" provides valuable services—including training as well as help securing certifications and start-up capital—to local entrepreneurs and business owners, at no cost. In addition, students and community members can access workspaces, technology, and more. An emblem of economic opportunity, the HUB is also a testament to the power of local partnership and philanthropy.
Creating employment and revenue opportunities: In October, FSU broke ground on a Chick-fil-A restaurant at Bronco MidTown on Murchison Road as well as a new Starbucks on campus. These enterprises are creating much-needed employment opportunities and will drive revenue. Moreover, as flagship brands, they are visible symbols of FSU's economic and community commitment.
Expanding recreational access: In January, FSU opened a newly renovated Campus Aquatic Center, the product of a $700,000 institutional investment and the only aquatic facility of its kind in the area. In addition to serving university constituents, the Olympic-sized pool will offer area youth, the elderly, and local community groups a modernized venue for competition, training, and recreation.
Bridging the digital divide: Earlier this month, FSU announced a nearly $5 million federal grant that will significantly improve broadband utilization in our region. Funds will improve the online presence and capabilities of at least 30 businesses in surrounding anchor counties over the next two years. In addition, grant monies will increase the number of students who can utilize remote instruction at FSU, and will boost student access to technology.
Our strategic investments in Fayetteville and Cumberland over the past 12 months are poised for a great and collective return, where key local partners have likewise reinvested over $1.3 million into FSU in the following ways:
Positioning Cumberland County graduates for success: In February, FSU announced a $580,000 grant from the Cumberland Community Foundation. Funds will enable over 100 Cumberland County graduates to participate in FSU's summer school or Bronco Boost, a new summer bridge program that eases the college transition for our students. The grant augments other FSU aid programs, including Bronco Opportunity Scholarships, which are needs-based scholarships for students from Eastern North Carolina.
Shaping and supporting leaders: Also last month, FSU received a $750,000 donor gift to launch the Gillis-Jones Institute for Ethics and Leadership. The Institute will offer formative ethics instruction—shaping a new generation of leaders—as well as a speaker series featuring community, business, and military leaders.
The signs of uplift are here and we're doing it, together. Our investments over the past 12 months are poised for a greater and collective return. Can you see it? City, county, region: The tide is rising, all around.
Sincerely,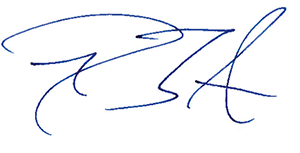 Darrell T. Allison, J.D.
Chancellor