BRONCO-iRADIO.COM Announces Mobile App Launch
BRONCO-iRADIO.COM Mobile App Is Now Available in Apple Store or Google Play
Date: September 12, 2023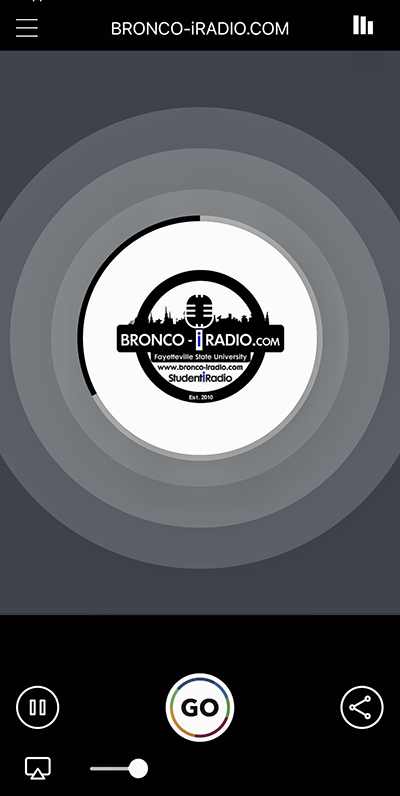 Fayetteville, NC (September 12, 2023) – BRONCO-iRADIO.COM a leading innovator in the radio industry, is thrilled to announce the launch of its highly-anticipated mobile application. This groundbreaking app is poised to transform the way the platform's global audience can access key information, music, and entertainment offering app users a new level of convenience, efficiency, and accessibility.
The BRONCO-iRADIO.COM app is designed to address the needs of the students, faculty, and global audience by providing a comprehensive solution that leverages technology to provide ease of access and broadens the scope of communication. With a focus on user-friendliness and a commitment to providing a service and outlet for the community, this app showcases the student-run platform's continued growth.
Users can access the app on their phone or mobile device, by searching for BRONCO-iRADIO.COM in the Apple (IOS) and Google (Android) app stores, downloading the app, and creating a login to complete setup. The global audience can now interact in real time with live student-aired programming via chats, live polls, and station-generated surveys. Users will also be able to connect to other BRONCO-iRADIO.COM social media platforms via the app dashboard.
"This app represents a significant step forward for our student radio station and the entire College of Humanities and Social Sciences. With the new app, our students will have a user-friendly and convenient platform to access a wide range of informative and entertaining content. It is poised to revolutionize the way our listeners engage with our content, creating new opportunities for connection, exploration, and learning," said Dr. Marcus Cox, Dean of the College of Humanities and Social Sciences.
"We are excited to introduce our stand-alone BRONCO-iRADIO.COM app to the Fayetteville State University family and global audience. All of this wouldn't be possible without the continued support of the College of Humanities and Social Sciences, the Communication, Languages and Cultures, and the Division of Student Affairs, "said Ray Thomas, Advisor/General Manager of BRONCO-iRADIO.COM.
Bronco-iRadio.com is a student-run internet-based global radio station where FSU students learn about the radio broadcasting industry. We provide on-the-job training for students and volunteers interested in the field of radio broadcasting. Students are given access to state-of-the-art equipment where they learn programming, production, sales, marketing, photography, videography, music, and media design.
For inquiries and media opportunities, please send an email to broncoiradio@uncfsu.edu or call (910) 672-2540. For more information about the launch and more visit www.bronco-iradio.com.