CIAA XC Championships 2023
Date: October 26, 2023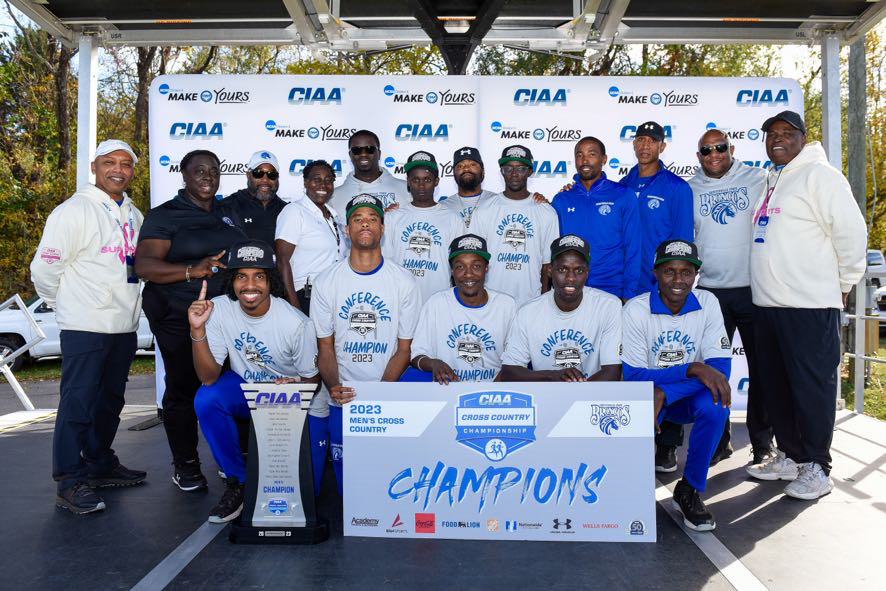 SALEM, VA – Fayetteville State swept the men's and women's titles for the second straight year at the 2023 CIAA Cross Country Championships at Green Hill Park on Thursday.
The Broncos women scored 28 points to run away with their sixth consecutive CIAA Championship. Winston-Salem State scored 76 points for second place and Saint Augustine's scored 79 points to hold off Virginia State (81 points) for third.
The Broncos men tallied 56 points to claim their second straight crown in only the second year of program's existence. Virginia Union scored 85 points to garner second and Shaw placed third with 89 points.
Both FSU teams are led by Head Coach Inez Turner, who was named the CIAA Men's and Women's Cross Country Coach of the Year after the meet.
Th FSU women placed four runners in the top nine individually, including the top three spots. Irene Jeptoo finished in 18:33.5 to claim the women's 5K individual crown. Daisy Jerop and Nia Gibson were second and third, respectfully, for a 1-2-3 Bronco finish to nudge out CIAA Runner of the Year Abijah Jepkemboi of Saint Augustine's, who placed fourth.
Viola Korir of Fayetteville State was ninth and Repline Cheptoo finished 13th to complete a stellar performance by the Broncos' women.
Micah Kipruto of Virginia Union won the men's 8K championship. He ran a winning time of 25:35.8.
The Broncos took the next three places as Derrick Kipchuma, Nathan Kipyego and CIAA Runner of the Year Hillary Toroitich finished second, third and fourth, respectively. Brian Kiptanui of Fayetteville State was sixth as the Broncos took four of the top six spots.
The trio of Jeptoo, Jerop and Gibson headlined the All-CIAA women's team. The squad included Jepkemboi of Saint Augustine's, Manuelene Deigh and Manuela Deigh of Virginia State, Thea Schillaci of Shaw, Elicia Bryant of Winston-Salem State, Korir of Fayetteville State, Vanessa Jones of Winston-Salem State, Alandina Hyppolite of Virginia State, Briyana Tillman of Winston-Salem State, Cheptoo of Fayetteville State, Joyce Jepleting of Saint Augustine's and Taymar Smith of Saint Augustine's.
Kipruto of VUU and the Broncos' foursome of Kipchumba, Kigyego, Toroitich and Kiptanui led the All-CIAA men's squad. The team included Derrick Chesire of Virginia Union, Alex Kiprono of Shaw, Jalen Brownlee of Virginia State, Emmanuel Williams of Virginia State, Truth Mattison of Livingstone, Mathew Kiptum of Shaw, Ronald Kipkemboi of Shaw, Brandon Jeffers of Livingstone, Gabriel Miles of Virginia State and Kevin Kiptarus of Shaw.
The top 15 men and women finishers earned All-CIAA honors.