Dr. Pamela Baldwin Appointed as Associate Vice Chancellor for Student Success and Enrollment Management
Dr. Baldwin to provide collaborative leadership, strategic planning, supervision, grants, and budget development/oversight for strategic enrollment and student success units
Date: September 28, 2023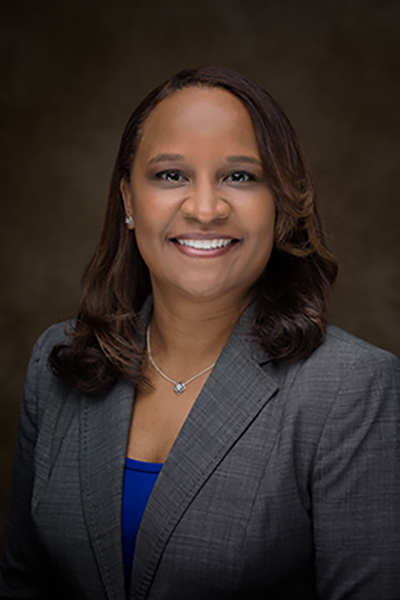 Fayetteville, NC (September 28, 2023) – Fayetteville State University is pleased to announce the appointment of Dr. Pamela Baldwin as the new associate vice chancellor for Student Success and Enrollment Management, effective September 1. In this role, Dr. Baldwin will report to the provost and senior vice chancellor for Academic Affairs and work collaboratively as a provost's leadership team member to advance the strategic goals and objectives to meet its recruitment, retention, degree completion, and student success goals.
Dr. Baldwin brings a wealth of experience to her new role, having previously served as the associate dean of academic partnerships. In this role, she was responsible for ensuring the effectiveness of programs and services that facilitate the successful transition of first-year students into the university and subsequent retention into the second year. She also evaluated the first-year seminar courses and retention initiatives in collaboration with the Bronco One Stop.
As the Associate Vice Chancellor for Student Success & Enrollment Management, Dr. Baldwin will provide collaborative leadership, strategic planning, supervision, grants, and budget development/oversight for strategic enrollment and student success units. This includes facilitating a student-centered co-curricular culture of student success. She will also provide vision, innovative leadership, and oversight of integrated services, holistic student support, and centralized student services.
Dr. Baldwin's portfolio will include overseeing Admissions, Office of the Registrar, Scholarships and Financial Aid, Bronco One Stop, Academic Advising Center, Student Success Learning Centers, Testing Services, TRIO Programs, Bronco Contact Center, University Testing Services, and Access Programs.
"We are thrilled to welcome Dr. Baldwin to her new role at Fayetteville State University," said Dr. Monica T. Leach, provost and senior vice chancellor for Academic Affairs. "Her extensive experience and expertise in student success and enrollment management will be invaluable as we continue to strive towards our goal of providing a world-class education to all our students."
Please join us in welcoming Dr. Baldwin to her new role with the Fayetteville State University community.