Fayetteville State and East Carolina Universities join forces in STEM Education
FSU Students Participate in ECU Graduate Pathways Program and Research Collaboration
Date: July 08, 2022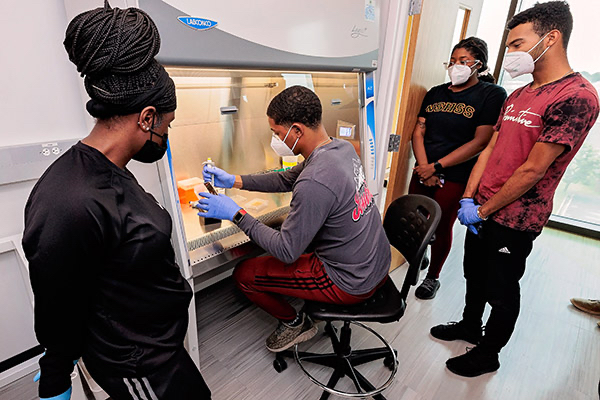 Fayetteville, N.C. (July 08, 2022) — Over the past two years, leaders at Fayetteville State University (FSU) and East Carolina University (ECU) have established early assurance agreements that define requirements to guarantee admission of FSU undergraduates into ECU graduate programs including fine arts, kinesiology, biology and network technology. As part of the partnership, the schools are also collaborating to provide experiential learning opportunities and best practice programming for student success, retention, and transition into graduate programs.
In April, Danielle Graham, Ph.D., assistant professor of microbiology and interim chair of FSU's Department of Biological and Forensic Sciences, along with Justin Graham, Ph.D., assistant professor of biology and director of the FSU Honors Program, facilitated a visit to ECU for 11 FSU undergraduates. FSU students majoring in biology, forensic science and pre-nursing participated in a campus tour of ECU's graduate school and Brody School of Medicine, an immersive laboratory experience, and a session on ECU graduate school admissions.
Jenyiah Scaife, a sophomore forensic science major, said the visit solidified her decision to further her education. "Before the ECU graduate school trip, I was contemplating on going further with my education," she said. "Now that I know ECU offers several different programs and resources to help students be successful, I know I want to move forward with my education."
This summer, FSU undergraduates Frankie Boyer, Markis' Hamilton, Sarina Maybank and Alexis Nealy are participating in a paid summer research internship led by Dr. Danielle Graham as part of the graduate pathways program. The students are studying soil bacteria to identify novel antimicrobials to combat antibiotic resistance and biofilm formation. Graham and ECU's Ariane Peralta, Ph.D., associate professor of biology, collaborated to secure funding.
"The students are receiving a stipend that is a culmination of several mechanisms, including the McNair Scholars Program, College of Arts and Sciences at ECU, along with individual and joint funding from the National Science Foundation to Dr. Peralta and me," Graham said. "This financial support will help alleviate the burden for students to work and give them the ability to focus on gaining experience to advance their careers."
In June, the students visited Peralta's research laboratory at ECU for a three-day visit to study soil bacteria and share knowledge and lab protocols. The students learned to identify soil bacteria that were isolated from the environment and measured how fast the different bacteria grew. They also toured the long-term ecology experiment at ECU's West Research Campus where the field samples were taken.
Frankie Boyer, a junior biology major, said the experience reinforced his goal to research infectious diseases. "Working in ECU's lab felt natural to me, and my love of science was fueled by the procedures I performed, with the help of ECU students and Dr. Peralta," he said. He acknowledged that the techniques were complex but fascinating and plans to work at the Centers for Disease Control once he earns his doctorate.
Markis' Hamilton, a senior biology major, said the whole trip was full of learning opportunities for students pursuing research. "[From] the hands-on experiment, along with the incredible staff, the experience opened up so many doors as an aspiring researcher," he said.
Sarina Maybank, a senior biology major, said the visit exceeded her expectations. "At first, I thought I would be completely lost and have no idea what I was doing when I sat down at the lab bench," the Fayetteville native said. "But I realized that a lot of the work was not far off from what I have done in Dr. Graham's lab in the past. I do believe that learning the ropes in a research lab, different from what I am used to, was a necessary experience, and I even learned a few techniques that I have already started using back in the lab at FSU."
Alexis Nealy, a senior pre-health major, said the visit allowed her to expand her scientific research platform and grow as a future STEM professional. "I have enhanced my scientific inquiry skills, personal competencies, and teamwork abilities while working in Dr. Graham's lab," she said. "I have also enjoyed working in Dr. Peralta's lab and learning new techniques from the graduate students at ECU. I have become more confident in my abilities as a researcher and will continue to seize new learning opportunities."
Graham said the collaboration was as rewarding for her as it was for the FSU students. "This research collaboration not only expands our research initiatives, but also exposes FSU undergraduates to a variety of research techniques, builds their network, and allows them to gain necessary skills to be competitive applicants for graduate and professional schools," she said.
Graham and Peralta aim to maintain and expand their research collaboration to engage and expose undergraduates to research, thereby strengthening their technical and soft skills while increasing diversity in STEM.