Fayetteville State Broncos host Lincoln (PA) Lions for Military Appreciation Football Game
Fayetteville State vs. Lincoln (PA) • Luther "Nick" Jeralds Stadium • Sept. 16, 2023, 6:00 pm
Date: September 14, 2023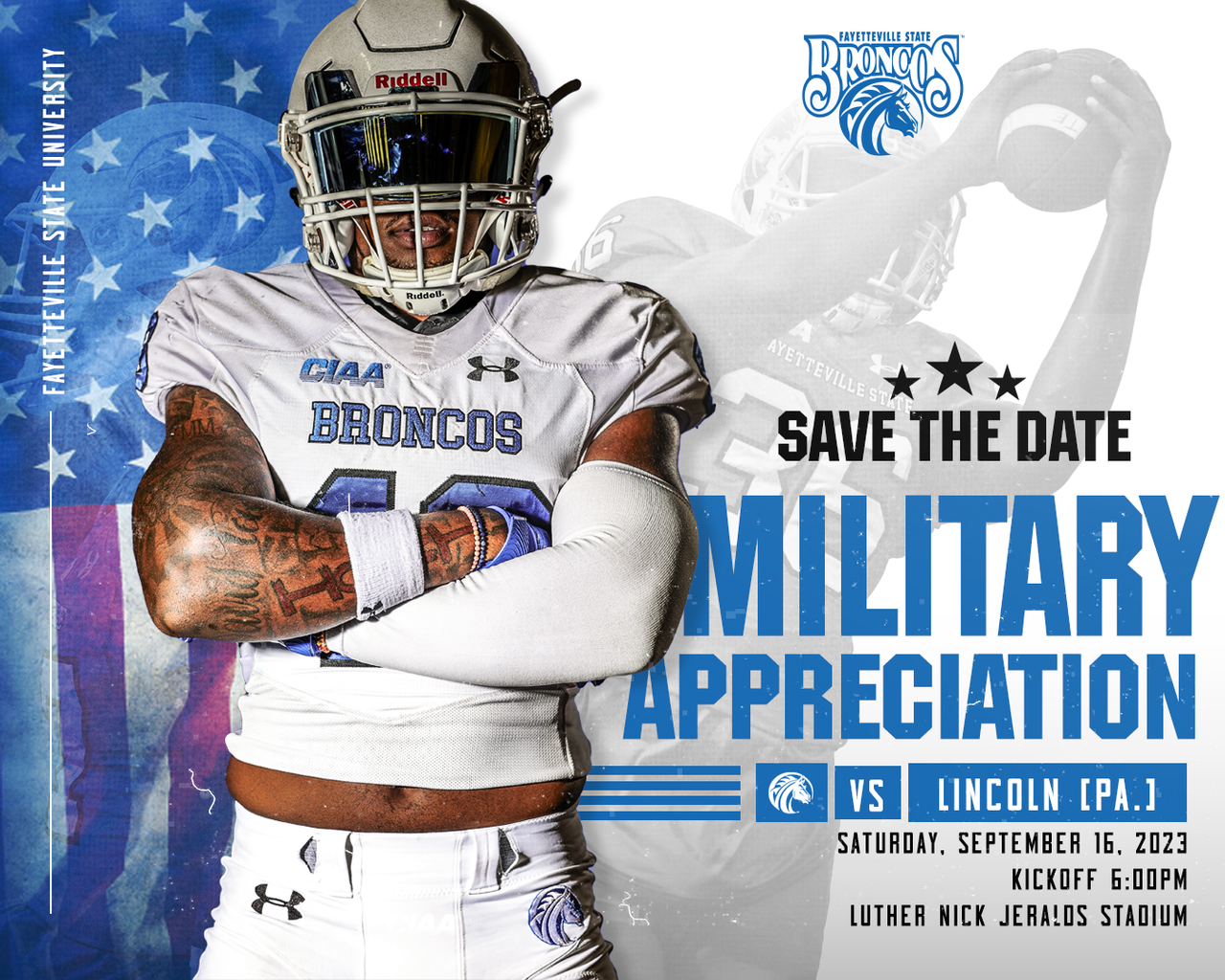 Fayetteville, NC (September 14, 2023) – Fayetteville State University (FSU) is excited to invite the community to Luther "Nick" Jeralds Stadium this Saturday, September 16, 2023, for the FSU Military Appreciation Week Football Game. The Fayetteville State Broncos will be hosting the Lincoln (PA) Lions in what promises to be an exciting game. This is a great opportunity for the community to come together and show their support for both FSU and our military.
Gates open at 4:30pm with the game kicking off at 6:00 pm. Fans not in attendance can watch all of the action live, streaming on the Bronco Sports Network starting at 5:40 pm. FSU has made the move to digital ticketing and tickets can be purchased online or before gameday at Seabrook Auditorium on FSU's campus. For more ticket information contact the FSU Ticket Office at 910-672-1724.
Fayetteville State University is proud to honor our military and their families during Military Appreciation Week. This week-long celebration is a way for us to recognize and thank the brave men and women who have served our country. We are grateful for their service and sacrifice, and to say thanks, the Broncos are offering free admission to all Active Duty/Dependents/Veterans with valid ID.
The football game is just one of the many events that have taken place during Military Appreciation Week. FSU has also hosted a variety of activities and events to honor our military, including a Commemoration Run/Walk, a Student Resource Fair, and a Bike and Car Show.
We hope to see you at Luther "Nick" Jeralds Stadium this Saturday to cheer on the Broncos and show your support for our military!