Fayetteville State University Captures 2023 CIAA Women's Outdoor Track & Field Championship
McQueen, Seward named CIAA Women's Outdoor Championship MVPs, Turner notches CIAA Women's Outdoor Track & Field Coach of the Year
Date: May 06, 2023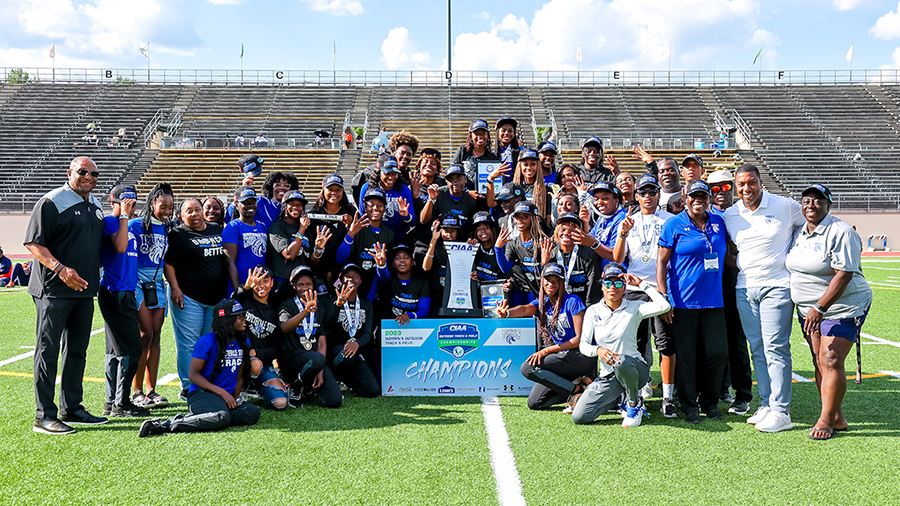 DURHAM, N.C. (May 6, 2023) – The Fayetteville State University women's track & field program repeated as conference champions at the 2023 CIAA Men's and Women's Outdoor Track & Field Championships at the Durham County Memorial Stadium on Saturday.
Fayetteville State dominated from start to finish in the two-day event. Last year, the Broncos were co-champions along with Winston-Salem State but left no doubt who the best team was this year. Led by Jessica McQueen, the CIAA Women's Championship Track MVP, and M'Smrya Seward, the Field MVP, Fayetteville State amassed 171.13 points to beat Virginia State (89) and Saint Augustine's (77.13).
Inez Turner of Fayetteville State was named the CIAA Women's Outdoor Track & Field Coach of the Year.
Both McQueen and Seward sparked a deep Broncos squad that set the tone on Friday and continued their brilliant performance on Saturday. Seward won the triple jump to go along with her long jump title on Friday as Fayetteville State swept the event. Tracy Idugboe was second and Domanique Knowles was third.
The Broncos won five events, including a sweep in the 4x100 and 4x400 relays, but McQueen reflected the team's depth. She placed second in the 200 and 400 dashes and was part of both winning relay teams. The 4x100 relay team consisted of Tramoni Myles, Queen Burnett, McQueen, and Teanna Bell. The 4x400 relay team included Bell, McQueen, Sierrah Matthews, and Burnett.
Ashley Taylor won the shot put and finished fourth in the discus. The Broncos doubled up on points with McQueen and Bell finishing second and third (respectively) in the 200 meters. The duo almost repeated the feat in the 400m, as McQueen finished second and Bell fourth. Nia Gibson and Repline Cheptoo came in second and third in the 1500m. Gibson returned to finish second in the 3000m. Domanique Knowles finished second in the high jump to accompany her bronze medal in the triple jump. Tracy Idugboe also added a bronze medal from the long jump.
Photo Gallery & More: Fayetteville State Captures CIAA Women's Outdoor Track & Field Championship