Fayetteville State Golf Advances to NCAA Nationals with Regional Second Place Finish
Date: May 15, 2023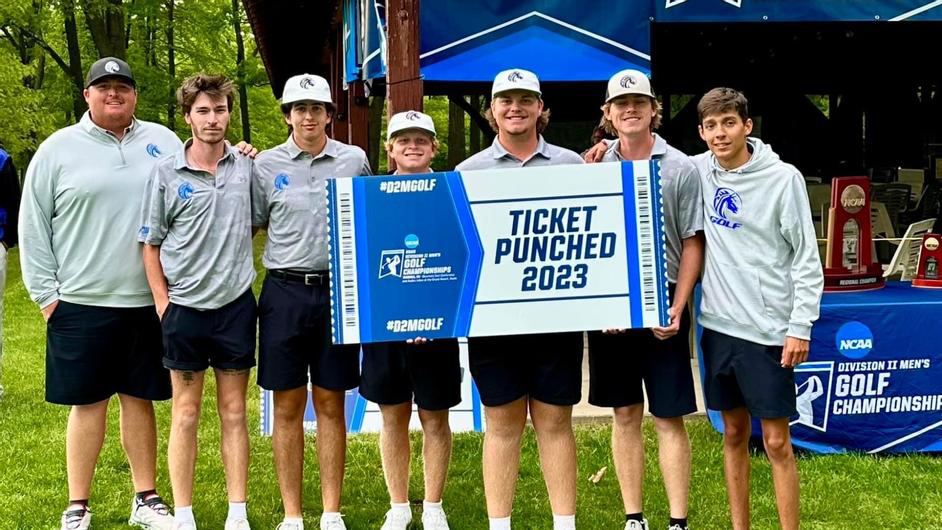 Lebanon, PA – The Fayetteville State golf program recovered from a rough 305 start to finish second at the NCAA DII Atlantic/East Super Regional Championship at the Iron Valley Golf Club in Lebanon, Pa. The Broncos finished with a +32 (896) behind Davis & Elkins +28 (892) to advance its season to the pinnacle National Championship at the Avalon Lakes Country Club in Warren, Ohio. FSU's Gatorade Co-male Athlete of the Year, Caden Hodges finished tied for fourth on the individual leaderboard with a +2 (218).
"To have a rough start to our first round and claw back with two solid rounds and run up the leaderboard was incredible," said CIAA Golf Coach of the Year John Cole. "This was a very strong field on a difficult golf course, and we overcame adversity the whole way. This will be the second time in three years that we (Fayetteville State) have made the national championship tournament. We couldn't be more excited to get to Ohio and compete!"
Fayetteville State ranked tied for eighth after the first round and responded with an improved +8 (297) to move up the leaderboard to the third spot. The Broncos did even better in the third and final round with a +6 (294) to finish in the top three qualifying positions.
The National Championship will be played from May 24 through 26.
Out of 108 golfers, Hodges was ranked tied at 22nd with a +3 (75) scorecard in the first round. He jumped to sixth place with a par 72 round and up two more spots with the final one-under.
Jack McCarthy finished tied at 33rd with a +12 (228; 83, 72, 73). Brandon Jones carded a +13 (229) for a tied 38th-place finish. He had a 77 round and two rounds of 76. Juan Lopez shot a 231 (78, 77, 76) for 45th and Shaun Wixson a 234 (75, 85, and 74).
Read more at FSUBroncos.com