Fayetteville State University Announces 2023 Family of the Year
Lieutenant Colonel (Ret.) Michael D. Randall and Valerie Randall Receive Award
Date: September 21, 2023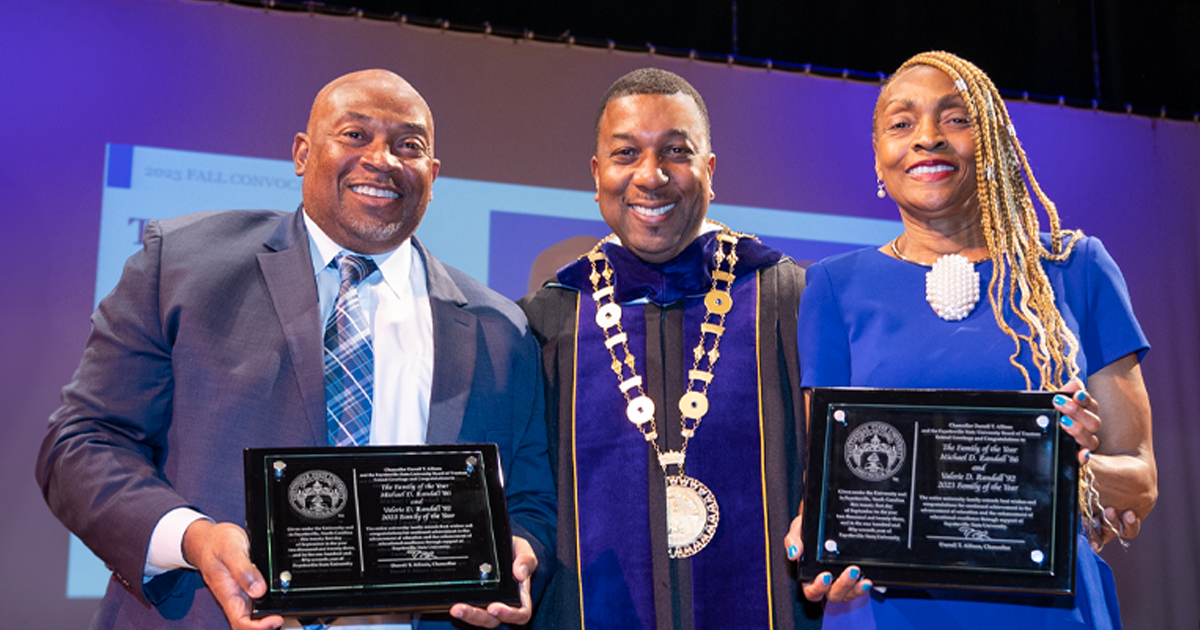 ---
Fayetteville, NC (September 21, 2023) - Fayetteville State University (FSU) is proud to announce that Lieutenant Colonel (Ret.) Michael D. Randall and Valerie Randall have been recognized as the esteemed Family of the Year at this year's Fall 2023 Convocation on September 21, 2023.
The Randalls have been actively involved with FSU's alumni chapters, committees, and initiatives. Their contributions have had a significant impact on the university's growth, development, and success.
LTC (R) Michael Randall, President and CEO of Safeguard Security Solutions, LLC, is a proud FSU alumnus who graduated with a Bachelor of Science degree in Business Administration. His extensive military career ended as Lieutenant Colonel after 20 years of dedicated service. Throughout his journey, LTC (R) Randall remained deeply connected to FSU and has continued to give back to his alma mater.
Valerie Randall, with a remarkable career of 36 years of service in the Federal Government, earned her Associate of Applied Science Degree in Dental Hygiene and a Bachelor of Science Degree in Psychology, both from FSU. She later pursued a master's degree in education (administration & supervision) from the same institution. Valerie's commitment to education and her strong ties to FSU have made her an invaluable part of the Bronco community.
The Randall family's connection with FSU goes beyond their academic achievements. They established the Gladys Randall Endowed Athletic Scholarship in honor of their mother, who was a devoted supporter of FSU's athletic events and Homecomings. This scholarship aims to support future generations of students in their pursuit of education at FSU.
The Family of the Year recognition is a testament to the Randall family's unwavering dedication to FSU and its values. Their commitment to higher education and community building resonates with FSU's mission and serves as an inspiration to current and future generations of Bronco family members.
FSU is honored to recognize the Randall family as the Family of the Year and is grateful for their continued support and contributions to the university. Congratulations to Lieutenant Colonel (Ret.) Michael D. Randall and Valerie Randall on this well-deserved recognition.