Fayetteville State University announces Homecoming 2022 Grand Marshals — Homecoming 2022 set for October 6-9, 2022
Commanders Christopher Williamson and Freddy L. Johnson, Jr. announced as FSU Homecoming 2022 Grand Marshals
Date: October 04, 2022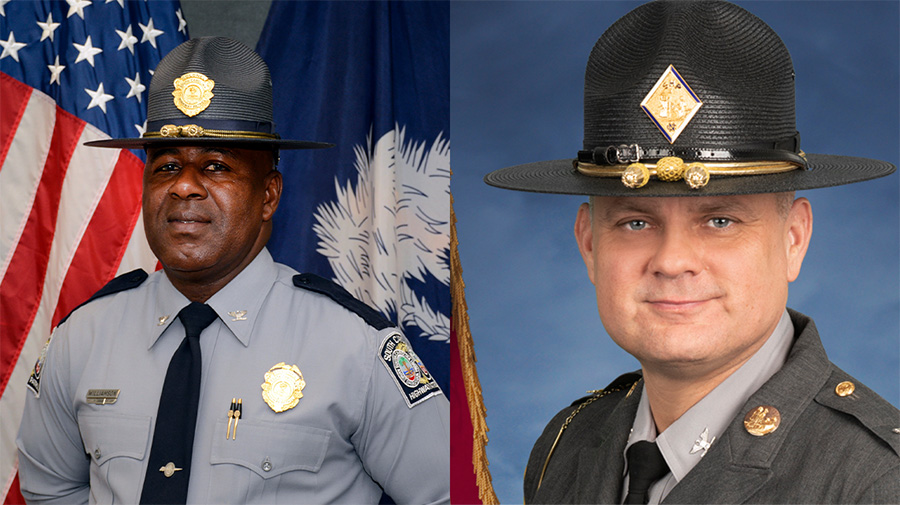 Col. Christopher Williamson (left) and Col. Freddy L. Johnson, Jr (right)
---
Fayetteville, N.C., (October 04, 2022) — Fayetteville State University's (FSU) Homecoming parade welcomes two distinguished alumni as Grand Marshals — Commanders Christopher Williamson and Freddy L. Johnson, Jr., will lead the parade scheduled for Saturday, October 8 at 10:00 a.m. on Murchison Road adjacent to FSU's campus. FSU then takes on St. Augustine's University at 2:00 p.m. in Luther "Nick" Jeralds Stadium.
Col. Christopher Williamson is commander of the South Carolina Highway Patrol — the first African American to hold that distinction. Williamson, a Darlington, South Carolina native, graduated from Fayetteville State University in 1985 and began his career in Berkeley County in 1988, primarily working in South Carolina's Orangeburg/Charleston region.
Williamson ascended the ranks of the patrol over 29 years, working his way up to captain in Troops 6 and 7 and then lieutenant colonel. He was named South Carolina Highway Patrol commander in 2017. Williamson is credited with connecting troopers with the communities they serve. He continues to work on expanding pay for law enforcement and ensuring troopers have the safest and latest technology and equipment.
North Carolina Gov. Roy Cooper appointed Col. Freddy L. Johnson, Jr. as commander of the State Highway Patrol in April 2021. The Fayetteville native began his service as a state trooper in 1996 and served most of his career in Robeson and Cumberland counties. He was promoted to the rank of captain in 2013 and major in 2017.
Johnson is a Class of 1998 graduate of Fayetteville State University, the FBI National Academy program and the Administrative Officer Management Program at N.C. State University. He has received numerous awards throughout his career, including the N.C. Governor Highway Safety Program's 2016 State Law Enforcement Partner of the Year and the North Carolina Association of Fire Chiefs' 2016 Fire Officer of the Year. FSU Homecoming 2022 also marks the 100th anniversary of Fayetteville State University Alumni, Inc., the University's national alumni association dedicated to building and sustaining alumni engagement.
Additional Homecoming activities and events are schedule throughout the weekend of October 6-9, 2022.