Fayetteville State University Announces Winners of e-Lab Innovation and Project Showcase
Three Student Teams Get Cash Prizes in Event Organized by FSU's Broadwell College of Business and Economics
Date: May 19, 2023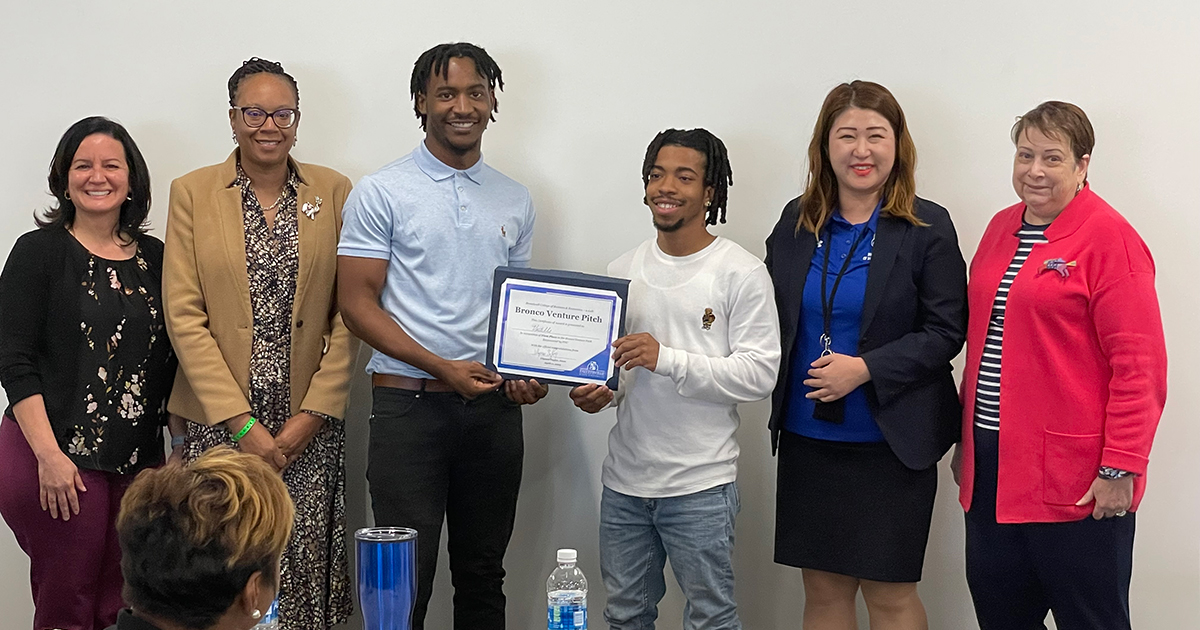 Pictured from left to right: Charlotte Bernhardt, PNC; Tameka Reed, PNC; Christian Wells and Jabril Crudup, showcase winners; Dr. Jiyoon An, Assistant Professor of Marketing; Dr. Caroline Glackin, Professor of Entrepreneurship (not pictured: Faith Bullard, member of showcase winning team)

---
Fayetteville, N.C. (May 19, 2023) — Fayetteville State University (FSU) congratulates three student teams that won cash prizes on May 3 in the 10th e-Lab Innovation and Project Showcase of FSU's Broadwell College of Business and Economics (BCBE).
The winning student teams were Christian Wells, Jabril Crudup, and Faith Bullard (1st Place); Jaheim Williams and Jabril Crudup (2nd Place); and Tyshawn Adams and Issiah Mclean (3rd Place). They each presented a consulting project designed to "empower the business community, support high-impact learning through experiential education, and create impact."
The e-Lab Innovation and Project Showcase, which is sponsored by Provident National Bank (PNC), affords "a fantastic opportunity for students to share the diverse, impactful work they are completing for real organizations," said Caroline E. W. Glackin, Ph.D., a professor of entrepreneurship at FSU who serves as the director of innovation, entrepreneurship, and economic empowerment at BCBE.
"They gain multiple skills for careers, whether through traditional employment or entrepreneurship. The event is empowered by PNC so that students can also gain financial rewards for participation. The judges provide valuable feedback and coaching beyond the afternoon of competition."
The first-place winners (Wells, Crudup, and Bullard), who are marketing students, were supervised by Dr. Jiyoon An, Ph.D., an assistant professor of marketing at FSU. They provided marketing consulting for hair care products company Vestills Hair Care. The consulting included branding, social media, and an overall marketing plan. The team won $1,500.
The winners of the second-place project award (Williams and Crudup) started a purebred bulldog breeding business, in addition to providing a financing plan and a proposal for it. Under the supervision of Glackin, they drew on their startup experience in barbering and automotive customization, winning $1,000.
The winners of the third-place project award (seniors Adams and Mclean) worked to introduce Sudschool to Fayetteville State University and the other UNC Promise institutions. Under the supervision of multiple advisors, they developed a sales and marketing plan for the business. They won $500.
A little more information on the BCBE Project Showcase: Each year, approximately 300 students work with about 50 organizations to provide valuable information, analysis, and insights into their real-world problems and opportunities under the guidance of experienced faculty and professional business advisors. Since 2017, faculty have incorporated project-based learning into courses in 10 disciplines (business analytics, entrepreneurship, finance, healthcare, information systems, organizational behavior, marketing, production, operations, and strategy). The student consulting experiences ensure that students graduate with hands-on, real-world consulting practice that produces substantial client deliverables.
Following the semester-long consulting experience, top-performing teams are nominated by faculty to compete in a BCBE Project Showcase, which takes place every fall and spring semester. A panel of judges evaluates these professional endeavors, the technical and soft skills, and their impact on clients.
The 10th BCBE Project Showcase had 12 project teams competing in a hybrid setting. Student teams successfully presented their projects to all faculty, students, and a panel of four judges.
During the event welcome, Burcu Adivar, Ph.D., the interim associate dean of BCBE, and Glackin emphasized the importance of project-based learning for producing career-ready graduates as stated in the college's mission statement and the BCBE strategic plan. They also thanked all students, supporting faculty, judges, PNC Bank, the Center for Economic Empowerment and Development (CEED), the Small Business and Technology Development Center at FSU, the Fayetteville Cumberland Regional Entrepreneur and Business HUB, and their clients for making their organizations available for BCBE students as a learning lab.