Fayetteville State University awarded nearly $5 million as part of Internet for All Initiative's Connecting Minority Communities Pilot Program
The grant will launch the University's Expand Deployment of Pivotal Technologies Project
Date: March 03, 2023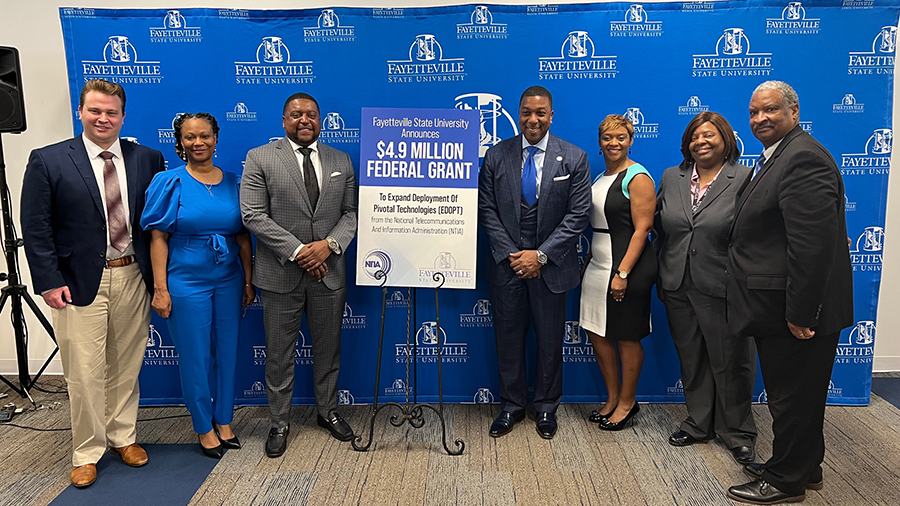 Fayetteville, N.C. (March 3rd, 2023) - Fayetteville State University (FSU) recently received a grant of nearly $5 million over two years from the U.S. Department of Commerce's National Telecommunications and Information Administration (NTIA) as part of its Connecting Minority Communities Pilot Program (CMC).
The funding will support FSU's "Expand Deployment of Pivotal Technologies" (EDOPT) project, which aims to improve broadband utilization, remote learning, STEM learning outcomes, entrepreneurship and cybersecurity capabilities for students and small businesses in surrounding anchor communities.
"This award of nearly $5 million not only provides reliable internet access to those who desperately need it and opens doors of opportunity for budding entrepreneurs, this award for our students will also enhance learning and teaching as well, bridging the digital divide that has so often hindered this region of the state from having strong and sustainable economic growth," said FSU Chancellor Darrell T. Allison, J.D. "In short, everyone deserves accessible and reliable broadband technology regardless of their unique circumstances."
Specifically, FSU's EDOPT initiative will:
Help drive revenue growth and cybersecurity enhancements for at least 30 businesses per year for two years in Cumberland, Hoke, Robeson and Sampson counties through

leveraging the world-class expertise of the Peake Fellowship, a non-profit skilled in helping small businesses across a variety of industries access new federal markets through improved online presence that meets federal cybersecurity compliance requirements.
hiring, training and deploying 60 student interns per year, assisting businesses in collaboration with Peake Fellowship and also with faculty and local community partners, to improve small business online capabilities — all leveraging the resources and expertise available at the University-owned Fayetteville-Cumberland Regional Entrepreneur and Business HUB

Increase the number of students who can enroll and succeed at Fayetteville State University through expanded capacity to deliver highly interactive and effective remote instruction for students accessing courses online with new telepresence technology in its classrooms;
Help keep students at the leading edge of technology through expanded use of virtual reality technology in selected science labs; and
Improve student access to technology by providing laptops and hotspots to selected students with demonstrated need.
"This is a critical investment in technology infrastructure that will have an extraordinary impact on FSU's academic programming and its ability to deliver a world-class educational experience to our students," said Hector M. Molina, D.B.A., FSU's vice chancellor for information technology and CIO. "By investing in new technologies, developing infrastructure, helping create jobs and partnering with local businesses, FSU can bring tremendous and positive change to its surroundings and contribute to economic development and an improved quality of life for many people who call this area home."
The Connecting Minority Communities Pilot Program is part of the Biden-Harris Administration's Internet for All Initiative that will connect everyone in America with affordable, reliable high-speed Internet service. This program specifically directs $268 million from the Consolidated Appropriations Act of 2021 for expanding high-speed Internet access and connectivity to eligible HBCUs, Tribal Colleges or Universities (TCUs), and other minority-serving institutions (MSIs). In all, 93 colleges and universities have received funding as part of the CMC Pilot Program, including 43 Historically Black Colleges and Universities, 24 Hispanic Serving Institutions, 21 Minority Serving Institutions, and five Tribal Colleges and Universities.
"Access to affordable, reliable, high-speed Internet service is necessary for minority students and local communities to fully access school, healthcare, and jobs," said Secretary of Commerce Gina Raimondo in a news release. "The Department of Commerce has made significant investment into minority-serving colleges and universities, and I am proud to say that all funding from the Connecting Minority Communities program has been distributed to help make Internet connectivity a reality for tens of thousands of students at minority-serving colleges and universities across the country."