Fayetteville State University Captures 2023 CIAA Golf Championship
Hodges, Cole earn individual player, coaching honors
Date: April 20, 2023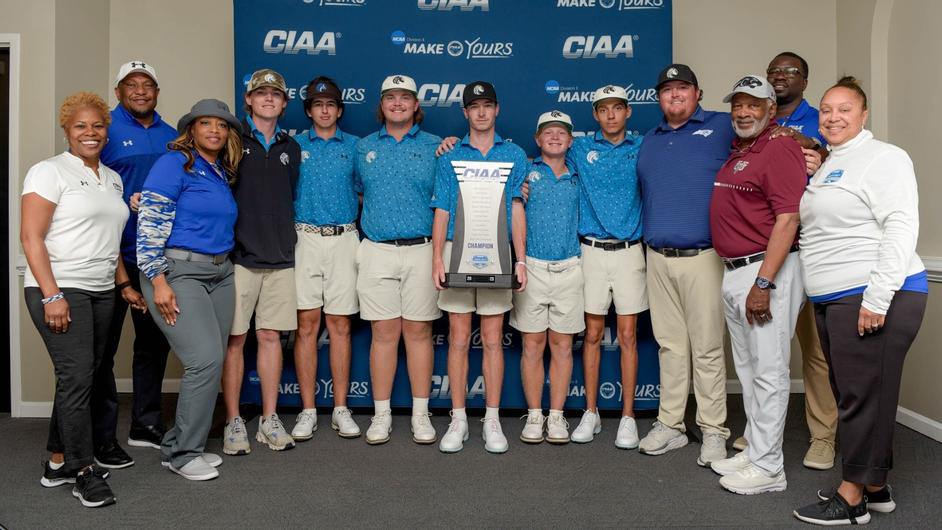 Jacksonville, NC — Fayetteville State University dominated all three rounds of the Central Intercollegiate Athletic Association (CIAA) Golf Championship with a 54-hole total of 873 (+9) at the Jacksonville Country Club to claim its first title since 2012. FSU's freshman Caden Hodges swept through all of the individual honors claiming the Championship's Low Medalist Award, the Golfer of the Year, and the Rookie of the Year Awards. The Broncos' John Cole was voted the Coach of the Year by the CIAA Golf Coaches' and Sports Information Director's Associations.
Fayetteville State closed out the final round of 18 holes with a two-over par 290 to secure the title. The Broncos shot a 295 in the opening round, followed by a 288 on the first day of competition. Student-athletes Caden Hodges, Juan Lopez, Brandon Jones, Shaun Wixson, and Jack McCarthy made up the Bronco squad.
Hodges, a freshman from Dunn, NC, finished the three-round tournament with a 211 (-5) scorecard. He had a conference season average of 71.625 to claim the Player and Rookie of the Year accolades.
Photo Gallery and more at FSUBroncos.com