Fayetteville State University Confers 1,061 Undergraduate Degrees in Historic 2023 Commencement Ceremony
The Honorable Lloyd J. Austin, III, U.S. Secretary of Defense, Delivered Remarks Focused on a Summons to Service
Date: May 13, 2023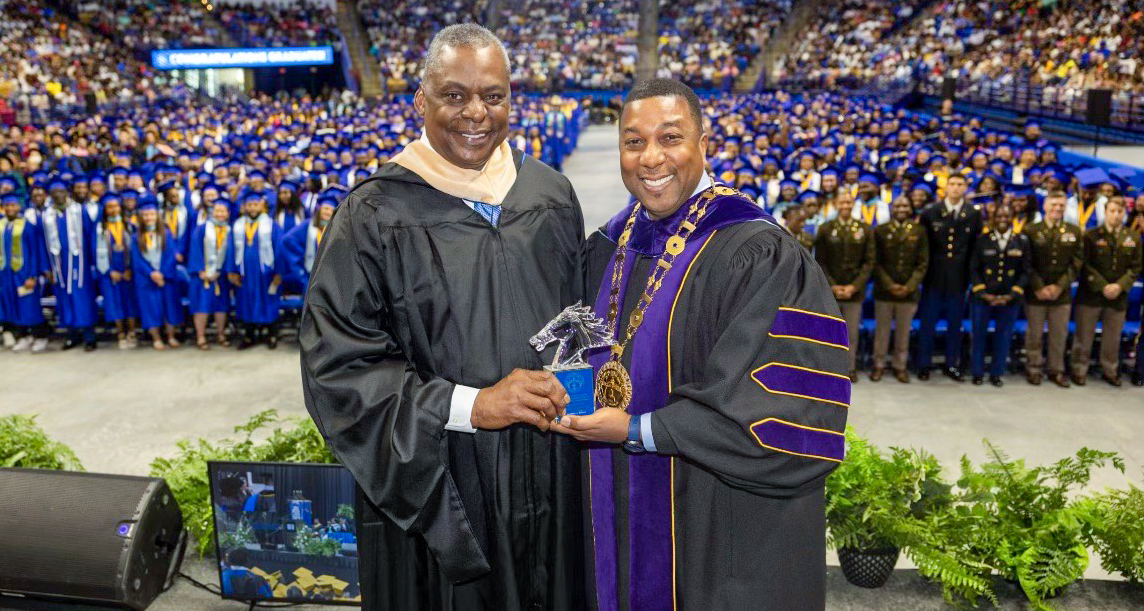 Pictured: The Honorable Lloyd J. Austin, III, U.S. Secretary of Defense (Left) and Fayetteville State University Chancellor Darrell T. Allison, J.D. (Right)
---
Fayetteville, N.C. (May 13, 2023) — On a day celebrated with significant pomp and circumstance, poignant moments, and a keynote address from The Honorable Lloyd J. Austin, III, U.S. Secretary of Defense, Fayetteville State University (FSU) awarded undergraduate degrees to 1,061 students in an historic commencement ceremony at the Crown Coliseum in Fayetteville on Saturday, May 13.
An impressive procession resplendent in signature Bronco Blue and White for the graduates and a rainbow of regalia among the faculty representing an array of disciplines set the stage for a memorable ceremony celebrating student achievement and unlimited potential. FSU Chancellor Darrell T. Allison, presiding, welcomed more than 3,000 guests for the auspicious occasion, including families and friends of the graduates; dignitaries including guests from the U.S. Department of Defense (DOD); Secretary Austin's delegation; local, regional and state elected officials; UNC System representatives; members of the FSU Boards of Trustees and Visitors; City of Fayetteville and Cumberland County leaders; representatives from Fort Bragg; members and veterans of our military; alumni; faculty; staff; area residents and members of the media.
Allison began the ceremony with a warm welcome to all and recognition of honored guests. Greetings and congratulations were also offered from Kellie Hunt Blue of the UNC Board of Governors; Glenn B. Adams, Chair of the FSU Board of Trustees; Linda C. Coley '76, President of the FSU National Alumni Association; and Maya Martin '24, President of the FSU Student Government Association.
"This is, indeed, an extraordinary day to be a Bronco!" Provost and Senior Vice Chancellor for Academic Affairs Monica T. Leach, Ed.D., said. "We have a once-in-a-lifetime opportunity today to hear from our nation's and the world's most esteemed military officer in Secretary Austin. We are privileged and humbled to welcome him and his lovely wife, Charlene, an FSU alumna, as we honor the incredible work and accomplishments of our students. It is their day!"
In addition to congratulating the new graduates on a job well done, Austin charged them to make their newly earned degrees mean much more than the words on the parchment, but to match the words of promise with deeds of service in all their forms.
"Service deepens our democracy. Service brings us closer to the full promise of America's founding. Service builds on itself. And long after you graduate, I hope that you will carry forward the FSU legacy of service," Austin said. "We need you to become doctors and nurses who'll heal the sick. We need you to become lawyers who'll fight for change. We need you to become entrepreneurs who'll make our economy work for all Americans. We need you to become teachers who'll pass on the mighty gift of education. And yes—we need some of you to stand up, and to salute, and to defend the United States by joining the greatest fighting force in history. You'll do it your way. And you'll contribute to something bigger than yourself."
Following commencement, guests were feted at a luncheon hosted by the university.
Austin's visit to the area highlighted the DOD's focus on the Value of Service to the Nation. In addition to delivering remarks at FSU's commencement, Austin also spent time with Air Force and Army ROTC students. He also visited Fort Bragg to meet with U.S. Army Forces Command leaders and families from the 82nd Airborne Division. Additionally, he visited Hampton Primary School and a child development center.