Fayetteville State University Congratulates Two Bronco Wellness Ambassadors
Andre Poyser and Kaila Coleman Will Enhance FSU's Safe Sex and Reproductive Health Programming through Peer Education; Enjoy Learning Opportunities
Date: May 10, 2023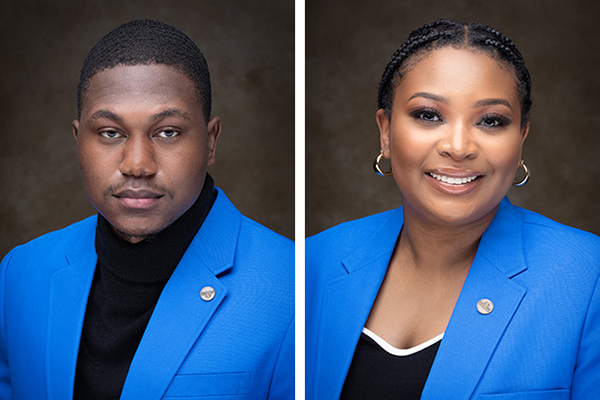 Pictured: Andre Poyser (left) and Kaila Coleman (right)
---
Fayetteville, N.C. (May 10, 2023) — Fayetteville State University (FSU) congratulates two undergraduates on their selection as Bronco Wellness Ambassadors to Power to Decide, which has included them in a nationwide initiative aimed at empowering students at HBCUs to play a greater role in advancing their sexual health and reproductive well-being.
The ambassadors, sophomore Andre Poyser and freshman Kaila Coleman, will work with Power to Decide to spearhead student-led peer education efforts, including an awareness campaign through Bronco Wellness around sexual and reproductive health.
Power to Decide, a nonprofit and nonpartisan organization, "works to advance sexual and reproductive well-being for all by providing trusted information, expanding access to quality services, and catalyzing culture change." It will provide the ambassadors with ongoing coaching and support, including a $2,000 stipend each year for a three-year period. The ambassadors will participate in webinar training on health education strategies and communication methods and host health education events to educate their peers.
FSU's involvement in the Power to Decide initiative comes at a time when "(n)early three-quarters of HBCUs are located in states where abortion access has been either banned or severely restricted and where contraceptive access was already difficult," JeNeen Anderson, Power to Decide's senior director of health equity, said in a release issued by the organization. "However, given their long, proud legacy of education, leadership, and service, HBCUs are well-positioned to address the gaps for students in those regions where such 'contraceptive deserts' are growing, and reproductive health care is becoming even harder to access."
FSU's involvement in the Power to Decide initiative took hold after the organization's program coordinator approached Dawn Truong, Ed.D., who serves as the health program manager for Bronco Wellness.
"My initial thoughts were that this would be a great opportunity to help enhance our current safe sex and reproductive health programming efforts with peer-to-peer education through Bronco Wellness," she said. "Students tend to have more peer-to-peer conversations surrounding basic safe sex education. This is a good opportunity for them to address myths. Additionally, this can be an opportunity to urge students to regularly get screened for sexually transmitted diseases and infections."
Poyser and Coleman were chosen from a pool of several candidates who submitted video applications prepared by Todd S. Frobish, Ph.D., professor and chair of the Department of Communication, Languages and Cultures in the College of Humanities and Social Sciences. Truong nominated Poyser and Coleman for the ambassadorships, having concluded that it was "crucial" for them "to obtain learning opportunities through leadership and hands-on experience with health education." She added that they will "do a phenomenal job representing our university."
Meet the new Bronco Wellness Ambassadors:
Poyser is a sophomore pre-health biology major at FSU. A native of Jamaica, he moved to Fayetteville, North Carolina in 2016 and has been living here ever since. He is passionate about healthcare, medicine, and healthy living. He has worked tirelessly to further his knowledge of the medical sciences. After graduating from FSU, he plans to enroll in a master's-level program for physician assistants.
Coleman, who hails from Indianapolis, Indiana, is a freshman majoring in healthcare administration. She plans to work in hospital administration after graduation, bolstering the presence of African American women in the business side of healthcare, where they are underrepresented. She also wants to start a counseling center for African American families that focuses on breaking generational curses and creating healthy bonds between parents and their children.