Fayetteville State University Earns Grant to Train Students for Competitive Summer Experiences
Dr. James Raynor receives NIH Scientific Research Preparatory Program Award
Date: October 19, 2022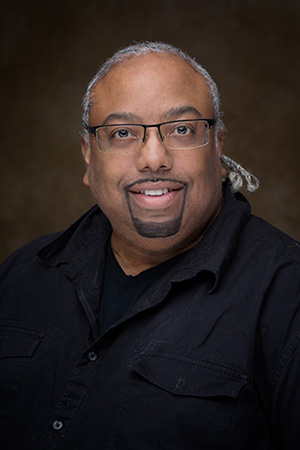 Fayetteville, N.C. (October 19, 2022) — Fayetteville State University (FSU) will launch a program to train a diverse talent pool of freshmen and sophomore students for competitive research-focused summer experiences, thanks to a new grant from the National Institute of Neurological Disorders and Stroke (NINDS), a division of the National Institutes of Health (NIH) in Bethesda, Maryland.
James E. Raynor, Jr., Ph.D., a professor in FSU's Department of Biological and Forensic Sciences, recently received nearly $250,000 to establish a two-year Scientific Research Preparatory Mentoring Program (SRPMP) to train freshmen and sophomore students from historically marginalized backgrounds for competitive entry into research-focused summer experiences and future careers in STEM-M (science, technology, engineering, math, and medicine).
"Dr. Raynor has been a dedicated champion for student access to and success in STEM-M education and research opportunities throughout his stellar career — particularly among marginalized or underserved communities," said Monica T. Leach, Ed.D., FSU provost and senior vice chancellor for academic affairs. "This latest initiative will be instrumental in preparing our students for immersive, research-focused learning and discovery experiences that will advance their education and career aspirations. We congratulate Dr. Raynor on this latest award and look forward to seeing its impact."
Approximately 10 to 15 trainees majoring in biology, chemistry, forensic science, math and computer science will develop their research and technical skills through enrichment and professional development seminars as well as hands-on research skills development workshops in preparation for real world intramural/extramural scientific research experiences.
Additionally, trainees will participate in Research and Health Disparity STEMinars and clinical shadowing to broaden their knowledge of health disparities and learn ways to reduce such inequalities through a more diverse biomedical research enterprise. The research training experience will culminate with trainees participating in an extramural summer research experience where they will ultimately present their findings at a scientific research conference each year. FSU-SRPMP aims to develop a diverse pool of research-ready students to pursue biomedical research-focused careers in STEM-M to reduce health disparities, particularly for individuals suffering from neurological disorders or strokes in southeastern North Carolina. In addition to the FSU-SRPMP funding, Raynor previously received a 5-year (2022-2027), $1.6 million grant from NIH in April 2022 to establish an Undergraduate Research Training Initiative for Student Enhancement (U-RISE) program at FSU. U-RISE provides resources for students from historically marginalized communities to succeed in college and go on to biomedical, research-focused Ph.D. programs following graduation.
"It's extremely rewarding to help these bright and talented students realize their potential and pursue careers they may have considered out of reach," Raynor said. "As a scientist and educator, I want to prepare tomorrow's leaders who will help make the world a better place. This support, combined with the hard work of our students and the collaboration of incredible colleagues, is making that happen."
Raynor acknowledged the contributions of colleagues who contributed to the development of the FSU-SRPMP proposal, including Bolarinwa Ekezue, Ph.D., assistant professor in the FSU Department of Accounting, Healthcare Administration, Finance, & Information Systems; Wayne Bethea, vice president for business development, Professional Stewards Services, LL.C. of Raleigh, North Carolina; and FSU faculty who will mentor program participants. The FSU Office of Sponsored Research and Programs also contributed support services for the project.