Fayetteville State University Holds Spring 2023 Graduate Student Commencement in Capel Arena
330 Advanced Degrees Conferred; Dr. Roxie Cannon Wells Delivers Keynote Address
Date: May 12, 2023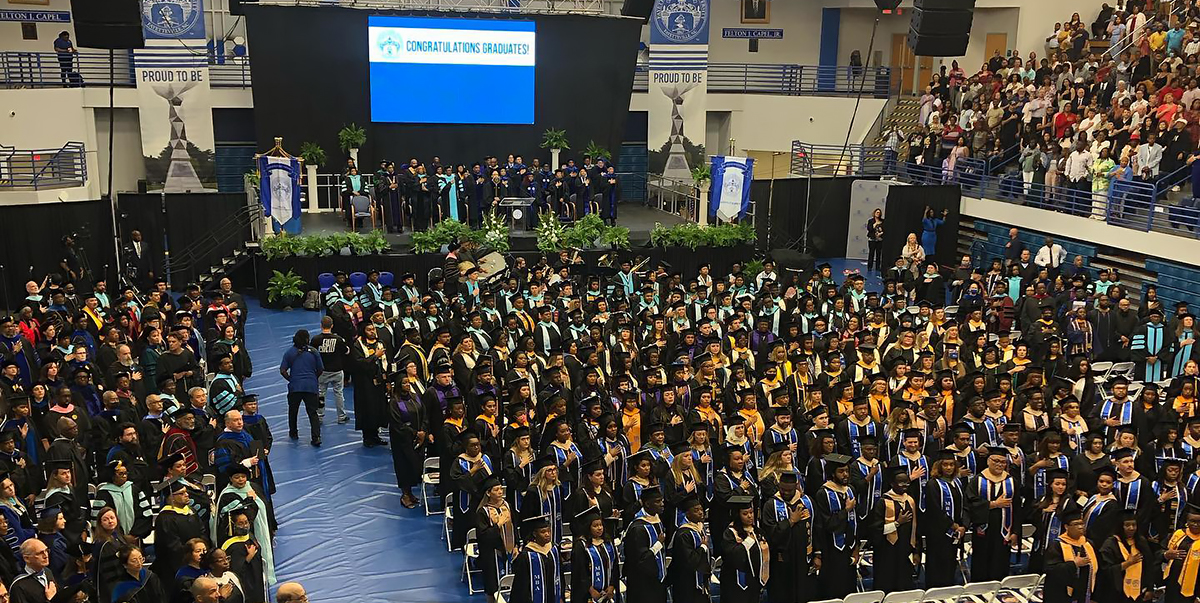 Fayetteville, N.C. (May 12, 2023) — Fayetteville State University (FSU) conferred 330 advanced degrees, and Dr. Roxie Cannon Wells '92, an FSU alumna and a noted physician executive, delivered the keynote address Friday at the University's Spring 2023 graduate student commencement.
The event, which drew about 1000 people to Felton J. Capel Arena on the FSU campus, featured welcoming remarks by FSU Chancellor Darrell T. Allison, J.D. He recognized several dignitaries in attendance, including current and past members of the UNC Board of Governors, elected officials, current and past members of FSU's Board of Trustees and Board of Visitors, and members of Allison's leadership team. He also recognized Dr. Zahra Shekarkhar, who chairs FSU's faculty senate, and Dr. Dwane Hodges, who chairs FSU's staff senate. Additionally, Allison recognized faculty, staff and administrators, FSU alumni, and members and veterans of our military.
Glenn B. Adams brought greetings on behalf of FSU's Board of Trustees, which he chairs. Linda C. Coley '76 brought greetings on behalf of the FSU National Alumni Association, for which she serves as president.
Maya Martin, president of FSU's Student Government Association, brought greetings on behalf of FSU's students. She also introduced Wells, a physician executive who's played a leading role in shaping healthcare delivery and policy in North Carolina for nearly 20 years.
Provost and Senior Vice Chancellor for Academic Affairs Monica T. Leach, Ed.D., plugged Wells' appearance at the commencement.
"Dr. Wells is among FSU's most accomplished and influential alumnae," she said. "We are thrilled to welcome her as we honor the incredible work and accomplishments of our students. It is their day, and she has made it even more special with her inspirational message."
Wells holds a B.S. degree in biology from FSU and earned her medical degree from East Carolina University's Brody School of Medicine. She has enjoyed a diverse and distinguished career, having served in settings ranging from the bedside to the boardroom. She's the president of Cape Fear Valley Hoke Hospital in Raeford, North Carolina. She is one of the few hospital leaders who still maintains a clinical practice, having started her healthcare career as a family practitioner.
Wells has also made quite an impact on FSU. She co-chairs FSU's Board of Visitors, and she has been featured in the Dr. Clarence E. Lloyd Speakers Series on campus. She's been active in the Fayetteville State University National Alumni Association.
During her address, Wells covered a lot of ground, calling on the graduates to embrace challenges, develop a set of core personal values, and keep learning.
She said that members of the Class of 2023 would encounter challenges that "will stretch you to your extreme" and "create a feeling of overwhelming apprehension."
"I've learned that … every challenge, every feeling of apprehension, once surmounted — and you will surmount them — offers life's lessons," she said. "Every challenge or opportunity, once experienced perfectly, prepares you for the next. In all actuality, they make you who you are. Remember, for every problem or challenge, there is a solution. You have to discover it, or you have to invent it."
Wells called core values "an expression of who we are." Core values make "the authentic you and I learned a long time ago that it is therapeutic to live as my authentic self," she said. "Doing so actually fosters a sense of freedom that some never fully realize. It offers a sense of freedom that money and prestige cannot buy."
Referencing her father's thoughts on the importance of learning, Wells said: "A reading man or woman is a ready man or woman." This means that "when opportunity knocks, you will be knowledgeable about who's knocking. The world is rapidly changing. And with this rapidity comes the need for expeditious knowledge gathering."
Wells said she favored influence over titles because the latter only relates to a leader; they don't define one.
"Titles are good; influence is better," she said. "If I must choose one, I'd certainly choose the latter. Titles are for us, influence is for others. If I had my druthers time and time again, I'd still choose others."
After Wells delivered the commencement address, Leach joined Allison and the deans of each school to present the degrees.
The 330 students who received either doctoral or master's degrees graduated from the College of Education; the College of Humanities and Social Sciences; the Broadwell College of Business and Economics; and the Lloyd College of Health, Science and Technology.
Allison presented Wells with a crystal bronco to thank her for her remarks and to express appreciation for her generous gift to clear balances owed by 52 graduating seniors.