Fayetteville State University is a Top Producer of Fulbright U.S. Scholars
Two FSU faculty members were selected as Fulbright U.S. Scholars for 2022-23
Date: February 10, 2023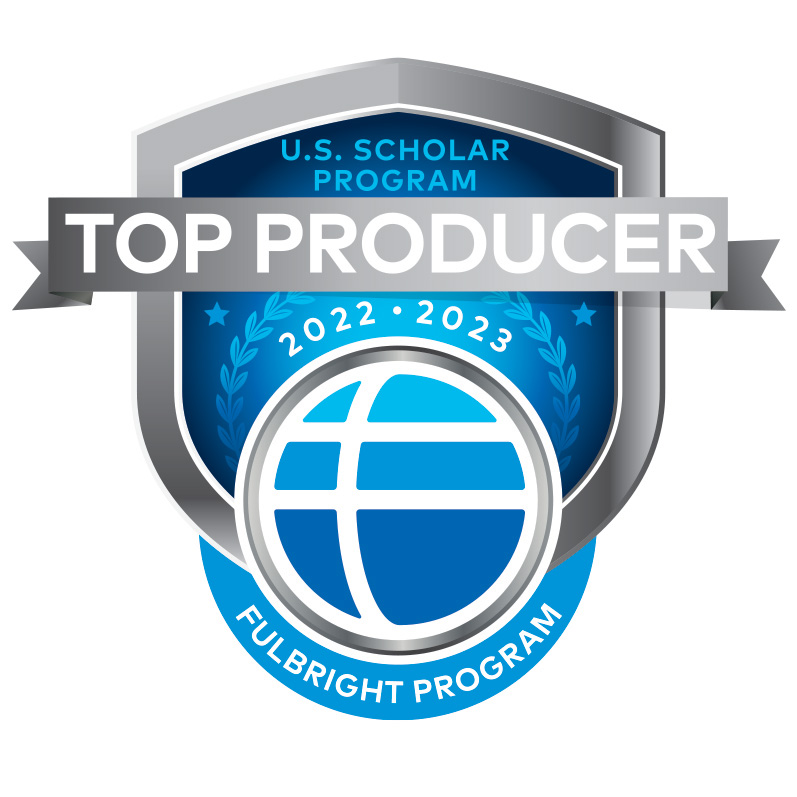 Fayetteville, N.C. (February 10, 2023) — Today, the U.S. Department of State's Bureau of Educational and Cultural Affairs named Fayetteville State University (FSU) a Fulbright Top Producing Institution for U.S. Scholars at a Master's institution. This recognition acknowledges the U.S. colleges and universities with the most applicants selected for the 2022-23 Fulbright U.S. Scholar Program. Two faculty members from FSU were selected for Fulbright U.S. Scholar awards for academic year 2022-2023.
This year, Todd Frobish, Ph.D., professor and chair of the Department of Communication, Languages and Cultures, traveled to Germany to learn about the country's higher education system. Afua Ahrin, Ph.D., dean of the College of Health, Science and Technology, taught students and conducted research in Ghana. Her qualitative study exploring the perceptions of exclusive breastfeeding practices in a sample of childbearing Ghanaian women is the first part of a multi-phase larger study aimed at developing culturally competent exclusive breast-feeding interventions that address the exclusive breastfeeding needs of Ghanaian, African American and diaspora mothers.
Fulbright is the U.S. government's flagship international educational exchange program. It is also among the largest and most diverse exchange programs in the world. Since its inception in 1946, more than 400,000 participants from all backgrounds and fields – including recent university graduates, teachers, scientists, researchers, artists, and others, from the United States and over 160 other countries – have participated in the Fulbright Program. Fulbright alumni have returned to their home countries to make an impact on their communities thanks to their expanded worldview, a deep appreciation for their host country and its people, and a larger network of colleagues and friends.
"FSU is proud to participate in the Fulbright program, providing opportunities for our students and faculty to gain new and enriching experiences abroad, or engaging with visiting faculty who bring fresh ideas and perspectives to campus," said Monica T. Leach, Ed.D., FSU's provost and senior vice chancellor for academic affairs. "Our faculty members who visit other countries obtain new insights into higher education from around the world, while faculty visiting FSU give our students valuable global perspectives right here on campus."
The Fulbright competition is supported at FSU through its International Education Programs. FSU has also hosted Fulbright Language Teaching Assistants (FLTA) on campus since 2006, bringing international perspectives and forming close bonds on campus.
"The FLTAs enrich the lives of the people they meet at FSU," said Deborah McLeod Vasquez, interim director of international education programs. "They form long standing relationships with faculty, staff and students, and their international perspectives offer a breath of fresh air to those interacting with them."
"On behalf of President Biden and Secretary of State Blinken, congratulations to the colleges and universities recognized as 2022-2023 Fulbright Top Producing Institutions, and to all the applicants who were selected for the Fulbright Program this year," said Lee Satterfield, Assistant Secretary of State for Educational and Cultural Affairs. "Thanks to the visionary leadership of these institutions, administrators and advisors, a new generation of Fulbrighters – changemakers, as I like to say – will catalyze lasting impact on their campus, in their communities and around the world."
The Fulbright Program was established over 75 years ago to increase mutual understanding between the people of the United States and those of other countries. While the primary source of funding for the Fulbright Program is an annual appropriation made by the U.S. Congress to the U.S. Department of State's Bureau of Educational and Cultural Affairs, it garners additional support from foreign partner governments, non-governmental organizations, private organizations, corporate partnerships, and individual donors. Importantly, U.S. and foreign host institutions provide support as well.
Fulbright alumni work to make a positive impact on their communities, sectors, and the world and have included 41 heads of state or government, 62 Nobel Laureates, 89 Pulitzer Prize winners, 78 MacArthur Fellows, and countless leaders and changemakers who carry forward the Fulbright mission of enhancing mutual understanding.
For more information about the Fulbright Program, visit https://fulbrightprogram.org/