Fayetteville State University Math Education Professor Appointed NASA Liaison
Dr. Peter Eley will work with NASA's STEM Engagement Office
Date: January 12, 2023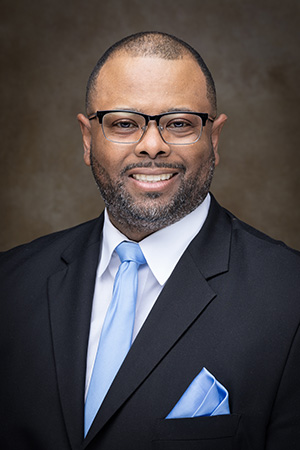 FAYETTEVILLE, N.C., (January 12, 2023) — Fayetteville State University (FSU) mathematics education professor Peter Eley, Ph.D., joins NASA's second Academic Interchange cohort to help broaden student participation in its internships.
Eley, one of two faculty members nationwide selected to join the cohort, will serve from January 2023 to June 2025. His assignment is with the Minority University Research and Education Project (MUREP) housed at Marshall Space Flight Center, Huntsville, AL in the Southeast Region OSTEM office to support data science, diversity, equity, and inclusion initiatives along with grant office support.
"This experience will enable me to learn the structures of NASA and see how we can leverage the expertise here at FSU to earn more contracts and grants to support our students through internships and increased support for faculty research," Eley said. "I am excited about the opportunity and what this means for FSU as a whole."
The NASA STEM engagement office is comprised of extensive and diverse programs, projects, activities, and products developed and implemented by functional offices, mission directorates, and centers.
A practitioner and leader in K-12 and higher education, Eley has served as a mathematics and science teacher in middle and high school, a data manager and webmaster for Saint Augustine's University in Raleigh, a mathematics and science education (NC-MSEN) pre-college program coordinator at Winston-Salem State University and a professor at FSU.
Eley has served in various leadership roles at FSU, including associate dean of the College of Education, Council for the Accreditation of Educator Preparation (CAEP) coordinator, NC Teaching Fellows coordinator, interim chair of Health, Physical and Secondary Educations (HPSE) and the department of Educational Leadership & School Administration (ELSA).
Eley has been honored with numerous awards and accolades for his exceptional contributions, including Middle Grades, Secondary, and Specialized Subjects Professor of the Year and FSU's College of Education Professor of the Year for 2014. He was the Wynton H. Hadley Teaching Award 2014 honoree and a senior research fellow at the Massachusetts Institute for College and Career Readiness (MICCR), Mass Inc's Gateway Cities Innovation Institute (GCII), and the Rennie Center for Education Research & Policy (2015-2018). He was also a Provost Administrative Fellow at Fayetteville State University and the Faculty Administrative Fellow at the University of North Carolina System Office (2018-2019). In 2020, Eley received the UNC Board of Governors Excellence in Teaching Award medallion.
"It's incredibly gratifying to see FSU's talented, innovative and creative faculty recognized for their expertise and impact on tomorrow's leaders," said Monica T. Leach, Ed.D., FSU's provost and senior associate vice chancellor for academic affairs. "The experiential learning opportunities and relationships Dr. Eley and others are fostering nationally and globally are opening doors for our students and faculty across disciplines and research endeavors. We're thrilled for Dr. Eley and look forward to seeing his work come to fruition."