Fayetteville State University Online MBA Program Ranked #3 in North Carolina
FSU ranked in U.S. News and World Report 2023 Best Online Programs
Date: January 24, 2023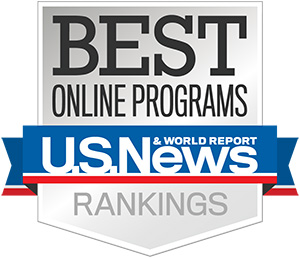 Fayetteville, N.C. (January 24, 2023) — Fayetteville State University's (FSU) online MBA program is among North Carolina's best, ranking third in the state in U.S. News & World Report's 2023 Best Online MBA Programs.
U.S. News assessed schools in the Best Online MBA Programs based on several objective factors, such as student engagement, faculty credentials, and services and technologies.
"FSU is committed to helping anyone who wants an education to get one," said Monica T. Leach, Ed.D., FSU's provost and senior vice chancellor for academic affairs. "Our online MBA program provides a flexible and affordable path for professionals to achieve that next level of success."
"I am extremely proud of the exemplary education FSU offers its students on campus and online," said Ulysses Taylor, J.D., dean of FSU's Broadwell College of Business and Economics (BCBE). "These most recent rankings are further confirmation of the incredible programs and gifted faculty here at FSU."
U.S. News & World Report evaluates more than 1,800 online bachelor's and master's degree programs designed for individuals looking to complete or further their education. The Best Online Programs include rankings of bachelor's programs as well as the following master's-level disciplines: MBA, business (non-MBA), computer information technology (including computer science), criminal justice/criminology, education, engineering and nursing. While the methodologies are different for each discipline, they all incorporate metrics specific to online learning.
The University of North Carolina at Chapel Hill and North Carolina State University's Online MBA Programs were ranked first and second in the state.
The rankings only include degree-granting programs that are offered primarily online by regionally accredited institutions.
"Most of the undergraduate programs in the Best Online Programs rankings are degree completion programs, meaning the vast majority of their students already have some college credit," said Liana Loewus, managing editor of Education at U.S. News. "The methodologies are developed with those students in mind, setting these rankings apart from those that are focused on recent high school graduates pursuing higher education for the first time."
---
About U.S. News & World Report
U.S. News & World Report is the global leader in quality rankings that empower consumers, business leaders and policy officials to make better, more informed decisions about important issues affecting their lives and communities. A multifaceted digital media company with Education, Health, Money, Travel, Cars, News, Real Estate and 360 Reviews platforms, U.S. News provides rankings, independent reporting, data journalism, consumer advice and U.S. News Live events. More than 40 million people visit USNews.com each month for research and guidance. Founded in 1933, U.S. News is headquartered in Washington, D.C