Fayetteville State University Partners with City, County to Launch Innovation and Entrepreneurship Hub
Fayetteville-Cumberland Regional Entrepreneur and Business HUB ribbon-cutting and grand opening set for September 14
Date: September 14, 2022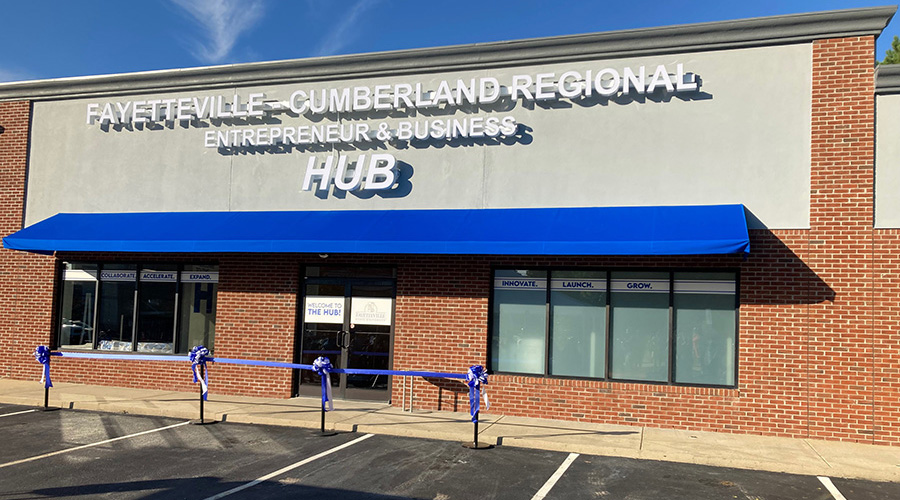 FAYETTEVILLE, N.C., (September 14, 2022) – Fayetteville State University (FSU), the City of Fayetteville and Cumberland County will officially launch the Fayetteville-Cumberland Regional Entrepreneur and Business HUB at its new home on Murchison Road in Fayetteville adjacent to the FSU campus. This first-of-its-kind HUB will help local entrepreneurs and established business owners improve operations, access professional training, secure capital and obtain crucial certifications with the goal of obtaining new business opportunities.
Leaders from Fayetteville State University, the City of Fayetteville and Cumberland County will hold a ribbon-cutting and grand opening event at the HUB's Bronco Square location on Wednesday, September 14 at 8:30 a.m.
Members of the media and the community are encouraged to attend.
"We're elated to see the HUB operational and look forward to helping entrepreneurs, small businesses, community members and students start and grow their business ventures," said FSU Chancellor Darrell T. Allison. "This effort exemplifies the university's commitment to strengthening and expanding the economic vitality of our home city and the Sandhills region. It further demonstrates the collective investment of our local governments and private philanthropy partners in building a robust economic engine here at home. But this is just the beginning; we anticipate adding additional resources and partnerships in the future."
Serving Bladen, Columbus, Cumberland, Harnett, Hoke, Moore, Richmond, Robeson, Sampson and Scotland counties, the HUB will serve as a one-stop shop for the resources and support businesses need to help them grow and succeed — all free of charge.
The HUB opens at a crucial time for the Sandhills area, as opportunities for business growth are fueled by the historic investment by the North Carolina Legislature of more than $440 million for new projects and initiatives in Cumberland County --of which approximately $175 million has been dedicated specifically for major new construction and renovation projects at Fayetteville State University. This can be a particularly impactful economic catalyst for the Tier 1 and Tier 2 counties that surround the University.
The HUB will offer open workspaces for students and community members, conference rooms, technology like laptops and 3-D printers, faculty consultations, business skills workshops, entrepreneurial summits, experiential learning opportunities and internships for students and more.
Situated in a 6,500-square-foot building that previously housed the university's bookstore within the Bronco Square Commercial Development, the hub signifies FSU's continued commitment as a resource to the city and region.
"Entrepreneurship is the heartbeat of our new economy. The City of Fayetteville now has a centrally located one- stop shop for small businesses to get the support they need," said Fayetteville Mayor Mitch Colvin when the HUB was first announced. "We are stronger together and excited to partner with FSU to strengthen our workforce in an innovative way. This type of economic development spans generations and we are happy to support it in this way."
A generous seed grant of nearly $200,000 from the Golden Leaf Foundation in the fall of 2020 to the FSU Broadwell School of Business and Economics supported the initial planning and launch of an innovation and entrepreneurship HUB aimed at increasing local minority-owned business capacity and potentially driving significant income growth in minority communities.
Since then, more than $2.5 million has been committed to this effort in broad-ranging support, including investments from FSU, the North Carolina State Legislature, Cumberland County and the City of Fayetteville.
The HUB is especially relevant for The Golden Leaf Foundation, which prioritizes funding activities that increase economic opportunity in North Carolina.
"Golden LEAF is pleased to support the Innovation and Entrepreneurship HUB at Fayetteville State University," said Scott T. Hamilton, Golden LEAF president and chief executive officer. "This project supports Golden LEAF's job creation and economic investment strategic funding priority. We look forward to the new jobs, business growth and entrepreneurial leaders that emerge from this collaborative working environment."
Harnessing the expertise of faculty and administrators in FSU's Broadwell School of Business and Economics as well as a broad network of community partners, the HUB will help emerging entrepreneurs and established enterprises improve operations, secure business opportunities, strengthen financials, obtain certifications, access capital, get insurance, improve marketing, acquire government contracts and more. Resources include:
Small Business Technology Development Center (SBTDC)
Veterans Business Outreach Center (VBOC)
Center for Economic Empowerment and Development (CEED)
Insurance Connections
Contractor Representatives
Training Programs
Shared Technology (computers, printers, 3-D printers)
"Fayetteville State University is at the heart of one of the fastest growing regions in the state —the Sandhills Region," said Glenn Adams, chair of the Cumberland County Board of Commissioners, when the HUB was announced. "Cumberland County is excited to stand alongside the City of Fayetteville [among others] and further support an initiative that connects the business community and enterprise to learning communities and future leaders."
The HUB will be open Monday through Friday, 8 am – 5 pm. To schedule a consultation call 910-672-1384 or visit the entrepreneurial centers websites at FSU's Broadwell School of Business and Economics.
Journalists wishing to tour the facility after the ribbon-cutting ceremony should contact Joy Cook.