Innovation and Entrepreneurship Hub Led by FSU Coming to Fruition this Fall, City and Region to Invest and Benefit
Date: May 18, 2022
Innovation and Entrepreneurship Hub Led by FSU Coming to Fruition this Fall, City and Region to Invest and Benefit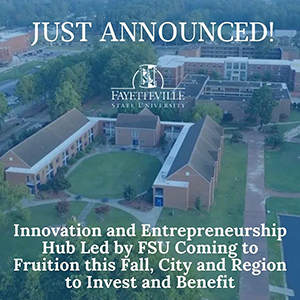 FAYETTEVILLE, N.C., (May 18, 2022) – This fall, Fayetteville State University looks to reimagine and invigorate the workforce through the Innovation and Entrepreneurship Hub where the university anticipates at least 30 new jobs or business within two years.
"The Innovation and Entrepreneurship Hub represents our commitment to be a resource to the city, county, and region," says Wesley Fountain, Associate Vice Chancellor for Community Relations and Economic Partnerships
With FSU at the helm, the hub will offer open workspaces for students and community members, conference rooms, technology like laptops and 3D printers, faculty consultations, business skills workshops, entrepreneurial summits, experiential learning opportunities for students and more, located in Midtown Fayetteville.
"FSU has embarked upon a new era of grooming business leaders of tomorrow with our state-of-the art Innovation Hub. We are thankful to the City of Fayetteville and Cumberland County for supporting this vision and investing in the future economic engine monetarily," says Chancellor Darrell T. Allison.
With sizeable investment from both the City of Fayetteville $250,000 and Cumberland County $250,000 for a total of $500,000 this state-of-the-art Entrepreneurship hub will be the first of its kind for the region.
"Entrepreneurship is the heartbeat of our new economy. The City of Fayetteville now has a centrally located one-stop-shop for small businesses to get the support they need. We are stronger together and are excited to partner with FSU to strengthen our workforce in an innovative way. This type of economic development spans generations and we are happy to support in this way," said Fayetteville city Mayor Mitch Colvin.
Situated in a 6,500 square foot building that previously housed the university's bookstore within the Bronco Square Commercial Development, which totals 32,000 square feet, the hub not only signifies added jobs, but FSU's commitment to be a continued resource to the city and region.
"Fayetteville State University is at the heart of one of the fastest growing regions in the state – the Sandhills Region. Cumberland County is excited to come along-side of the City of Fayetteville and further support an initiative that connects the business community and enterprise to learning communities and future leaders." - Glenn Adams, Chair Cumberland County Board of Commissioners