Fayetteville State University Professor Joins U.S. Department of Education
Dr. Robert Taber tapped as an advisor in the Office of the U.S. Secretary of Education focusing on equitable and inclusive access to education for all students
Date: March 07, 2023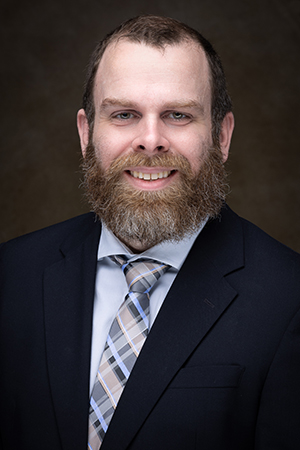 Fayetteville, N.C. (March 7, 2023) — Fayetteville State University's (FSU) Robert D. Taber, Ph.D., associate professor of history, began serving as an advisor in the Office of the Secretary of the U.S. Department of Education on February 27, 2023. Made possible by the Intergovernment Personnel Act, Taber's appointment will run through the Spring and Summer 2023 semesters.
A national voice on questions of freedom of religion and the connections between faith and the public sphere as well as a scholar of the history of multiracial democracy, Taber is detailed to the Department of Education's Center for Faith-Based and Neighborhood Partnerships. He will work with faith-based institutions of higher education and colleges and universities involved in interfaith engagement on topics related to U.S. Secretary of Education Miguel Cardona's priorities, including supporting equitable and inclusive access to higher education — especially to educational resources and opportunities — for all students.
"I am honored to help advance the national conversation and drive change regarding inclusive access to higher education, especially as it relates to interfaith engagement on critical priorities of Secretary Cardona and the Department of Education," Taber said. "Initiatives at the federal level have a crucial and direct impact on our state, its colleges and universities and our citizens. This is an exceptional opportunity to contribute in a positive and meaningful way and I am excited to get started."
In his seven years at FSU, Taber has been a campus leader, including piloting new initiatives centered on student success and fostering community partnerships. As part of FSU's Adaptive Learning pilot, Taber served on the Quality Enhancement Plan committee for the university's recent SACSCOC re-accreditation. His December 2022 article in Age of Revolutions on his re-design of the FSU core curriculum course, World History to 1600, has been read over 8,000 times.
A faculty senator since August 2017, Taber has served on FSU's delegation to the UNC System Faculty Assembly as an alternate and then a delegate since September 2017. He currently co-chairs the UNC Faculty Assembly's Education Policy Committee and is an ex officio member of the Faculty Senate Executive Committee. He was one of five UNC System faculty members selected to provide feedback to Deloitte on the UNC Return on Investment Dashboard. In September 2022, the Biden White House invited Taber to join 50 other North Carolina leaders to report on the impact of the administration's legislation. He chairs his department's Global Literacy Lecture Series and established the partnership between the Fayetteville Lafayette Society and FSU's Black History Scholars Association, leading to the creation and funding of the Lafayette Fund, currently valued at approximately $50,000.
"Dr. Taber is among our most prolific scholars and a faculty expert of national renown," said Marcus S. Cox, M.B.A., Ph.D., professor and dean of FSU's College of Humanities and Social Sciences. "His exceptional work with students and colleagues locally, regionally and nationally will be a significant asset to the Department of Education's efforts to open doors of opportunity to all. This recognition is well deserved, and we are thrilled for him to represent our university and our state in this critical arena."
Taber has been quoted on issues related to faith and the public sphere by The New York Times, Politico, The Salt Lake Tribune, Buzzfeed and The Arizona Republic and has published essays in The Washington Post, The Deseret News, FiveThirtyEight, and The Fayetteville Observer. Twice a panelist at the Democratic National Convention on faith and public engagement, Taber was recognized by the Center for American Progress in 2021 as a "Faith Leader to Watch."
Taber has also been active in the Fayetteville and North Carolina communities. He was on the founding executive board of Fayetteville PRIDE, the founding chair of Cape Fear Indivisible, a longtime board member of the Lafayette Society, and currently serves as vice president for policy outreach at Carolina Forward, an independent, non-partisan, non-profit policy organization. He was recognized as part of The Fayetteville Observer's "40 under 40" in 2019.
A scholar of the Haitian Revolution, Taber has presented his research at over 30 regional, national and international conferences, including workshops at Stanford, Emory, and Vanderbilt Universities. He is the co-editor of Free Communities of Color in the Revolutionary Caribbean (Routledge, 2018) and is currently writing The Haitian Revolution and the Making of the Modern World, under contract with Reaktion Books. He holds a bachelor's degree in history from Brigham Young University and master's and doctoral degrees in Latin American History from the University of Florida.