Fayetteville State University Recognized by U.S. State Department for Fourth Consecutive Year
U.S. State Department Bureau of Educational and Cultural Affairs announces FSU as 1 of 19 Fulbright HBCU Institutional Leaders
Date: September 18, 2023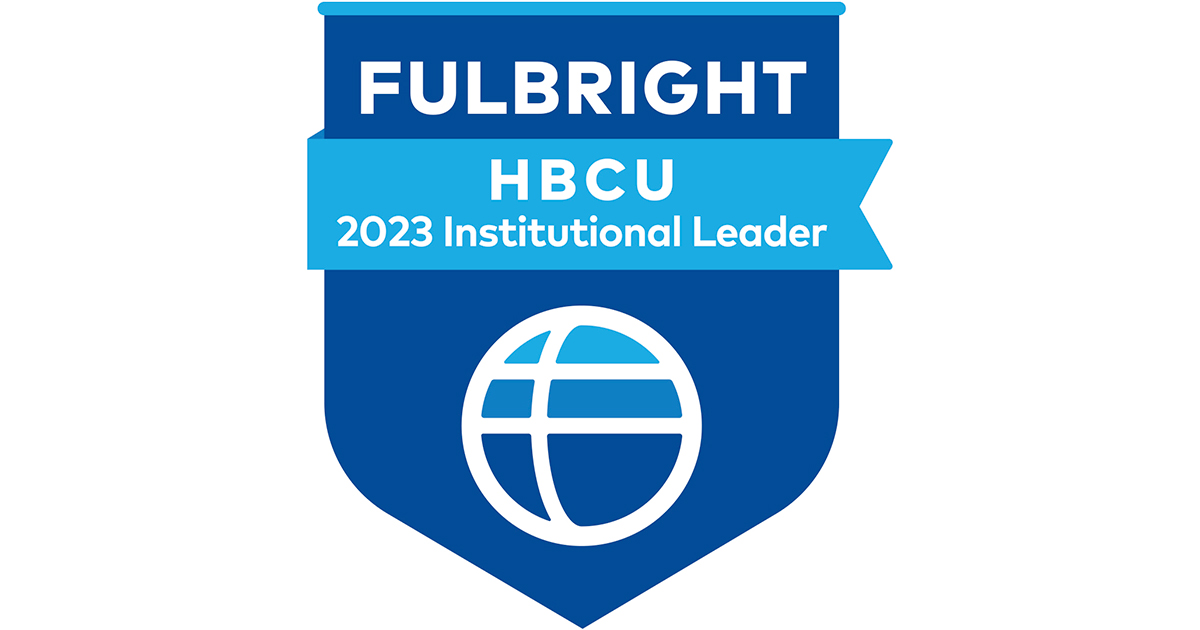 Fayetteville, NC (September 18, 2023) – Fayetteville State University (FSU) is proud to be named as a Fulbright Historically Black College and University (HBCU) Institutional Leader for 2023. Each year, the U.S. Department of State's Bureau of Educational and Cultural Affairs (ECA) recognizes the strong engagement of select HBCUs with the Fulbright Program, the U.S. government's flagship international academic exchange program.
Fulbright HBCU Institutional Leaders demonstrate noteworthy support for Fulbright exchange participants and promote Fulbright program opportunities on campus. The initiative encourages administrators, faculty and students at HBCUs to engage with Fulbright. It also highlights the strength of HBCUs as a destination for international students and scholars and showcases their deep intellectual traditions and proud history to audiences abroad. FSU has been featured in each of the 4 years of the initiative.
The announcement of the 19 Fulbright HBCU Institutional Leaders was made by the State Department ahead of the White House Initiative on HBCUs' National HBCU Week Conference.
Assistant Secretary of State for Educational and Cultural Affairs Lee Satterfield commended the HBCUs receiving the Fulbright HBCU Institutional Leader designation this year. "Diversity is one of America's greatest strengths, and pairing the positive power of Fulbright with the academic excellence at Historically Black Colleges and Universities provides changemaking opportunities for students, scholars, and campus communities both here at home and abroad."
"At FSU, our dedication continues to ensure that our faculty and students can pursue international collaboration and enrichment experiences. This commitment to both global and local engagement being brought back to campus for community benefit is what sets us apart." said Monica T. Leach, Ed.D., provost and senior vice chancellor for academic affairs. "We are proud to be recognized by the Fulbright Program for our efforts, and we will continue to work hard to provide our students with the best possible opportunities for academic and personal growth."
On November 6, Fulbright will host a virtual workshop featuring representatives from Fulbright HBCU Institutional Leaders. The Fulbright HBCU Virtual Workshop will share best practices for leveraging Fulbright Program engagement to support students and faculty, increase campus internationalization, host international Fulbright students and scholars, and build global networks. This event is open to the public and is specifically designed for faculty, staff, and stakeholders at HBCUs.
The Fulbright Program is the U.S. government's flagship international educational exchange program. Since its inception in 1946, the Fulbright Program has provided over 400,000 talented and accomplished students, scholars, teachers, artists, and professionals, of all backgrounds and in all fields, the opportunity to study, teach, and conduct research abroad. Fulbrighters exchange ideas, build people-to-people connections, and work to address complex global challenges. Fulbright is a program of the U.S. Department of State, with funding provided by the U.S. Government. Participating governments and host institutions, corporations, and foundations around the world also provide direct and indirect support to the Program.
The Fulbright Program implements a wide range of initiatives to ensure that its participants reflect all aspects of the diversity of U.S. society and societies abroad. To achieve that goal, the program collaborates with external stakeholders, including the White House Initiative on HBCUs, the Hispanic Association of Colleges and Universities, the National Clearinghouse on Disability and Exchange, the American Association of Community Colleges, Mobility International, and Diversity Abroad, among many others.
Learn more about the Fulbright Program at https://fulbrightprogram.org, including information about Fulbright's efforts to further DEIA within the program and about the Fulbright HBCU Institutional Leaders initiative.
Follow the Fulbright Program's social media accounts and websites for highlights on HBCUs and Fulbright: