Fayetteville State University Students Intern with Fayetteville Stingers Basketball
First-of-its-kind partnership creates five paid internships for students
Date: May 02, 2023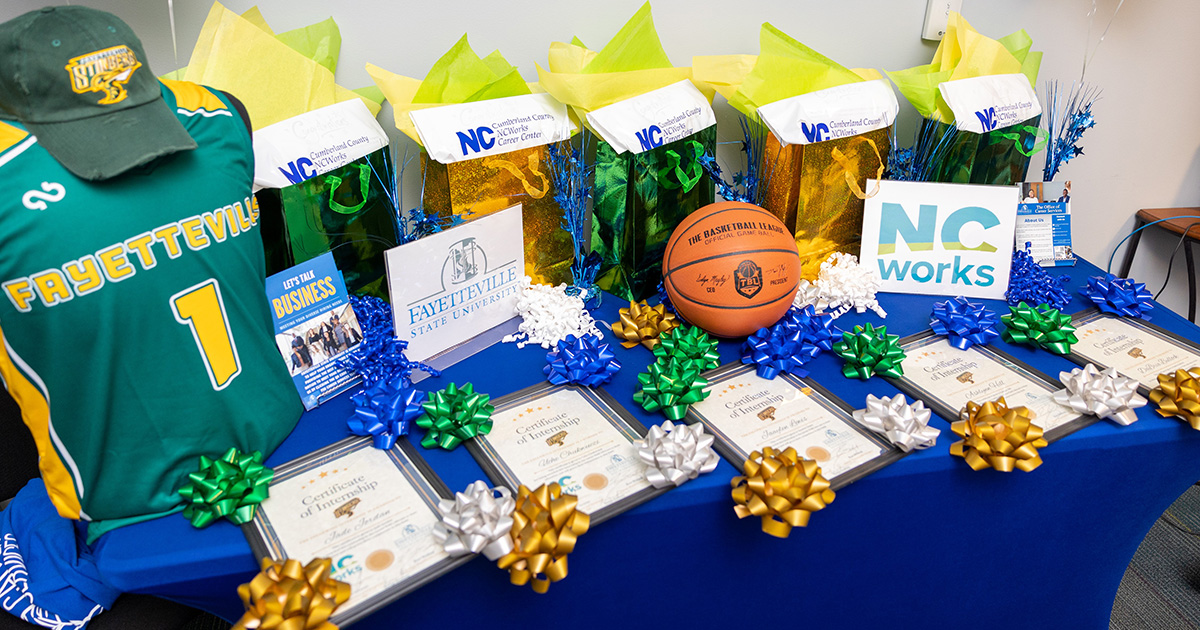 Fayetteville, N.C. (May 02, 2023) — Five Fayetteville State University (FSU) students recently joined the Fayetteville Stingers minor league basketball organization for six-week, paid internship experiences.
FSU's Office of Career Services and the Fayetteville Stingers teamed up with NC Works to launch a unique internship program providing sports and fitness management and business majors with a professional opportunity to work with a national minor league basketball program from The Basketball League (TBL). These opportunities include professional internships in athletic training, game day operations, social media marketing, and marketing and sales.
The internships are supported by Workforce Innovation and Opportunity Act (WIOA) funding in partnership with NC Works. WIOA funding is designed to help job seekers access employment opportunities, training and support services to be successful in the labor market. The NCWorks Career Center uses WIOA resources to assist job seekers in obtaining employment.
"This is the first partnership where FSU Career Services has been able to partner with an employer and NC Works to provide paid internships to students," said Tamri D. Graves, M.B.A., FSU corporate and employer relations director. "These opportunities give students the professional skills they need to ultimately find employment in their career field. The success of this program will spur more partnerships with employers and NC Works to fund more paid internship opportunities."
In a recent signing ceremony on the FSU campus, the Office of Career Services welcomed NC Works representatives along with Fayetteville Stingers owner Ken Bishop to witness the students sign their contracts and receive certificates commemorating the occasion and congratulating them on their new opportunity. This effort aligns with FSU Chancellor Darrell T. Allison's focus to "think local and act local, working to lift up our community."
The first five Fayetteville Stingers interns are:
Uche Chukwuezi, a graduate student in marketing from Stafford County, Virginia, joined the social media team
DaBria Bullock, a junior criminal justice major from Nash County, joined the social media team
Ashlynn Hill, a junior sports management major from Cumberland County, joined the game day operations team
Jade Jordan, a senior communications major from Cumberland County, joined the sales & marketing team
Jaaylen Lewis, a junior physical and health education/sports management major from Cumberland County, joined the athletic training team.
"I am so excited to welcome these students to the Fayetteville Stingers organization," Bishop said. "Over the next six weeks and beyond, they will learn not only the technical skills required for their job, but also soft skills such as time management, communication, problem-solving and leadership. This experience will give them authentic, hands-on experience for their resume that will help them gain full-time employment. They will also make key connections and build a network to further their careers after they graduate. This program is a win for both the students and our local workforce in the Fayetteville community. I am thrilled to be a part of it."