Fayetteville State University to Celebrate Founders' Day and Fall 2023 Convocation
Joint Celebration Set for September 21 Beginning 10:00am at the J.W. Seabrook Auditorium
Date: September 19, 2023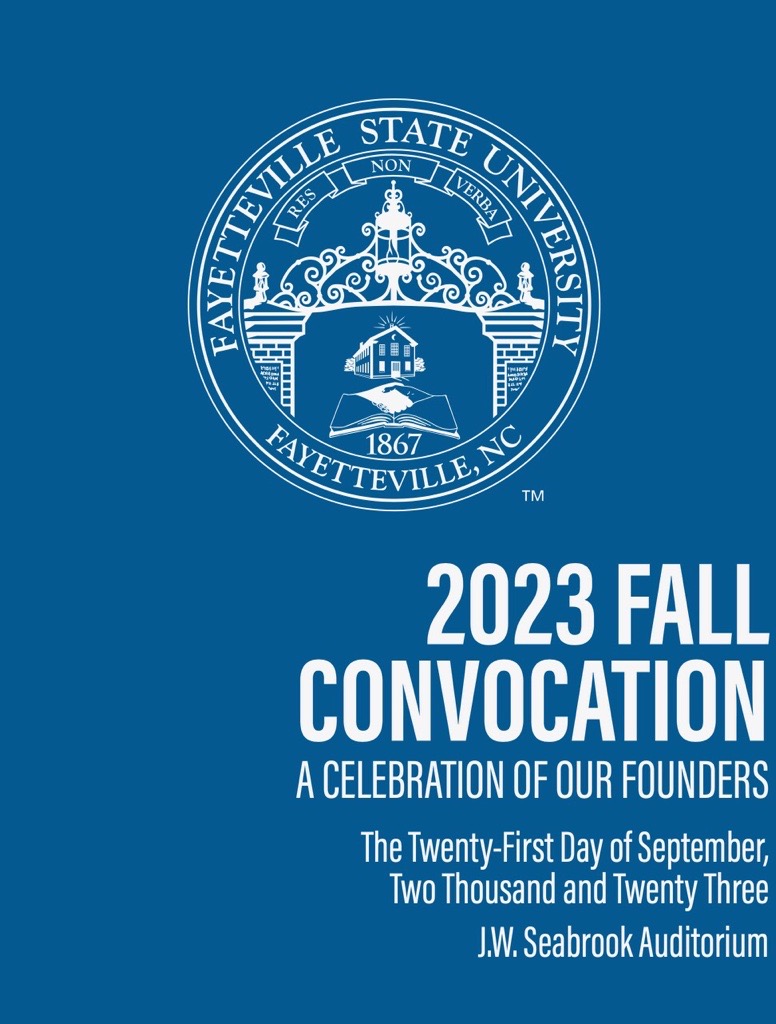 Fayetteville, N.C. (September 19, 2023) — Fayetteville State University (FSU) will hold its 156th Founders' Day celebration in conjunction with Fall 2023 Convocation beginning at 10:00 a.m. in the J.W. Seabrook Auditorium.
The celebration pays tribute to FSU's founders and recognizes the FSU Family of the Year, The Randall Family. The event will also mark the official kickoff of the fall semester with the first-year student convocation.
The public and media representatives are encouraged to attend.
FSU Chancellor Darrell T. Allison, J.D will preside over both events. Founders' Day guest speakers also include Niayah McFadden and Jalon McAllister-Smith, Miss and Mr. Fayetteville State University 2023-24. Participants will gather at the Founders Monument on Cook Quad where commemorative flowers will be placed.
Fayetteville State University Founders' Day honors the bold vision of seven Black men who pooled their resources ($136) in 1867 to purchase two lots on Gillespie Street in Fayetteville and created a self-perpetuating board of trustees to maintain the property in perpetuity as a site for the education of Black children.
"As we celebrate Founders' Day, we honor the vision and dedication of those who founded this institution and paved the way for generations of students to come," said Chancellor Darrell T. Allison. "We remain steadfast in our commitment to providing a high-quality education that prepares our students for success in their chosen fields. At FSU, we are committed to seizing every opportunity and continuing to provide our students with the tools they need to succeed."
First established as the Howard School in one original building, the institution gained a reputation for excellence in teaching. In 1877, the North Carolina General Assembly voted to provide for a Normal School for the education of Black teachers and the Howard School became the first State Colored Normal School with its own principal.
The school moved to its permanent location on Murchison Road in 1908 and grew substantially, adding property and structures. Over the ensuing four decades it became Fayetteville State Teachers College with the authority to grant bachelor of science degrees in elementary education. It received state and regional accreditation in 1947.
Since then, the university has grown exponentially in its academic offerings and facilities. It became Fayetteville State College in 1963, then in 1969 was renamed Fayetteville State University. In 1972 the North Carolina Legislature voted to add FSU as a constituent institution of the University of North Carolina system.