Fayetteville State University to hold 5th Annual Lafayette Lecture as part of Black History Month
Monday, February 13th, from 6:00 to 7:30 PM in room 242 of the Rudolph Jones Student Center
Date: February 06, 2023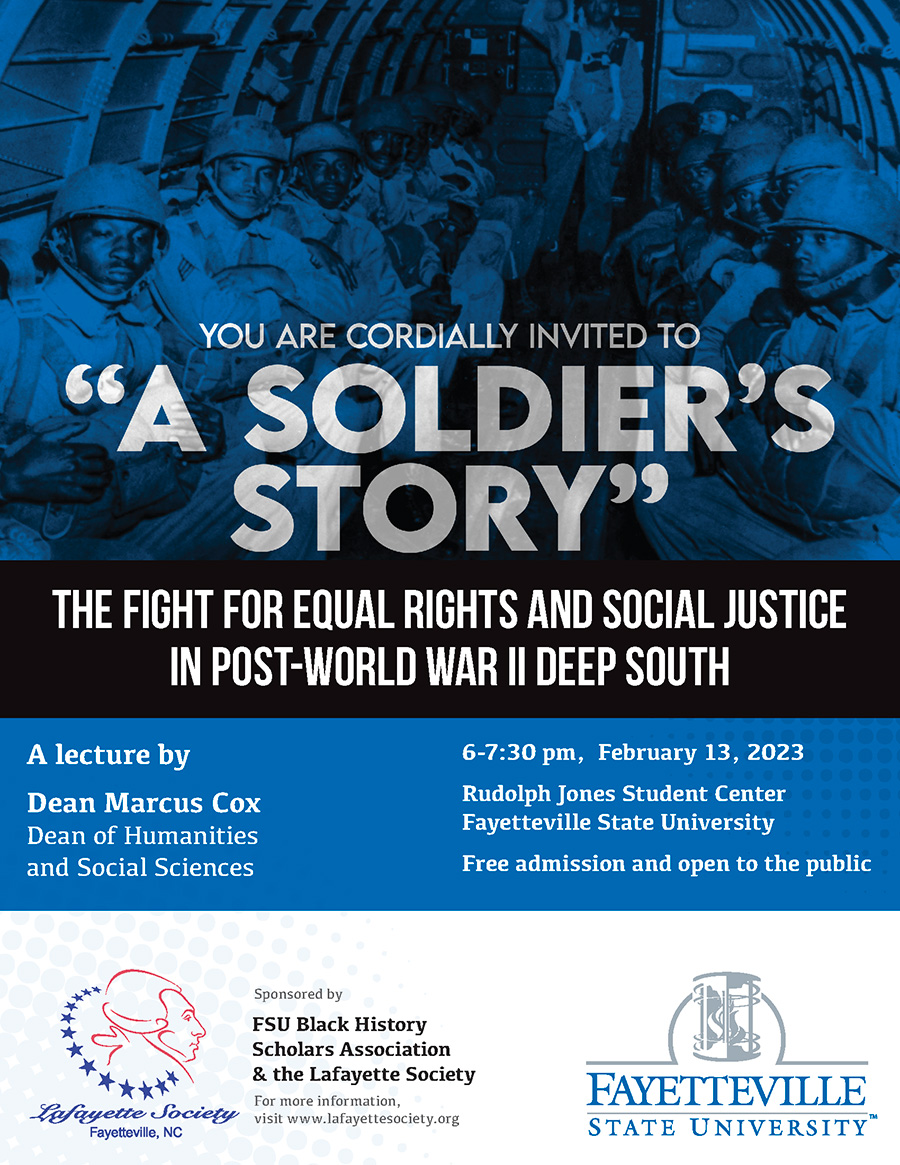 Fayetteville, N.C. – (February 6, 2023) The fifth annual Lafayette Lecture, co-sponsored by the Fayetteville State Black History Scholars Association (BHSA) and the Lafayette Society, will take place on Monday, February 13th, from 6:00 to 7:30 PM in room 242 of the Rudolph Jones Student Center on the Fayetteville State University (FSU) campus.
Marcus S. Cox, M.B.A., Ph.D., professor and dean in the College of Humanities and Social Sciences, will deliver the 2023 Lafayette Lecture on "A Soldier's Story: The Fight for Equal Rights and Social Justice in Post-World War II Deep South."
Cox joined FSU in July 2022 from Xavier University and previously spent 15 years as a history faculty member and administrator at The Citadel. Specializing in African American History at Northwestern University, Cox is an expert in the WWII era. He has written numerous articles on Black soldiers in U.S. history and the African American experience on the home front. His book, Segregated Soldiers: Military Training at Historically Black Colleges in the Jim Crow South, was published by Louisiana State University Press in 2013. He is currently working on a book-length project on the involvement of African American veterans in the Civil Rights movements of the 1940s and 1950s.
The Lafayette Lecture is an annual event that brings the FSU and Fayetteville-Cumberland communities together to learn about the life of the Marquis de Lafayette and/or the legacy of the ideals he fought for, including liberty and civil rights for all. Held each February in honor of Black History Month, the lecture series is supported by the Lafayette Fund at FSU, an endowed fund to support the study of the Age of Revolutions, emancipation, and civil rights, and the first history-related endowed fund created at FSU.
Previous Lafayette Lectures include:
2022: Dr. William A. Link, "Frank Porter Graham and the Limits of Racial Gradualism" (virtual)
2021: Panel presentation, "Fayetteville's Charles Chesnutt: African American Author in the Jim Crow Era"
2020: Cancelled due to Covid-19 outbreak
2019: Dr. Robert Taber, "Leaving Slavery: The Story of the Haitian Revolution & Its Influence on the US Civil War"
2018: Ms. Diane Shaw, "Lafayette and Slavery"
---
For more information, contact:
Dr. Robert Taber
Associate Professor of History
920-246-8134
rtaber@uncfsu.edu