Fayetteville State University to Reopen Campus Aquatics Center
The Olympic-size pool available to serve the campus and community
Date: January 31, 2023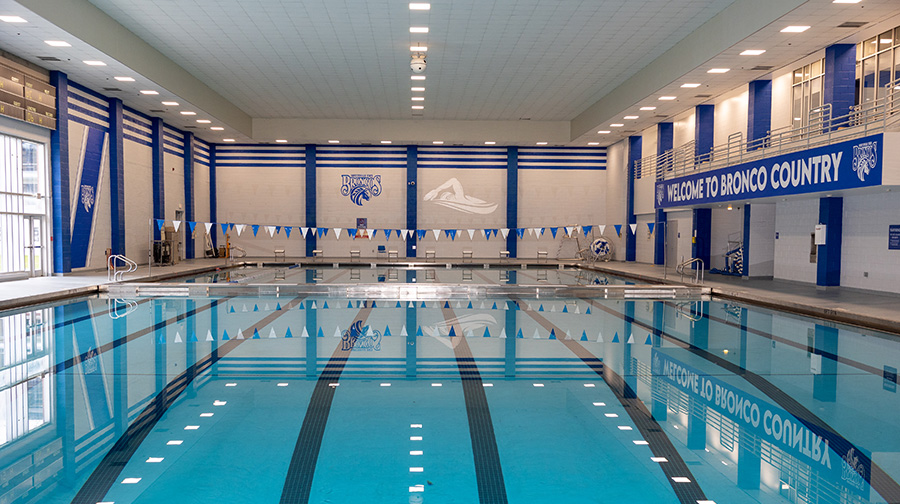 FAYETTEVILLE, N.C., (Jan. 31, 2022) – Fayetteville State University (FSU) opened a newly renovated pool to students in the campus Health, Physical Education and Recreation Complex with plans to open it up for broader community use in the near future.
The state-of-the-art facility and Olympic-sized pool provide aquatic teaching, learning, training, competitive and recreation opportunities for university constituents and will again serve as a significant resource for various community groups. It is currently the sole facility of its kind in the area.
The pool originally closed in March 2020 due to the pandemic and restoration began in February 2022. The $700,000 overhaul project included replastering the entire pool, mechanical and electrical repair, gutter maintenance, deck replacement, coating the existing tile pool deck, and installing university branding materials
The reopening comes at an opportune time as people look to resume more group activities after a nearly three-year hiatus.
"We are thrilled to reopen this newly restored pool to campus for courses, trainings, camps, recreation and competition," said FSU Chancellor Darrell T. Allison. "We are equally excited to welcome community members back to campus who previously used the facility as well as new guests. Many groups were using the pool before restoration and the demand and desire to come back are stronger than ever."
The Olympic-sized pool, which includes eight lanes and starting blocks, was constructed in 1995 as part of the Capel physical education facility. Previously, the pool was used for a wide range of recreational, training, and therapeutic activities including high school swim competitions, ROTC and firefighter exercises, as well as senior water aerobics.
The renovated pool will provide increased opportunities for students, including health, physical and secondary education majors to take swimming, aquatics and facility management, lifesaving and water instruction and water aerobics courses. Student-athletes, ROTC program participants and intramural sports participants will also be able to utilize the pool, along with faculty and staff.