Fayetteville State University's Rachel Townsend crowned Miss Fayetteville
She will compete in the Miss North Carolina Pageant
Date: February 07, 2023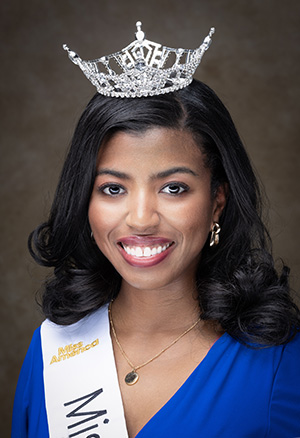 Fayetteville, N.C. (February 7, 2023) — Rachel Townsend, Fayetteville State University's (FSU) internship coordinator in the Office of Career Services, won the Miss Fayetteville Scholarship Pageant held this past weekend in Fayetteville.
A Fayetteville native, Rachel is a leader in her community and an outstanding role model and advocate for FSU students. Her commitment to excellence and passion for service make her a great example of the kind of leader Fayetteville State University strives to cultivate and support.
"We are so proud of Rachel for this well-deserved recognition and are confident she will do Fayetteville proud," said Derrick T. Dortch, senior consultant in the FSU Office of Career Services. "As she competes in Miss North Carolina and potentially in Miss America, we wish her the best of luck as her hard work and dedication are rewarded."
"I am honored and humbled to be selected to represent Fayetteville, my community and FSU locally, regionally and perhaps nationally," Townsend said. "Fayetteville is my home and I look forward to pursuing my goals and helping others like me to do the same."
---
About the Miss Fayetteville Scholarship Pageant
Since 1947, the Miss Fayetteville pageant, a preliminary to the Miss North Carolina pageant, has been committed to upholding the four points of the crown – service, scholarship, success, and style. The Miss America Organization is a national leader in providing scholarship assistance for young women and the Miss Fayetteville pageant is a leader in providing the same for young women at the local level.