2022 NC Strive Conference
2022 Speakers
Keynote Speaker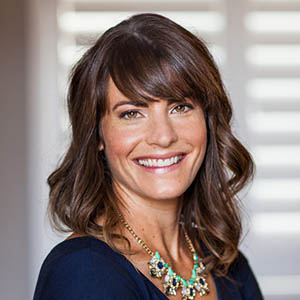 Sarah Plummer Taylor, MSW Founder, SEMPER Sarah
BIO

As seen on:


Sarah Plummer Taylor is an established leader in the field of resilience building and holistic wellness. She teaches executives, entrepreneurs, students, and military veterans how to enhance the quality of their life and leadership through mindfulness-based practices.

A U.S. Marine veteran who deployed twice to Iraq, Sarah is the author of Just Roll With It: 7 Battle Tested Truths for Building a Resilient Life and Stopping Military Suicides: Veteran Voices to Help Prevent Deaths. As a Marine, she also captained and played for the US Military Olympic Women's Soccer Team from 2007-2011. She is also the founder of SEMPER Sarah®, an international wellness practice. She was an adjunct professor at Charleston Southern University in the Department of Health Promotion and Education through 2018.
---
Lunch Keynote Speaker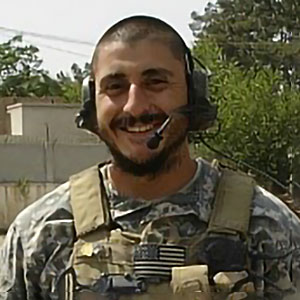 Michael R. Rodriguez CEO GWOT Memorial Foundation
BIO

Sergeant First Class Michael "Rod" Rodriguez is a retired Special Forces Green Beret with nine deployments, from his first in Somalia with 10th Mountain Division to his last in Afghanistan with 7th Special Forces Group. His last assignment as a Green Beret was as a Sniper Instructor at Fort Bragg, NC (Range 37). After 21 years of service, he was medically retired for numerous injuries received while in service to our great nation.
---
Additional Speakers
---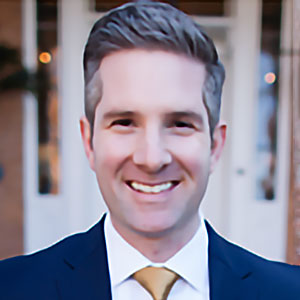 Barrett Bogue President, Evocati, LLC
BIO

Barrett Y. Bogue is President and Founder of Evocati LLC, a professional service firm that helps businesses grow their investment in the military-connected community. Prior to founding Evocati, he served as Vice President at Student Veterans of America and Acting Assistant Director for GI Bill Oversight and Outreach with the U.S. Department of Veterans Affairs. Barrett holds a Bachelor of Arts in political science and Master of science in higher education administration and policy from the University of Tennessee, Knoxville. He served six years in the U.S. Marine Corps Reserve and was deployed in support of Operation Iraqi Freedom II where he earned a Combat Action Ribbon and Meritorious Mast for effectively leading his team under enemy fire. He was the Lima Company Marine of the Year in 2003.
---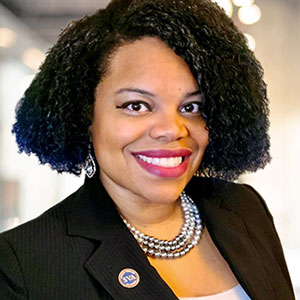 Deja Joi Brewster, MA Program Coordinator, Student Veterans of America
BIO

Deja Joi Brewster joined SVA in May of 2021 as a Program Coordinator. In this role, she engages and supports chapter leaders, student veterans, and military affiliated family members with SVA programs and initiatives both on and off campus. She aids in connecting the more than 1,500 on-campus chapters, more than 750,000 student veterans, and their families to SVA and events to enrich themselves and their chapters. Joi collaborates with the Programs and Events team on all SVA events including Leadership summits and the National Conference. Joi excels in communication, maintaining relationships, and enriching those she works with.

Before joining SVA, Joi served as an Army Resource Officer where she spearheaded a program of educational, career, and wellness resources for the Army Reserve of North Carolina. She served as the point of contact for state resources for 11,000+ Army Reservists and their families. Joi has led the Suicide Prevention Program for the North Carolina National Guard as their Program Manager. She was the primary POC for briefings, investigations, liaising with commanding officers, and was charged with constructing a more efficient prevention program for the Guard. She was a member of the board for My Military and Veteran Resource Collation in North Carolina, worked side by side with law enforcement officials to support Veteran Crisis Intervention trainings, and volunteered with the National Alliance on Mental Illness—which included leading a Family-to-Family class and speaking at state conferences. Further, she served as the first military spouse career manager for Blue Star Families in the Baltimore area. Supporting military spouses and their careers initiated a stimulation of the local economy which is currently valued at more than one million dollars.

Joi brings to SVA a wealth of experience and knowledge. She holds two Masters: one in Forensic Psychology and another in Military and Combat Psychology. She aspires to pursue a doctoral program in the near future. Raised a first generation American, Joi has not served in the military nor has her family. She has goals to commission as a military psychologist, making her the first to serve in her family and first doctor. Joi is a proud military spouse with three sons all who aid in her resilient and tenacious spirit. In her free time, she enjoys the beach, reading, cooking, watching her son play ice hockey, and spending time with friends and family.
---
Dr. Cheryl Harris Curtis Director of Educational Enhancement Services/Dedicated Veterans Advocate, Johnson C. Smith University
BIO

Dr. Cheryl Harris Curtis holds a B.A. in Psychology from East Carolina University, an MAE in Educational Leadership, Administration, and Research from Western Kentucky University, and her Doctor of Education from Grambling State University. She serves as the Director, Educational Enhancement Services/Dedicated Veterans Advocate and an adjunct professor for Johnson C. Smith University in Charlotte, North Carolina. In this capacity, Dr. Curtis utilizes her knowledge of adult learning theory to assist faculty, staff, and students with the obtainment of resources to help underprepared students prepare, prepared students advance, and advanced students excel. Additionally, she conducts research that will inform higher education and institutional policy-making. Information that Dr. Curtis gathers due to her research has resulted in the successful funding of numerous grant awards from organizations such as the Duke Endowment (Moving Metropolitan College Forward), the Belk Foundation (Single Stop), the U.S. Department of Education (CCAMPIS) and the STAR Research Grant program. Dr. Curtis was instrumental in the inaugural establishment of JCSU SVA (Johnson C. Smith University Student Veterans of America) and serves as staff advisor for the organization. As a member of the STAR Research Mentoring Group at Johnson C. Smith University, she proposes, contributes to, and evaluates activities and initiatives aimed at enhancing the research skill development framework and research culture at Johnson C. Smith University. As an extension of this program, Dr. Curtis is the faculty research mentor for undergraduate students in the F.R.E.E. (Freshmen/Transfer Students Research Educational Enhancement) program. She also serves on the SAMSHA (Substance Abuse and Mental Health Services Administration)—HEAL (Health Education for Advanced Living) Advisory Board for the university. In addition to connecting faculty, staff, and students to on-campus resources, Dr. Curtis connects individuals to off-campus resources as well. Dr. Curtis serves on the editorial board for the Journal for Developmental Education (JDE). Dr. Curtis is an active member of organizations that support Veterans in higher education efforts such as NC STRIVE (Student Transition Initiative for Veteran's Education) and the North Carolina Governor's Working Group on Veterans, Service Members, and Their Families (policy advocacy group). Dr. Curtis has been elected to The Piedmont Veterans Coalition Board--a policy advocacy group seeking to impact legislation as it relates to veterans in the region and the state. She is also a member of the Working Group, funded by SAMSHA to prevent Suicide among Service Members, Veterans, and their Families. Dr. Curtis is a member of the Charlotte Regional Business Alliance and collaborates with various businesses and community stakeholders to facilitate a healthy, more economically and financially secure Charlotte and surrounding areas. Dr. Curtis also serves as the program evaluator for the American Heart Association's Healthy Charlotte Initiative. These collaborations result in the accessing of resources for Johnson C. Smith University faculty, staff, and students. In addition to conducting research for the university, Dr. Curtis is part of a team that is engaged in an independent research project that will facilitate the successful treatment of Veterans diagnosed with Post-Traumatic Stress Disorder (PTSD).
---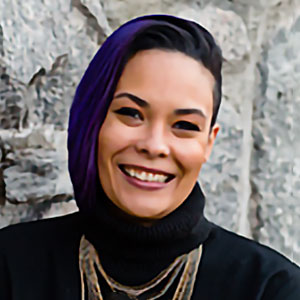 LeNaya Hezel DEI Strategist, Pat Tillman Scholar, Evocati, LLC
BIO

LeNaya Crandall Hezel (she/her) is a diversity, equity, and inclusion (DEI) organizational strategist. While pursuing her PhD in Sociology at George Mason University, she founded NayceQuest LLC to guide organizations as they explore, dive into a deeper understanding, and discover meaningful ways to shift our culture to be equitable and inclusive. LeNaya is also a higher education consultant with Evocati LLC, a veteran-owned public relations and consulting firm that helps businesses grow their investment with the military-connected community. She has over a decade of experience as a higher education professional supporting underrepresented student populations. Previous to George Mason University, she served as the inaugural Veterans Office Director at Georgetown University and a Certifying Official at The George Washington University. She holds a Master of Arts in Higher Education Administration from The George Washington University and a Bachelor of Music in Vocal Performance from the University of Maryland, College Park. LeNaya is a proud military spouse to a U.S. Navy Officer and mother to three spirited children.
---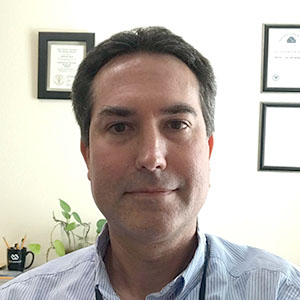 Dr. Jeffrey Jones Military Sexual Trauma Coordinator at the Fayetteville NC VA Coastal Health Care System
BIO

Jeffrey Jones, Psy.D. is a licensed psychologist and the Military Sexual Trauma Coordinator at the Fayetteville NC VA Coastal Health Care System. Dr. Jones has additionally served as the facility's Trauma Specialty Program Coordinator and Evidence-Based psychotherapy Coordinator. Dr. Jones' work focuses on offering VA / DoD recommended evidence-based therapies to veterans with Posttraumatic Stress Disorder. He is an VA certified provider of Prolonged Exposure therapy (PE), Cognitive Behavioral Therapy for Chronic Pain and Motivational Interviewing (MI). He holds a Certificate of Integrative Health Coaching from Duke Integrative Medicine and has completed EMDRIA Basic Level training in Eye Movement Desensitization and Reprocessing (EMDR). He holds a doctoral degree in Clinical Psychology from the Florida Institute of Technology.
---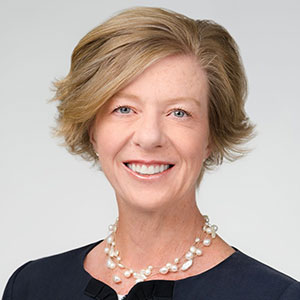 Dr. Heidi Kraft Chief Clinical Officer, Psych Armor
BIO

Heidi Squier Kraft received her Ph.D. in clinical psychology from the UC San Diego/SDSU Joint Doctoral Program in Clinical Psychology in 1996. She joined the Navy during her internship at Duke University Medical Center and went on to serve as both a flight and clinical psychologist. Her active duty assignments included the Naval Safety Center, the Naval Health Research Center and Naval Hospital Jacksonville, FL. While on flight status, she flew in nearly every aircraft in the Navy and Marine Corps inventory, including more than 100 hours in the F/A-18 Hornet, primarily with Marine Corps squadrons. In February 2004, she deployed to western Iraq for seven months with a Marine Corps surgical company, when her boy and girl twins were 15-months-old. Rule Number Two is a memoir of that experience.Dr. Kraft left active duty in 2005, after nine years in the Navy. She currently serves as Chief Clinical Officer at PsychArmor Institute, a national non-profit that provides free online education for those who live with, care for, and work with military Veterans. She is frequently invited to speak at conferences and panels on combat stress, stigma and caring for the caregiver. She is a lecturer at San Diego State University, where she teaches Stress, Trauma and the Psychological Experience of Combat, Health Psychology, Abnormal Psychology, and Infant and Child Development. Dr. Kraft lives in San Diego with her husband Mike, a former Marine Harrier pilot. Her twins Brian and Meg, who have no memory of their mother's time in Iraq, are college freshmen now.
---
Kevin Monell Program Coordinator, Student Veterans of America
BIO

Kevin Monell joined the Student Veterans of America team in May of 2021 and serves as a Program Coordinator. At SVA, Kevin serves as the first point of contact for Chapter Leaders, student veterans, and SVA alumni to resolve inquiries related to programming initiatives, resources for student veterans, and the greater community. He helps develop and support collaborations with chapters to strengthen alignment between individual chapter strategies and SVA's national priorities. He also supports the Senior Leadership team to plan and implement chapter trainings and events such as: new Chapter Leader orientations, Regional Summits, The Leadership Institute, and the annual National Conference. Additionally, Kevin researches standard college and university operations, policies and trends impacting student veterans, military-connected students, and campus organizations.

Prior to joining SVA, Kevin served as a school safety analyst for Leon County Schools in Tallahassee, Florida. During that time, he coordinated with the Leon County Sheriff's Office, Tallahassee Police Department, and the Florida Department of Law Enforcement regarding strategic information acquisition and distribution relating to school safety. Prior to his time with Leon County Schools, Kevin was a teaching and research assistant at Florida State University, facilitating a variety of courses including: International Terrorism Policy, Intelligence Analysis & Communication, Advanced Intelligence Analysis, and Spy Literature Review.

Kevin Monell holds a Bachelor of Science in Political Science and a Master of Science in International Affairs from Florida State University. His background and research interest includes understanding the structure of American political ideology, partisanship, and polarization. In his free time, Kevin enjoys hiking, kayaking, and baking.
---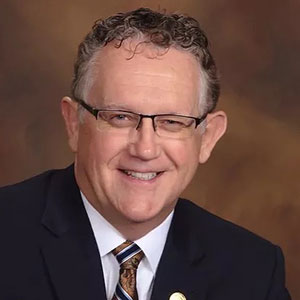 Joseph W. Wescott II LEGISLATIVE LIAISON, NC DEPARTMENT OF MILITARY AND VETERANS AFFAIRS
BIO

Joseph W. Wescott II (Joe) is the Legislative Liaison in the office of the Secretary of the North Carolina Department of Military and Veterans Affairs. He also serves as National Legislative Liaison of the National Association of State Approving Agencies (NASAA) and is the National Higher Education Consultant for the American Legion. Previously, he served two terms on the Department of Veteran's Affairs (VA) Advisory Committee on Education and he has served as NASAA President, Vice President and Legislative Director. Wescott was Executive Director of the North Carolina State Approving Agency (NCSAA) for almost a decade, an agency he now supervises in his role as NCDMVA Legislative Liaison.

Prior to his service at the NCSAA, Wescott served in various leadership roles in higher education including director of the office of Planning, Policy and Evaluation at Brunswick Community College, federal relations analyst/government relations representative for Duke University and an adjunct instructor at several colleges and professional organizations.

Dr. Wescott is a veteran, having served on active duty as a combat arms officer in the US Army. Earlier, he attended Wake Forest University on a four year Army ROTC scholarship, graduating with honors. He holds advanced degrees from Wake Forest University and North Carolina State University, including the doctorate in Higher Education Administration. In addition to other duties, Wescott serves as an Adjunct Professor in the Department of Leadership, Policy, Adult and Higher Education at NC State University. He also serves on several national boards including the Council on College and Military Educators (CCME), the George W. Bush National Task Force on Higher Education and the Wake Forest National Alumni Council.

Dr. Wescott has written several articles and books on history and higher education topics including veterans' employment and the history of the North Carolina Community College System. Most recently he coauthored two major reports on online learning and education oversight, which are being released by the American Legion.

In 2010, Dr. Wescott was elected to the North Caroliniana Society for service to his home state and in 2013 to the Honorable Order of Kentucky Colonels for service to the state of Kentucky.
---
Exhibitors
---
Hiring Employers
---
Questions?
Contact: Siobhan R. Norris, AVC for Military Affairs, snorris4@uncfsu.edu