Fayetteville State University Appoints Inaugural Advisory Board Members for The Gillis-Jones Institute for Ethics and Leadership
Date: November 09, 2023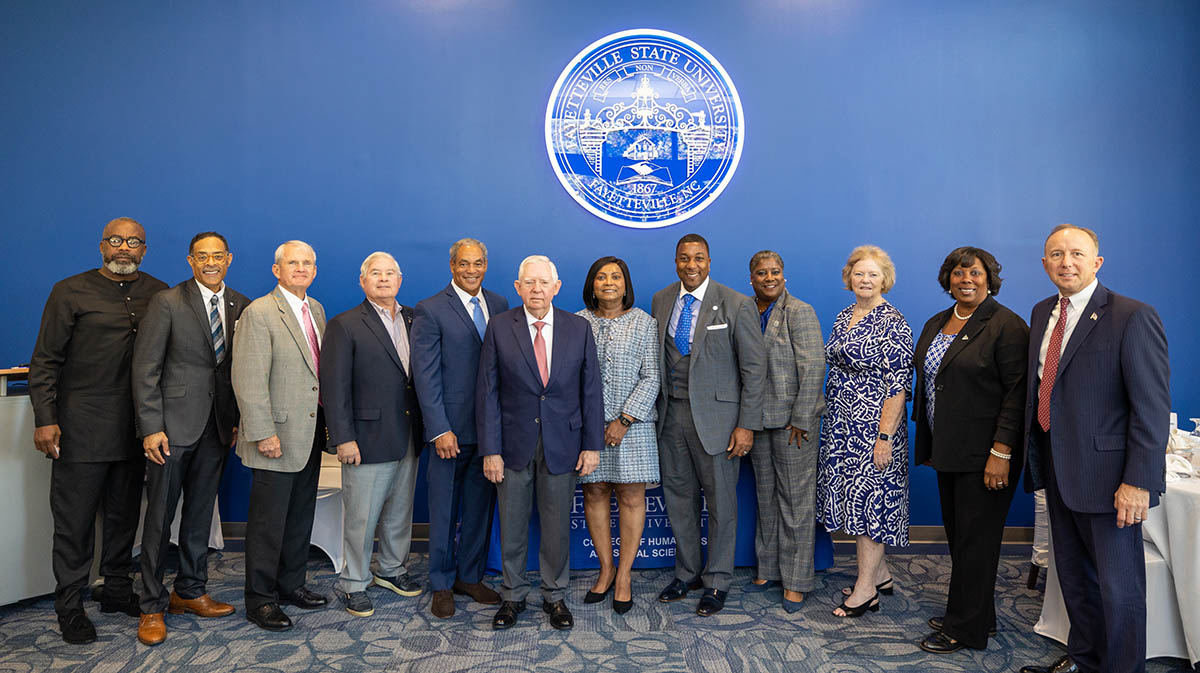 Fayetteville, NC – The Gillis-Jones Institute for Ethics and Leadership at Fayetteville State University announced Oct. 30 the formation of its advisory board composed of ten visionaries in their respective fields and community leaders.
The Gillis-Jones Institute for Ethics and Leadership (The Institute) was established in 2022 to provide innovative leadership education and public engagement for the purpose of developing ethical servant leaders at the university. Through a host of educational opportunities, The Institute will provide advanced academic curricula, a speaker series, workshops and training initiatives, and an annual conference for students to explore ethics and leadership research, theory and applied practices.
"We are grateful that this distinguished group of leaders will advise the Gillis-Jones Institute for Ethics and Leadership," said Monica T. Leach, Ed.D., provost and senior vice chancellor for academic affairs. "The Institute will make a significant contribution to Fayetteville State University's ability to infuse within its core values a myriad of ethical principles and leadership skills in preparing our students for the competitive global marketplace."
The creation of the advisory board marks an important step in the Gillis-Jones Institute for Ethics and Leadership development and expanding vision.
"The impact will make a profound difference in the lives of our students, faculty and staff for years to come. We are thrilled about the role that the advisory board will play in building the Institute visibility in the Sandhills region and beyond," Leach said.
Advisory board members will actively contribute by sharing their valuable insights and best practices. The board will engage in outreach efforts, actively seeking and engaging distinguished guest speakers and lecturers. The advisory board plays a pivotal role in identifying and exploring new opportunities for the institute. This includes spearheading initiatives like curricula development and workshops to enhance the educational experience we offer to our students and the community. To sustain and expand our operations, a key responsibility of the advisory board is fundraising. They will work diligently to secure financial resources for our operational budget, which is crucial for maintaining program excellence, hiring qualified personnel and hosting guest lecturers.
"The Institute is committed to promoting the development of ethical servant leaders, inspiring individuals to lead with integrity and emotional intelligence, and preparing the next generation of leaders within all employment sectors equipped to address and solve complex challenges and decision-making while possessing a substantial moral standard," said Marcus S. Cox, Ph.D., the founding director of The Institute, professor of history and dean of FSU's College of Humanities and Social Sciences (CHSS).
---
Members of Gillis-Jones Institute for Ethics and Leadership advisory board are:
General (ret.) Michael X. Garrett, Advisory Board Chair
General (ret.) Michael X. Garrett is an executive leadership advisor, accomplished public speaker, and dedicated military family advocate based in Charlotte, North Carolina. He currently holds positions on the Board of Directors for both First Command Financial Services, Inc., and the Semper Fi & America's Fund. Additionally, he serves as a Distinguished Senior Fellow on National Security with the Middle East Institute and is a Senior Mentor for the Army War College.
Mrs. Joyce Adams
Joyce Adams currently holds the position of Vice President for Strategic Plans and Programs at AEVEX AEROSPACE, headquartered in Fayetteville. AEVEX AEROSPACE is a renowned provider of comprehensive airborne intelligence solutions. With her deep knowledge and experience in government and intelligence programs within the U.S. Department of Defense, Adams is a distinguished subject matter expert in the realms of Business and Technology. Additionally, she is an active member of the Fayetteville State University Board of Trustees
Colonel (ret.) Stu Bradin
COL (ret.) Stu Bradin currently holds the position of President and CEO at the Global SOF Foundation. This foundation, operating as a 501(c)(3) non-profit organization, is dedicated to fostering a worldwide network encompassing military, government, commercial, and educational entities. Its primary objective is to enhance Special Operations Forces (SOF) capabilities and foster partnerships that can effectively address global and interconnected threats.
Major (ret.) Jason E. Glenn, DBA
Dr. Jason E. Glenn has a distinguished career, including his previous role as the Vice President for Student Affairs and Operations at Bethune-Cookman University from 2016 to 2019. Between 2008 and 2015, he served as the Dean of Students and Commandant of Cadets at Embry-Riddle Aeronautical University. Presently, Dr. Glenn is the President of Glenn International Leadership Force, a veteran-owned small business that specializes in crafting solutions to elevate performance, foster effective communication, and champion leadership principles and ethics.
Colonel (ret.) Elizabeth "Betty" Goolsby
COL (ret.) Elizabeth "Betty" Goolsby, formerly the Medical Director of the Fayetteville Veterans Administration Hospital, assumed the role in 2010 and faithfully served until her retirement in 2017. Under her leadership, the hospital centers experienced substantial community expansion, the establishment of community-based outpatient clinics, and the inauguration of Health Care Centers in Wilmington and Fayetteville
Mr. Ralph Huff
Mr. Ralph Huff, a native of Hoke County and a 1972 alumnus of UNC-Chapel Hill, is the accomplished owner of H&H Homes. His company has proudly constructed more than 10,000 homes throughout the Carolinas. Additionally, Mr. Ralph, along with his wife Ms. Linda, is the co-owner of Coldwell Banker Advantage, the leading Coldwell Banker Real Estate franchise in North Carolina, boasting nearly 800 agents serving areas in Wilmington, Jacksonville, Raleigh, Fayetteville, and Moore County.
General (ret.) Dan McNeill
General (ret.) Daniel McNeil earned his Bachelor of Science degree and received a commission as a Second Lieutenant of Infantry through the ROTC program at North Carolina State University. Throughout his distinguished military career, General McNeill served in various roles, including Special Forces, Airborne Infantry, and mechanized infantry units. As a general officer, he held command positions of great significance, overseeing the 82nd Airborne Division, XVIII Airborne Corps, US Army Forces Command, and serving as Deputy Commander/Chief of Staff for FORSCOM.
Dr. Leonard N. Moore
Dr. Leonard N. Moore, hailing from Cleveland, Ohio, holds the prestigious George Littlefield Professorship in American History and previously served as the Vice President for Diversity and Community Engagement. He obtained his B.A. from Jackson State University in 1993 and completed his Ph.D. at The Ohio State University in 1998. With a career spanning over two decades, he made his mark as a professor at Louisiana State University from 1998 to 2007 before joining UT Austin in 2007.
Mr. Mike Nagowski
Mike Nagowski currently holds the position of Chief Executive Officer (CEO) at Cape Fear Valley Health System, an integrated health system comprising eight hospitals, with a collective revenue exceeding $1 Billion. He has served in this capacity since 2008. Before joining Cape Fear Valley, Mike held executive healthcare roles at several prestigious institutions, including Buffalo General Hospital, Millard Fillmore Gates Circle Hospital, Erie County Medical Center, Hamot Medical Center, and the University at Buffalo School of Medicine
Dr. Ingrid Wicker-McCree
Dr. Ingrid Wicker McCree boasts a distinguished career spanning over three decades in the realm of higher education leadership. Her historic moment arrived in 2008 when she achieved the title of Director of Athletics at North Carolina Central University (NCCU), making her the first woman to hold this permanent position. With a background as a college student-athlete, coach, and administrator, she has become one of the longest-serving athletic directors in NCCU's history.