FSU Center for Defense and Homeland Security Manager Named Management Council President of Defense Alliance of North Carolina
John A. Bellamy will hold the office through September 2023
Date: October 27, 2022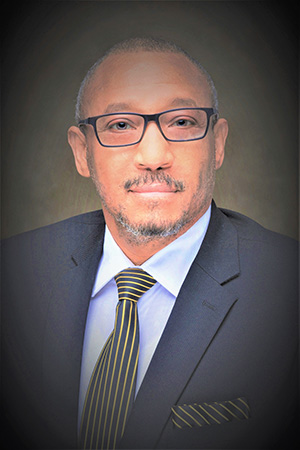 Fayetteville, N.C. (October 27, 2022) — John A. Bellamy, assistant director and operations manager of Fayetteville State University's (FSU) Center for Defense and Homeland Security (CDHS), was recently named management council president of the Defense Alliance of North Carolina (DANC).
The DANC is a private, nonprofit organization focused on strengthening North Carolina's defense sector and those who support it. Its mission is to grow the state's defense economy to create new long-term investments and job opportunities.
"I am honored to take on the role of management council president for the DANC, an organization close to my heart," Bellamy said. "I also look forward to raising awareness of all that HBCUs have to offer regarding security and defense education."
FSU's CDHS was established in December 2010 and serves as a catalyst in developing the next generation of National Security STEM professionals. Bellamy helped establish the CDHS Cybersecurity Academy in 2014, which provides certification training in Information Technology and Cybersecurity. Through the CDHS, Bellamy works with military officials and business and industry leaders at all levels to help create opportunities for FSU student internships, scholarships and job placement.
"FSU takes pride in our community and is committed to helping elevate our city, county and state in any way possible," said Chancellor Darrell T. Allison. "Mr. John Bellamy has done an exceptional job in helping to lead efforts within our Center for Defense and Homeland Security, and particularly with our cybersecurity training. He has a long-standing record of service in support of the military-affiliated community. I know John must take tremendous pride in this recognition as FSU is extremely proud of him in receiving such."
Before joining FSU, Bellamy served as executive assistant for the BRAC Regional Task Force/Fort Liberty Regional Alliance where he helped prepare an 11-county region surrounding Fort Liberty for economic growth and infrastructure development due to the relocation of Army Reserve Command and Army Forces Command Headquarters from Fort McPherson, Georgia to Fort Liberty, North Carolina. This task force helped establish the North Carolina Defense Business Association (NCDBA). A merger in 2019 between the NCDBA and the North Carolina Military Foundation formed what is now the Defense Alliance of North Carolina (DANC).
Bellamy is a retired Navy veteran who served as Navy personnel officer at Joint Special Operations Command (JSOC) at Fort Liberty and chief administrator, Navy Recruiting Headquarters in Indianapolis, Indiana.