FSU CHSS Celebrating Black History Month: Juneteenth and the Birth of Black Innovation featuring Guest Speaker Dr. Leonard Moore
Wednesday, February 15, 2023, 6:00 PM – 8:30 PM EST at the FSU Rudolph Jones Student Center
Date: February 02, 2023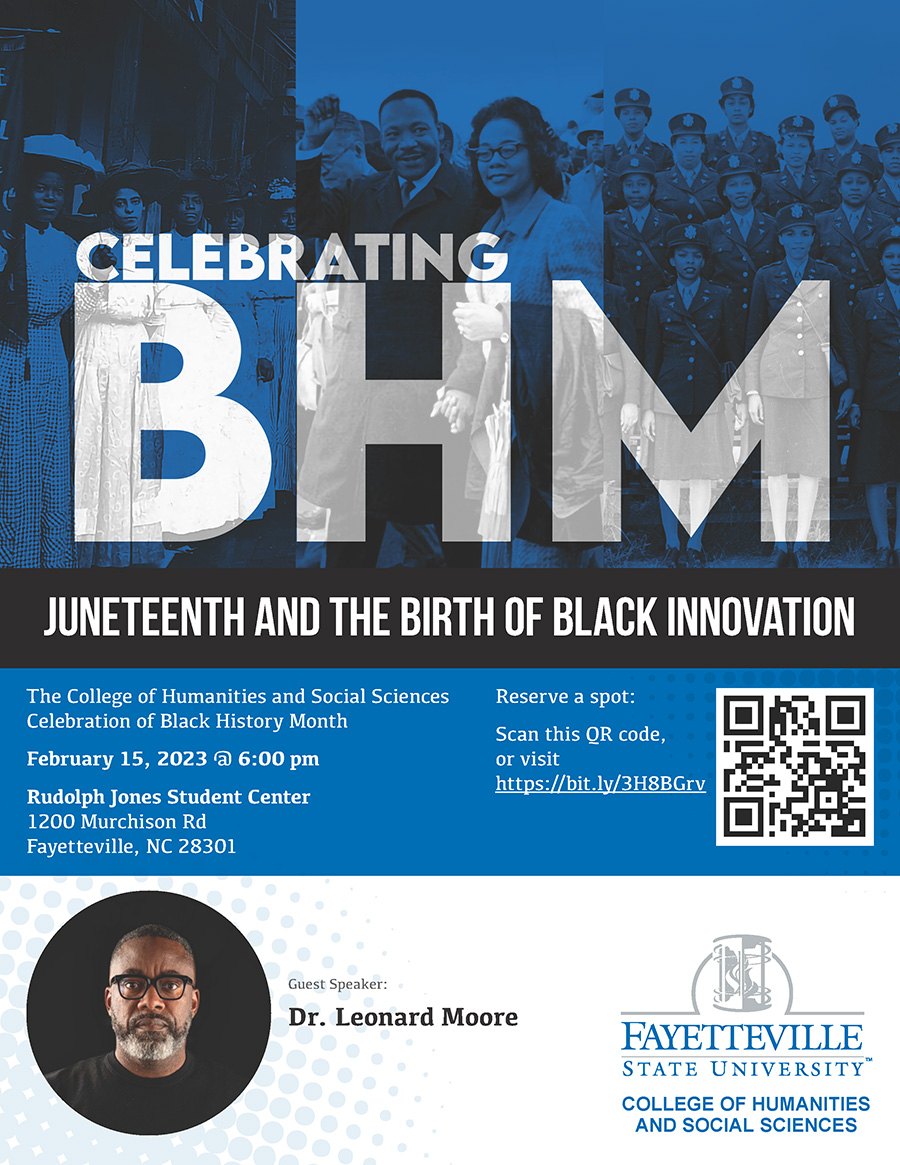 On February 15th, 2023, in the Rudolph Jones Student Center, the College of Humanities and Social Sciences will host Dr. Leonard Moore as the Black History Month Guest Speaker. Dr. Moore is a nationally recognized scholar and motivational speaker with emphasis on mentoring Black Male Athletes. He is the author of 5 books on Black Power politics, the history of police brutality and African American activism, and his recent book, "Teaching Black History to White People."
RSVP & More Info: https://www.eventbrite.com/e/chss-black-history-month-juneteenth-and-the-birth-of-black-innovation-tickets-518060792777
---
Leonard N. Moore, Ph.D., is the George Littlefield Professor of American History and a former vice president at the University of Texas at Austin. A native of Cleveland, Ohio, he earned a B.A. from Jackson State University in 1993 and a Ph.D. from the Ohio State University in 1998. Inside the classroom Moore teaches more than 1,000 undergraduates in the fall semester in his two classes: History of The Black Power Movement and Black Southerners in the Age of Jim Crow. Moore also directs summer programs in Beijing, China, Cape Town, South Africa, and Dubai, United Arab Emirates. He is also the founder of the Heman Sweatt Center for Black Males at the University of Texas at Austin, which is among the most robust college units in the country in meeting the needs of Black male college students.
Moore has authored four books on black politics: Carl B. Stokes and the Rise of Black Political Power; Black Rage in New Orleans; The Defeat of Black Power; and his latest, Teaching Black History to White People.
Outside of the classroom Moore dedicates a lot of his time mentoring Black student-athletes. He founded the Black Student-Athlete Summit, a three-day event that brings together more than 800 Black student-athletes and professionals from the world of college sports. He is active in the Austin community and is currently board chair of the Austin Area Urban League. He is married with three children.